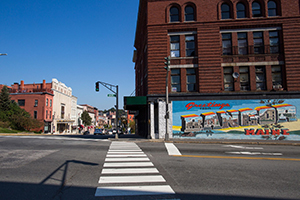 Whether you and your business are revolutionizing an industry, looking for a better quality of life, or seeking a strategic location within a day's drive of 90 million people, we believe you will find what you need in Maine. Our tight-knit business community thrives off Maine's pioneering R&D ecosystem, strong trade organizations, and suite of business incentives.
As part of our Ten-Year Economic Development Strategy and recovery from the COVID-19 pandemic, Maine is making historic investments in innovation, renewable energy, infrastructure, and broadband. Moving to Maine will position your business to reap the benefits of these investments.
Maine offers a variety of incentives to businesses that relocate to Maine, including tax breaks for investments in buildings, equipment, and job creation. These incentives are complemented by a robust financing system and customizable workforce development programs.
We think Maine is the perfect new home for your business, and we invite you to come visit and see why for yourself. In the meantime, check out the resources below, look at available commercial and industrial properties, or reach out to an advisor at the Office of Business Development who can help you discover why you should Choose Maine for Business.
Quality of Life
Business location decisions are increasingly influenced by the quality of life workers can expect to experience in a community. The phrase "quality of life" is often used to describe why businesses locate in Maine. Work-life balance is central to Maine's way of life. Maine people value hard work in balance with time off, time outside, and time with family. Few traffic jams and short commutes help you get to and from work quickly to have more time doing the things you like with the people you love.
Maine is the ultimate four-season state, boasting beautiful beaches, tranquil lakes, majestic mountains, and some of the best skiing in the East. But Maine is so much more than an outdoor enthusiast state. Maine is also an art lovers' paradise, with nine art museums, countless art galleries, antique shops and world-class theater and music venues. Additionally, Maine and the city of Portland rank as some of the nation's top destinations for foodies.
As you plant your roots you will quickly learn that Maine's health care and education system are among the best in the nation. Maine is proud to be home to some of the highest rated hospitals in the country. Alongside historic investments in our business climate, Maine is also making investments to continue to improve and expand our already robust education and healthcare systems, ensuring your employees will love it if you Choose Maine for Business.
Stats:
#1 breweries per capita – Bangor Daily News, 2021
#1 Restaurant City of the Year, Portland – Bon Appetit, 2018
#1 safest state in the US – U.S. News and World Reports, 2021
#1 top state of the decade for healthcare patient safety award – Leapfrog Group, 2021
#3 highest percentage of hospital facilities receiving the top grade – Leapfrog Group, 2021
3,500 miles of coastline and 6,000 lakes
 
Talent
As a state with one of the highest rates of adults with high school education or better, Maine has the talent your business needs to thrive. Maine is home to over 25 institutions of higher education, including 7 community colleges that work with employers and the Maine CareerCenters to provide customized workforce training. Maine also recognizes the importance of the trades and is investing in the future through our 27 technical education high schools.
Maine's higher education system is further strengthened by three world class research universities, the University of Maine, Northeastern University's Roux Institute, and the University of New England. The Roux Institute in downtown Portland is a graduate school for advanced technology and life science research that is producing top-tier talent for Maine's growing tech and life science industries. Since 2008, Maine has also been home to Tufts University School of Medicine's Maine Track program, which is a partnership with Maine Medical Center to advance rural medical care throughout the state. Additionally, some of the nation's oldest and best liberal arts colleges are located in Maine, attracting top minds from around the world to our beautiful state.
Maine recognizes that the workforce of the future is changing and is working to ensure your company can keep up. Remote work is here to stay, and Maine has become a destination for remote workers given its competitive housing costs, incredible restaurant/brewery scene, and multitude of opportunities for outdoor recreation. Investing in remote workers in Maine will position your company to compete for the workforce of tomorrow.
Stats:
#1 for inbound moves – Atlas Van Lines, 2021
#5 highest percentage of veterans as a share of the state population – The Center Square, 2020
Institutions of Higher Education:

7 community colleges
10 universities
10 colleges
27 trade schools
 
Location and Infrastructure
Maine occupies a strategic location in the Northeastern United States, with over 90 million people within a day's drive in the US and Canada. Maine also offers easy access to overseas markets through its three deep water ports, including the deepest natural harbor on the East Coast. The International Marine Terminal links Portland directly with Scandinavia by sea, making Maine the hub for US-Northern European shipping.
Maine's natural resources are one of the state's greatest assets, from our abundant forests and productive oceans to our clean, cool water and solar and wind resources. Maine is investing in the infrastructure of the future, especially renewable energy production, to ensure that we maintain the lowest average price of electricity in New England (U.S. Energy Information Administration, 2019).
We recognize that the future of the global economy is online, and to keep up, Maine is making a $150 million investment to expand access to affordable, high-speed broadband across the state. Maine's broadband access enables you to work where you want to live, providing yet another reason to Choose Maine for Business.
Stats:
1,000+ miles of active railroad
350+ miles of Interstate highway
2 International Airports serving 25+ destinations
Helpful Links
Find the perfect Maine site for your business!
Business Climate
Maine is focused on creating a favorable environment for companies to do business. As part of our Ten-Year Economic Development Strategy and recovery from the COVID-19 pandemic, Maine is investing over $50 million to fund innovation by Maine businesses as well as committing to streamline business regulations to reduce the burden on companies.
Maine's business community is supported by a strong alliance of trade groups, representing everything from logging to lobstering to life sciences. Maine companies also receive support from the Maine International Trade Center on exports and imports and can benefit from the growing resources of the Office of Business Development's Domestic Trade program.
Committed always to Maine and its people, you and your business will find state and municipal governments that are ready to work for and with you to achieve your goals. Please reach out to the Office of Business Development at the Maine Department of Economic and Community Development if you would like to discuss more reasons to Choose Maine for Business.
Stats:
$50+ million investment in innovation over 2 years
#13 best state to start a business, WalletHub 2021
#7 state growth rate for building permits, IBISWorld 2021
Helpful links:
Tell Us About Your Business
Whether you're starting a business, expanding operations, or interested in moving your company to Maine, the OBD team is ready to connect you to the resources you need to help meet your business goals. Start by sharing information about your business with Maine DECD.  Fill out a Maine Business Information Form (BIF) here. It's fast and easy!
Note: Information that you wish to keep confidential should not be included in your BIF submittal.