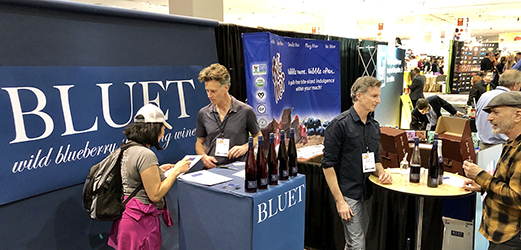 Getting the word out about your business and finding new markets for your products can be challenging. These resources and organizations specialize in overcoming these challenges and helping you grow your business's reach. Don't hesitate to reach out to the Office of Business Development with questions.
The State of Maine does not vet or endorse any specific resource, but we are confident you will find supports that match your needs.
Market Access and Marketing Assistance 
MOT is the state's tourism marketing and support organization, with resources for businesses, non-profits, and governmental agencies to increase tourism-related economic activity throughout the state.
MOT offers a free Public Relations Partner Program that businesses can sign up for to help promote tourism-related business activities, including experiential tourism opportunities.
This division of MOT works to support and grow businesses in the Outdoor Recreation industry.
Selling to the Government   
The federal government is the world's largest purchaser of goods and services, and state and local governments also spend billions of dollars on procurement every year. Expanding into the public sector market could be a great next step to grow your business. Use these sites to explore:
Maine PTAC provides assistance with obtaining government contracts at all levels of government to businesses of all sizes, including through technical assistance, registration assistance, help finding opportunities, and post-award performance support.
The federal government sets aside 23% of its awarded dollars for contracts with small businesses. SBA can help your small business register in the federal contracting system, help you understand the process, and help you secure your compliance certification.
Information about doing business with the State of Maine, including current Requests for Proposals.
Trade Assistance
Domestic Trade
Expanding into new markets through trade is a way to grow your business. Domestic Trade is selling products within the United States.
The Office of Business Development's new domestic trade program helps Maine businesses identify and pursue markets within the United States for their products. Let us help you navigate resources, access market data, and meet goals for your brand.
Maine Center for Entrepreneurs program to help value-added food, beverage, and agriculture businesses sell their products out of state.
International Trade
Expanding into international markets is a big step for your business that can unlock incredible opportunities. Here are some resources to help you make the jump successfully.
MITC offers access to market reports, trade assistance, one-on-one counseling, grant funding information, and attendance at overseas trade shows.
Three-tiered training series for business owners and their staff to succeed in international markets. On-demand training and live seminars are available from MITC.
Provides assistance to trade groups and small businesses to share the costs of overseas marketing and promotional activities to build commercial export markets.
SBA grant administered by MITC to reimburse Maine companies for costs associated with seeking new international sales opportunities.
Maine Port Authority: First Pallet Free
Helps Maine companies expand their sales into other countries by exporting. The Maine Port Authority offers to cover the shipping cost of the first pallet. Call 207-200-2430 for more information.
The U.S. Foreign-Trade Zone (FTZ) program offers businesses engaged in international trade the means to decrease overall costs, increase supply-chain pace, and provide the FTZ user with a more competitive cost structure and increase their global competitiveness. For more information, visit Foreign Trade Zones in Maine.