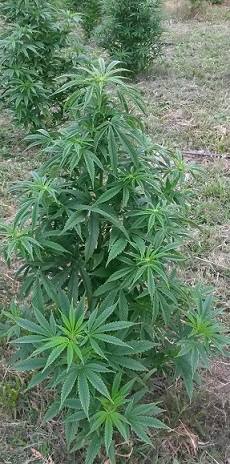 Industrial Hemp Licensing
Please Note: We are now accepting applications to grow industrial hemp for the 2019 growing season. Applications will be accepted until April 1, 2019.
Important Application Information: Industrial hemp applications can not be approved unless maps of the growing areas are provided.
What is the process for becoming licensed to grow industrial hemp in Maine?
Apply for a license between January 1 and April 1 of the year you wish to grow industrial hemp
Departmental review and approval of application
Sign licensing agreement
Testing of crop prior to harvest
Apply for a license
Complete the license application and submit with the $100.00 application fee between January 1 and April 1 of the year you wish to grow industrial hemp.
2019 Cover letter and application to grow industrial hemp (PDF) - Applications must be submitted before April 1.
Explanation of fees
Maine law requires that the Department cover the costs of operating the industrial hemp program by charging an application fee, license fee and a per acre fee. These fees are as follows:
$100 application fee – this fee must be submitted with the application.
$500 license fee – this fee is due after approval of the application and must be submitted with the signed licensing agreement.
$50/acre fee – this fee is due after approval of the application and must be submitted with the signed licensing agreement.
Fees collected will cover Departmental costs including, but not limited to:
Inspector travel costs including time to and from the growing area to take crop samples for THC content analysis;
Costs of transporting crop samples to a lab for THC content analysis;
Laboratory fees for testing crop samples;
Costs of equipment and supplies used in sampling;
Departmental time reviewing applications, preparing licensing agreements and issuing licenses;
Other administrative costs.
Please note that the fees charged will only cover THC testing for one composite sample taken to represent the entire licensed crop. Licensees that wish to have individual growing areas or varieties tested separately will be responsible for paying any additional laboratory costs.
Obtaining seed and seed certification
Availability of hemp seed is a major challenge to potential growers of industrial hemp. While Maine law allows for the planting of industrial hemp, and the 2018 Farm Bill removes hemp (any part of the plant, including the seeds thereof and all derivatives, extracts, cannabinoids, isomers, acids, salts, and salts of isomers, whether growing or not, with a delta-9 tetrahydrocannabinol concentration of not more than 0.3 percent on a dry weight basis) from the controlled substances list, it remains unclear how the interstate and international movement of industrial hemp seed will be regulated by the US Drug Enforcement Administration, US Department of Agriculture or other federal agencies.
Certified Seed Source
Maine law requires that industrial hemp be planted using a certified seed source. The industrial hemp rule (Chapter 274) defines a certified seed source as one that is certified according to AOSCA (Association of Seed Certifying Agencies) or other approved standards and comes from plants that were tested during the active growing season and found to produce industrial hemp with 0.3% THC content or less.
The Department understands the very limited availability of industrial hemp seed and the certified seed source requirements are difficult or nearly impossible to meet. While the Department is required to verify and collect documents which indicate the industrial hemp seed planted comes from a certified seed source, for now, we can be somewhat flexible on the form this certification may take. Acceptable forms of certification could include a letter, form or other written verification or combination of these documents that at a minimum includes:
Third party (someone other than the applicant and the grower of the seed) THC content testing results for the industrial hemp. The third party should be identified on the testing results;
THC content test results must be for the variety or varieties included on the application and preferably for the specific lot of seed to be planted;
Results of THC content testing and the date tests were conducted;
The name of the seed supplier and origin of the seed.
As industrial hemp seed certified by AOSCA, or other official seed certification programs becomes more available, the Department will review and revise our policies and issue stricter guidelines for acceptable documentation of seed certification.
Sampling and Testing
The licensee will allow the inspection and sampling of the industrial hemp crop at any and all times that the Department deems necessary. The licensee will be notified prior to inspection and sampling. During the inspection and sampling the licensee or authorized representative will allow complete and unrestricted access to all industrial hemp plants within the licensed growing area(s).

If the industrial hemp crop has not been inspected and sampled 15 days prior to the anticipated harvest date, the licensee will notify the Department of intent to harvest.

All industrial hemp plants from all varieties and licensed growing areas will be tested for THC content as one composite sample. Licensees that request to have growing areas or varieties tested separately are responsible for paying laboratory analysis costs for any additional testing.

Crops testing above the allowable THC limit (0.3% THC on a dry weight basis) will be destroyed in a manner approved by the Department. The licensee is responsible for paying all costs associated with crop destruction.
Frequently Asked Questions
I have a medical marijuana license. Can I grow hemp?
Yes, but industrial hemp and medical marijuana plants cannot be co-mingled. The rule states: "No industrial hemp plants shall be included in other licensed marijuana production programs. No growing area may contain Cannabis plants which the licensee knows or has reason to know are of a variety that will produce a plant that when tested will contain more than 0.3% THC on a dry weight basis."
What is a growing area?
A "Growing Area" is defined as the land (the current rules only allow growth of industrial hemp "outdoors") on which a licensee cultivates or plans to cultivate industrial hemp.
A "Non-Contiguous Growing Area" is defined as a growing area on which a licensee grows or plans to grow industrial hemp that is separated from other growing areas by more than 50 miles.
Can I include multiple growing areas on one license?
Growing areas that are within 50 miles of each other can be included on one license application.
When is a separate license required?
Growing areas that are "non-contiguous" must be included on a separate application. Each separate application requires submission of the full $100.00 application fee.
Can I grow industrial hemp indoors or in a greenhouse?
No. Growers can start plants indoors, but once the seedlings are hardy enough to survive outdoors they must be grown outside without any sort of roof or covering over the top.
Industrial hemp seedlings are defined as non-flowering plants that are no more than 12 inches tall.
All seedlings started indoors must be moved outside and grown without coverings by June 30. Should the threat of frost occur after June 30, the use of a row cover or other frost protection is allowed.
Can I grow industrial hemp from tissue culture or clones?
Yes, as long as you can provide appropriate third party analysis on the variety you plan to grow. If you plan to grow from tissue culture or clones, submit documentation on the plants from which the tissue culture or clones will be produced that includes the same minimum information required above for those growing industrial hemp from seed.
Where can I find more information about industrial hemp?
Industrial Hemp in North America: Production, Politics and Potential (PDF) - From the journal Agronomy
Growing Industrial Hemp in Ontario - Factsheet on growing, harvesting and processing industrial hemp
Purdue University Hemp Project - Information on biology, production and uses of industrial hemp
Updated: April 16, 2019
FEATURED TOPICS
Related Links
PROGRAM CONTACTS
Industrial Hemp
Division of Animal and Plant Health
28 State House Station
Augusta, ME 04333
phone: 207-287-3891
fax: 207-287-5576