(Printer Friendly Version-85 KB pdf) (Download a free copy of Adobe Acrobat Reader)
Number Five Bog
T5 R7 BKP WKR, Bradstreet Twp.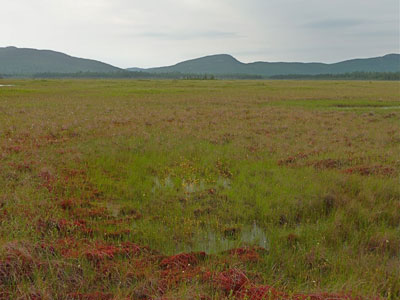 Vital Statistics
Size: 4,821 acres
Upland: 1,788 acres
Forested Wetland (NWI): 1,506 acres
Non-Forested Wetland: 1,527 acres
Open Water: 186 acres
Roads: 1/3 mile
Biophysical Region: Connecticut Lakes
BPL Region: West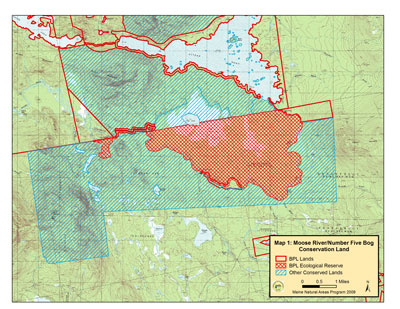 (Download a Printer Friendly Version- 3.15 MB pdf-of this map.)
Exemplary Natural Communities
Rare Plants
There are no documented occurrences of rare plants within this Ecoreserve.
Rare Animals
For more information on rare animals in Maine, visit the Maine Department of Inland Fisheries and Wildlife.
Description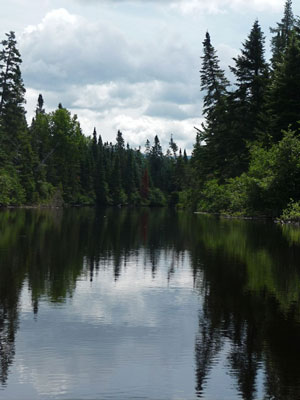 The Moose River/Number Five Bog tract lies at the heart of one of Maines remarkable concentrations of special natural features including mountains, lakes, river and large open bog, all in a remarkably natural setting. The area includes most of Number Five Bog, an A-ranked ribbed fen ecosystem complex which includes open cedar fen, dwarf shrub bog, and leatherleaf bog communities. Number Five Bog has long been recognized as one of the most remarkable in the northeast and was designated as a National Natural Landmark for its special features. The area also includes the largest stand of inland jack pine in the state. The jack pine stand was harvested in the past but is no longer easily operable with no road and bridge access.
Both the bog and jack pine stand are accessible within a quarter mile hike from either the shores of Attean Pond or the Moose River. Approximately one third of the Moose River bow wilderness canoe trip, one of the most popular in the state and part of the emerging Northern Forest Canoe Trail, lies within the reserve. Primitive camp sites for those canoeing the river occur at several points along the river corridor, notably Holeb Falls, Spencer Rips and Attean Falls.
The predominant Ecological Land Unit (ELU) of area is Wet-Moist Flats. This area includes the only large area of this type in the Section. The area completes protection of the entirety of Bog Pond, a 92 acre pond, one of the largest ponds entirely within a peatland in Maine and one of the best examples of its type in Maine. It also protects both shores of about 15 miles of the Moose River, an outstanding natural segment of a Class A Maine River.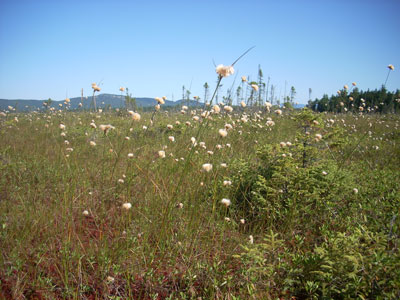 Resources
Critical Areas Program. 1983. Jack Pine in Maine. Critical Areas Program, Augusta, ME.
Gawler, S.C. 1982. Arethusa (A. bulbosa), A Rare Orchid in Maine. Maine State Planning Office, Augusta, ME.
Johnson, C.W. 1985. Bogs of the Northeast. University Press of New England, Hanover.
Bennett, D.B. 1988. Maine's Natural Heritage: Rare Species and Unique Natural Features. Critical Areas Program, Augusta, ME.
McMahon, J. 1998. An Ecological Reserve System Inventory: Potential Ecological Reserves on Maine's Existing Public and Private Conservation Lands. Maine Forest Biodiversity Project, Maine State Planning Office, Augusta, ME.
Sorenson, E. 1986. The Ecology and Distribution of Ribbed Fens in Maine. Critical Areas Program, Augusta, ME.
Tyler, H.R. and C.V. Davis. 1982. Evaluation of No. 5 Bog and Hack Pine Stand, Somerset County, Maine, as a Potential National Natural Landmark. Maine State Planning Office, Augusta, ME.