Beginning with Habitat (BwH)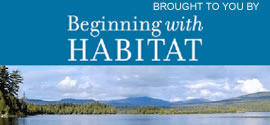 The Beginning with Habitat program is a cooperative, non-regulatory effort between state and federal agencies, conservation groups and regional governments in Maine. The program provides towns and land trusts with the best available information on rare plants and animals, important habitats, riparian areas, and undeveloped habitat blocks. Local planners can use the maps and data provided through Beginning with Habitat to answer the question, "What do we want our community to look like in 50 years?"
Resources available to local planners include:
Maps
Data
Publications about habitat and planning
Educational presentations
Technical assistance
Assistance is available to town officials and groups such as planning boards, comprehensive planning committees, and conservation commissions, as well as to land trusts.
For more information, or to request a presentation and maps for your town, visit the Beginning with Habitat web site.
See also