Contact Us
Physical address: 90 Blossom Lane (Deering Building), Augusta, Maine (Driving directions)


Mailing address: 177 State House Station, Augusta, ME 04333-0177


Phone: 207-287-8044
FAX: 207-287-7548
E-mail: maine.nap@maine.gov
Staff
| Name | Position | Responsibilities | E-mail |
| --- | --- | --- | --- |
| Molly Docherty | Director | MNAP program administration, fundraising, interagency communications, public-private partnerships | molly.docherty@maine.gov |
| Don Cameron | Ecologist / Botanist | Rare plants, aquatic biodiversity, forestry technical assistance, public lands management, ecological inventory and monitoring | don.s.cameron@maine.gov |
| Catherine Spolarich | Invasive Plant Biologist | Invasive plant outreach and monitoring | invasives.mnap@maine.gov |
| Kristen Puryear | Ecologist | Wetland ecology, habitat restoration, landowner technical assistance, coastal resilience, ecological inventory and monitoring | kristen.puryear@maine.gov |
| Justin Schlawin | Ecologist | Ecological inventory and monitoring, natural community classification, public lands management, GIS analysis | justin.schlawin@maine.gov |
| Lisa St. Hilaire | Information Manager | General information requests (including plant identification, invasive species, data requests), environmental site review, landowner outreach, database management, GIS analysis | lisa.st.hilaire@maine.gov |
Directions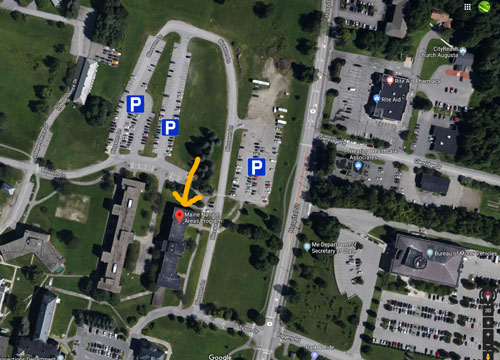 The Maine Natural Areas Program (MNAP) is located on the second floor of the Deering Building on the grounds of the Eastside Campus of government buildings in Augusta, Maine. Accessible entry, public entry, and parking is from north side of the building. Office hours are from 8:00 am to 5:00 pm, Monday through Friday.
Get directions using Google Map
Please note that this is a secure building. You can enter the first floor, but for access to other floors you may need to phone somebody. Contact the MNAP by phone at (207) 287-8044 or by e-mail at maine.nap@maine.gov. Our mailing address is MNAP, 177 SHS, Augusta ME 04333-0177.