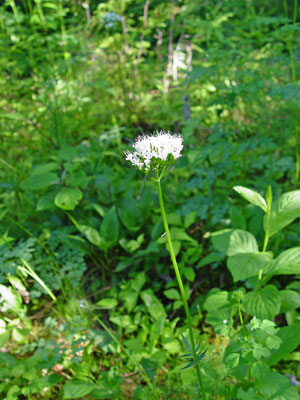 Valeriana uliginosa (Torr. & Gray) Rydb.
Marsh Valerian
State Rank: S2
Global Rank: G4
State Status: Special Concern
Habitat: Circumneutral fens, in open areas. [Forested wetland; Open wetland, not coastal nor rivershore (non-forested, wetland)]
Range: Quebec to Ontario, Maine, Vermont, New York, Ohio, Indiana, Michigan, and Wisconsin.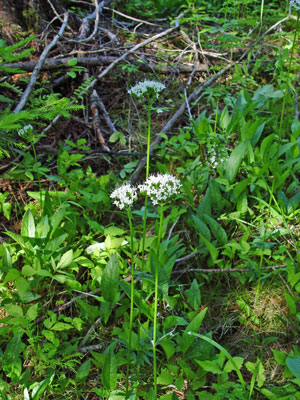 Aids to Identification: Valarians are perennial herbs with opposite, pinnately compound leaves. The flowers are small and white. During flowering, the sepals appear as 5-20 narrow bristles. In fruit, these sepals elongate and form a plume that aids in wind dispersal of the fruits, a process similar to that of dandelions. V. uglinosa is a native species of circumneutral fens with simple, basal leaves and glabrous leaflets. The introduced V. officinalis occurs in fields and disturbed areas. This similar looking species has pinnately-divided leaves and pubescent leaflets (on the undersurface).
Ecological characteristics: Found in cool, limy swamps associated with larch (Larix laricina) and white cedar (Thuja occidentalis). May decline as trees encroach on the openings in which it grows.
Phenology: Perennial, flowers May - June.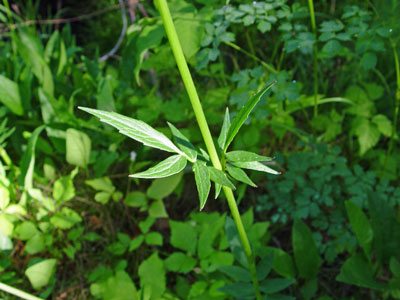 Family: Caprifoliaceae
Synonyms: Valeriana sitchensis Bong. ssp. uliginosa (Torr. & Gray) F,G, Mey; Valeriana sitchensis Bong. var. uliginosa (Torr. & Gray) Boivin.
Known Distribution in Maine: This rare plant has been documented from a total of 27 town(s) in the following county(ies): Aroostook, Penobscot, Piscataquis.
Reason(s) for rarity: Habitat naturally scarce.
Conservation considerations: It is most often found in openings within its cedar bog habitat suggesting that decreased light with canopy closure may be limiting. Partial removal of the canopy could be beneficial to the species; complete canopy removal could cause more drastic habitat changes and would be more likely to be detrimental.
For more information, see the Native Plant Trust's Conservation Plan for Valeriana uliginosa.