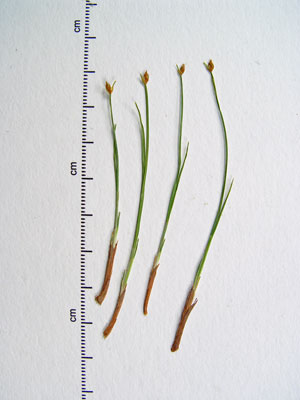 Trichophorum clintonii (Gray) S.G. Smith
Clinton's Bulrush
Habitat: Dry or springy argillaceous or slaty ledges, gravel or open woods and turfy shores. [Open wetland, not coastal nor rivershore (non-forested, wetland); Non-tidal rivershore (non-forested, seasonally wet)]
Range: Quebec and New Brunswick to New York and Minnesota .
Aids to Identification: Members of the genus Trichophorum are sedges with solitary, terminal spikelets subtended by an enlarged scale. The achenes, which lack tubercles possessed by spikerushes, are subtended by 3-6, brown or white, perianth bristles. This short bulrush characteristically grows in dense, low tufts. The lower sheaths are bladeless, the upper bearing leaves shorter than the stem. The terminal spikelet is 4-5 mm wide and has 4-7 flowers. The achenes (fruits) are pale brown, 3-angled, and 1.4-2 mm wide. The triangular stem (in cross section) separates this from the very similar T. cespitosum, which has a round stem. Also closely related to T. alpinum, it can be distinguished by its brown bristles about 2 mm long.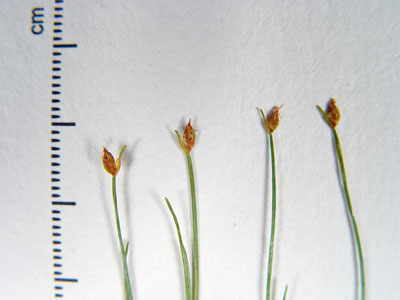 Ecological characteristics: This species has been found in Maine growing on calcareous, ledgy shores.
Phenology: Perennial. Fruits May - July.
Family: Cyperaceae
Synonyms: Baeothryon cespitosum (L.) A. Dietr.; Scirpus clintonii Gray.
Known Distribution in Maine: This rare plant has been documented from a total of 23 town(s) in the following county(ies): Aroostook, Kennebec, Penobscot, Piscataquis, Somerset.
Reason(s) for rarity: At southern limit of range.
Conservation considerations: Known populations are small, but not currently subject to any particular human threat; it seems to persist on the few river ledges where it grows. Heavy recreational use of ledges could pose problems.