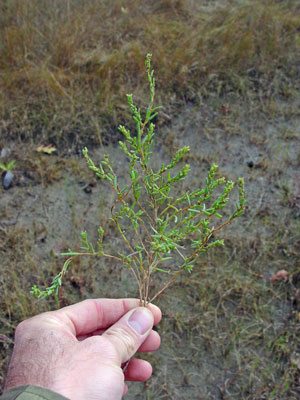 Suaeda calceoliformis (Hook.) Moq.
American Sea-blite
Habitat: Rocky or gravelly saltmarshes and sea-strands. [Tidal wetland (non-forested, wetland)]
Range: Cote Nord, Quebec, south to southern Maine. Also listed as rare in Massachusetts; does not occur elsewhere in New England. This species may still occur at some historic locations but may not have been carefully searched for. It can be difficult to distinguish from the common species, and thus can be easily overlooked.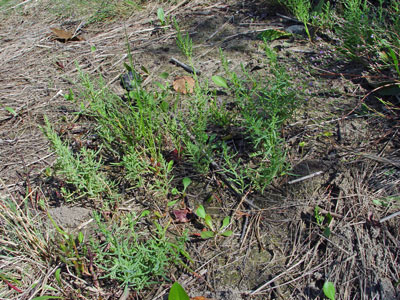 Aids to Identification: Sea-blites are succulent halophytes with flowers borne consistently in clusters of 3 in the axils of the leaves. The flowers lack petals and have 5 green sepals. This species resembles the common sea-blite (S. maritima). It differs from common sea-blite in that the sepals, at maturity, are not all the same size: one or two of the flowers are much larger or bear an appendage on the outside surface. The fruits are 1-1.5 mm long (vs. 1.5-2 mm long in S. maritima).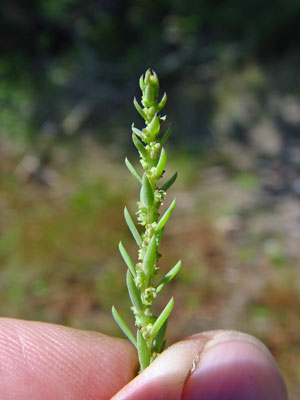 Ecological characteristics: Little information is available on habitat characteristics for this species in Maine. It appears to most often occur near the upper intertidal limit and has been found both in saltmarshes and along sandy or gravelly shores.
Phenology: Flowers August - October.
Family: Amaranthaceae
Synonyms: Dondia americana (Pers.) Britt. in Britt. & Brown; Dondia calceoliformis (Hook.) Rydb.; Dondia depressa, auct. non (Pursh) Britt.; Suaeda americana (Pers.) Fern.; Suaeda maritima (L.) Dumort. var. americana (Pers.) Boivin.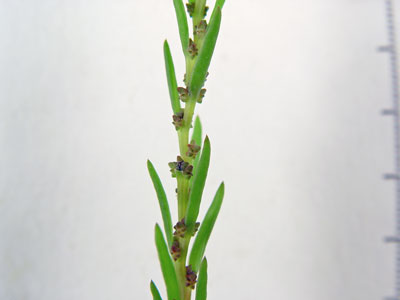 Known Distribution in Maine: This rare plant has been documented from a total of 16 town(s) in the following county(ies): Cumberland, Hancock, Knox, Lincoln, Sagadahoc, York.
Reason(s) for rarity: Near northern limit of its range.
Conservation considerations: Unknown. It has not been documented recently from several historic locations but may have been overlooked due to resemblance to common species.