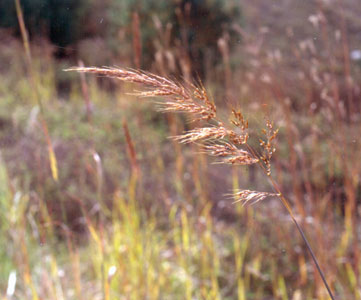 Sorghastrum nutans (L.) Nash
Indian Grass
Habitat: Dry slopes, prairies, and borders of woods. [Non-tidal rivershore (non-forested, seasonally wet)]
Range: Quebec and Maine to Manitoba and North Dakota, south to Florida and Arizona.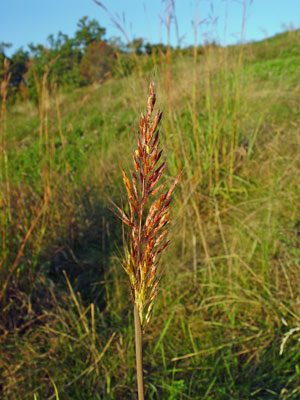 Aids to Identification: Indian grass grows to a height of 1-2.5 m in loose tufts. The blades are 5-10 mm wide tapering to a narrow base. The golden panicle is 10-30 cm long and rather narrow with many branches. The spikelets are 6-8 mm long with awns of 1-1.5 cm. The florets, borne in pairs, are distinctive. One flower (sessile) is bisexual and will produce fruit. The second flower is represented only by a silky-pubescent pedicel.
Ecological characteristics: This species of grass is an important component of the tall-grass prairies in the Great Plains. In Maine, it has been documented from very few rivershores and lakeshores.
Phenology: Perennial. Fruits August - September.
Family: Poaceae
Synonyms: Andropogon nutans L.
Known Distribution in Maine: This rare plant has been documented from a total of 10 town(s) in the following county(ies): Androscoggin, Aroostook, Hancock, Kennebec, Oxford, Penobscot, Somerset, Waldo, York.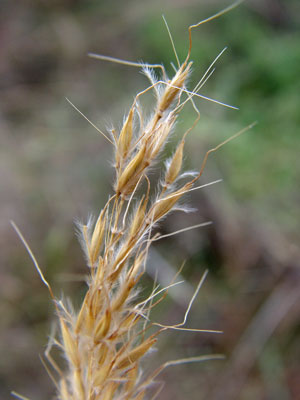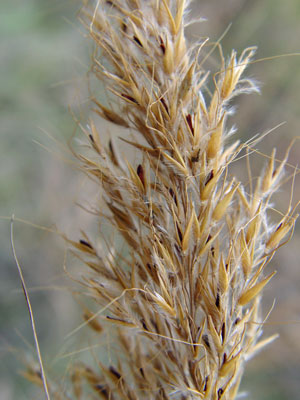 Reason(s) for rarity: At northern limit of range.
Conservation considerations: Known populations are small and subject to the vagaries of small populations like random fluctuations or localized disturbance events.