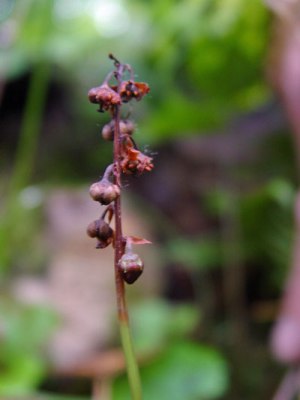 Pyrola minor L.
Lesser Wintergreen
Habitat: Moist woods. [Conifer forest (forest, upland)]
Range: Circumboreal. South to the higher mountains of New England and northern Michigan.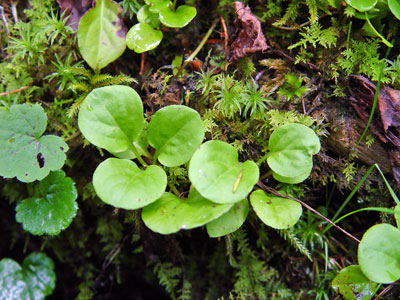 Aids to Identification: This small wintergreen grows to a height of only 5-15 cm. Like other members of the genus Pyrola, this herb has no true stem, but rather a flower stalk upon which grows a raceme of white flowers. Lesser wintergreen can be distinguished from closely related species by two characteristics: the flowers grow on all sides of the stalk, rather than just being one-sided; and the style of each flower is straight and does not protrude beyond the end of the petals. The nearly basal leaves of P. minor are round-oblong and 2-4 cm long.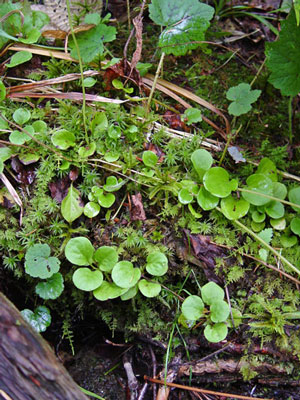 Ecological characteristics: In Maine, this plant is found in cool, moist woods, usually near streams or riverbanks.
Phenology: Flowers June - August.
Family: Ericaceae
Synonyms: Braxilia minor (L.) House; Erxlebenia minor (L.) Rydb.; Pyrola minor var. parviflora Boivin.
Known Distribution in Maine: This rare plant has been documented from a total of 17 town(s) in the following county(ies): Aroostook, Franklin, Piscataquis, Somerset
Reason(s) for rarity: At southern limit of range.
Conservation considerations: Unknown. Complete canopy removal would more likely harm the populations than would partial canopy removal.