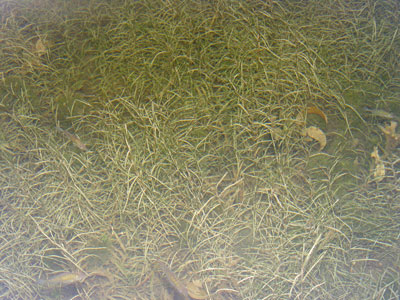 Potamogeton strictifolius Benn.
Straight-Leaved Pondweed
Habitat: Calcareous waters [Open water (non-forested, wetland)]
Range: New Brunswick south to Connecticut, west to Indiana, north to Minnesota and Saskatchewan.
Aids to Identification: Members of the genus Potamogeton are submerged, aquatic plants that can be difficult to identify. Fruit is very important for proper identification. P. strictifolius has submerged leaves only with white and fibrous (easily shredded) stipules that are free from the leaf blade. The acute leaves are 0.5-2.0 mm wide with 3-5 prominent veins and are fairly rigid. The flowers are in a terminal spike with 3-4 flowers in a whorl.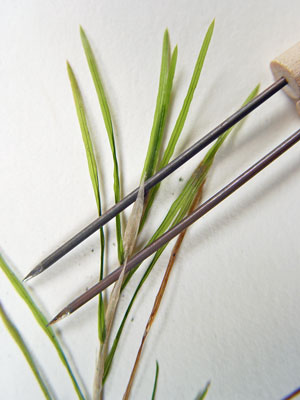 Ecological characteristics: A submerged aquatic plant growing in calcareous waters in northern Maine. Known to hybridize with P. zosteriformis. Hybrid know as P. x haynesii Hellquist & Crow.
Phenology: Flowering and fruiting summer to fall.
Family: Potamogetonaceae
Synonyms: Potamogeton strictifolius Benn. var. rutiloides Fern. Misapplied as P. rutilus Wolfg. ex Roem. & Schult. in old treatments.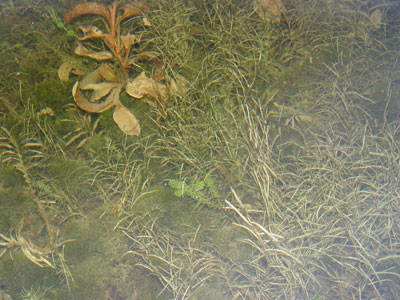 Known Distribution in Maine: This rare plant has been documented from a total of 5 towns in the following county: Aroostook.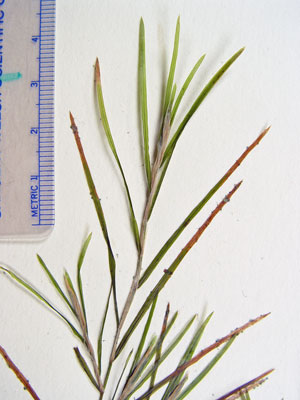 Reason(s) for rarity: At northeastern edge of range; alkaline waters are uncommon in Maine.
Conservation considerations: Invasive aquatic plants and eutrophication could pose threats to populations.