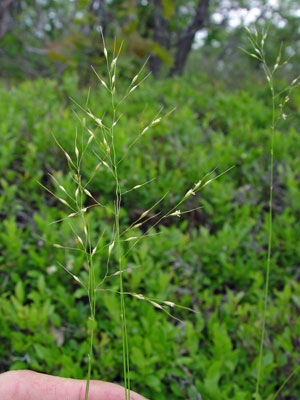 Piptatherum canadense (Poir.) Dorn
Canada Mountain-rice Grass
Habitat: Dry, sandy, rocky woods [Dry barrens (partly forested, uplands)]
Range: Newfoundland south to Maine, west to Minnesota and West Virginia, north to Alberta.
Aids to Identification: Piptatherum species are tufted perennials recognized by their single spikelet with glumes as long as the spikelet in an open panicle. The florets are awned. Canada mountain-rice grass has oblong, acute, and glabrous glumes slightly exceeding the pubescent lemma. The awn is 6-10 mm long and is twisted near the base. The leaves of Canada mountain-rice grass are rounded (as opposed to flat in the more common O. asperifolia).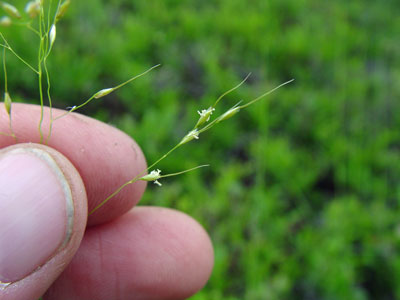 Ecological characteristics: Several sites are located in blueberry barrens.
Phenology: Fruits in June and July.
Family: Poaceae
Synonyms: Oryzopsis canadensis (Poir.) Torr.; Stipa canadensis Poir.
Known Distribution in Maine: This rare plant has been documented from a total of 20 towns in the following counties: Aroostook, Cumberland, Hancock, Knox, Lincoln, Oxford, Washington.
Reason(s) for rarity: Unclear, some locations are located in blueberry barrens which are historically not popular botanizing sites.
Conservation considerations: Sites in blueberry barrens are exposed to periodic burning and herbicides; it is unknown how this has affected populations.