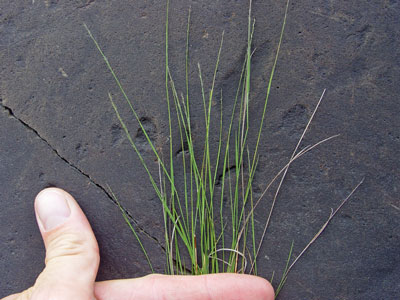 Muhlenbergia richardsonis (Trin.) Rydb.
Soft-leaf Muhly
Habitat: Circumneutral gravel or ledges, often along rivershores [Open wetland, not coastal nor rivershore (non-forested, wetland); Non-tidal rivershore (non-forested, seasonally wet)]
Range: Anticosti Island (at the mouth of the St. Lawrence River) to Maine; southern Michigan; Minnesota to Washington and New Mexico.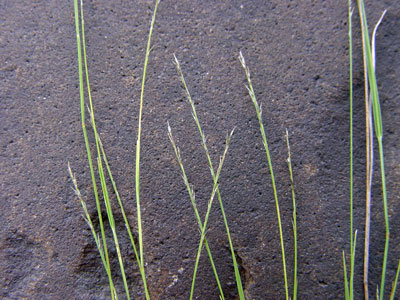 Aids to Identification: Members of the grass family can be difficult to identify without careful examination of microscopic features and knowledge of general groups of species. Soft-leaf muhly is a mat-forming grass with slender but wiry stems, 30-60 cm tall. The leaf blades are generally 3-6 cm long, 1-2 mm wide, and involute (rolled inward). The spikelets, which bear a single floret each, are borne on short branches in a slender inflorescence 1-4 cm long.
Ecological characteristics: In Maine, this grass has been found in rocky outcrops along large rivers.
Phenology: Unknown.
Family: Poaceae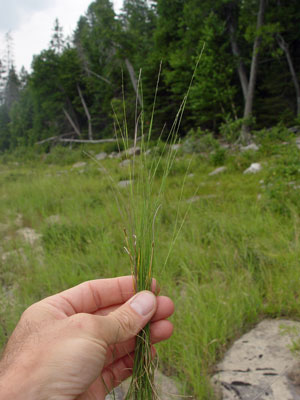 Synonyms: Muhlenbergia squarrosa (Trin.) Rydb.
Known Distribution in Maine: This rare plant has been documented from a total of 13 town(s) in the following county(ies): Aroostook, Kennebec.
Reason(s) for rarity: Unknown.
Conservation considerations: Most known populations are small, but the plant seems to persist on the few river ledges where it grows. Heavy recreational use of ledges could pose problems.