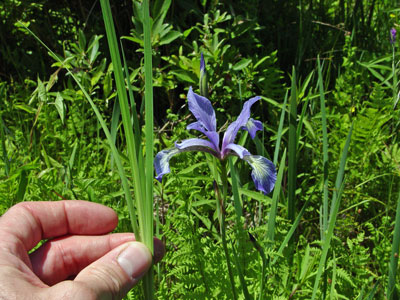 Iris prismatica Pursh ex Ker-Gawl.
Slender Blue Flag
Habitat: Brackish or saline to fresh marshes, sands, shores, or meadows, along coast. [Tidal wetland (non-forested, wetland)]
Range: Coastal; Maryland to southern Maine. Rare in New Hampshire as well; not rare southward.
Aids to Identification: Slender blue-flag is a close relative of the common blue-flag or wild iris (I. versicolor). Slender blue-flag's primary distinguishing feature is its narrow leaves, which are 3-6 mm wide, compared to 1.2-2.5 cm wide in I. versicolor.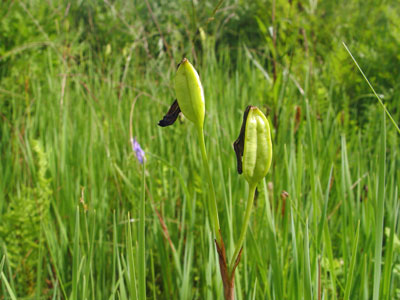 Ecological characteristics: Slender blue-flag grows in saltmarshes, near the upland borders, and in wet near-coastal meadows. Associates in Maine include common blue-flag (I. versicolor), sweetgrass (Hierochloe odorata), wild rose (Rosa spp.), bayberry (Myrica pensylvanica), and other grasses and sedges.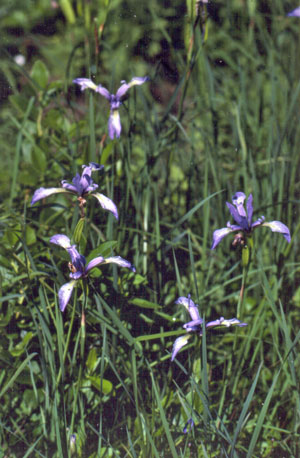 Phenology: Flowers June - mid July.
Family: Iridaceae
Synonyms: None noted.
Known Distribution in Maine: This rare plant has been documented from a total of 6 town(s) in the following county(ies): Sagadahoc, York.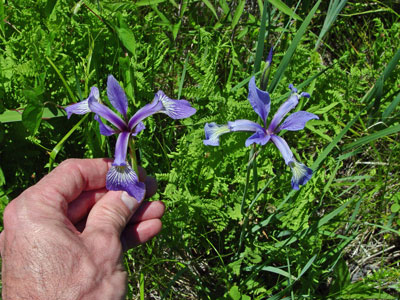 I. versicolor
left,
I. prismatica
right
Reason(s) for rarity: At northern limit of range; naturally restricted habitat; some wetlands that formerly supported this species have been filled and/or drained.
Conservation considerations: Several historic locations appear to have been lost, but the plant appears fairly well protected in the saltmarshes where it remains. Continued persistence will require maintaining the integrity of the saltmarsh habitat.