Floristic Quality Assessment - Coefficient of Conservatism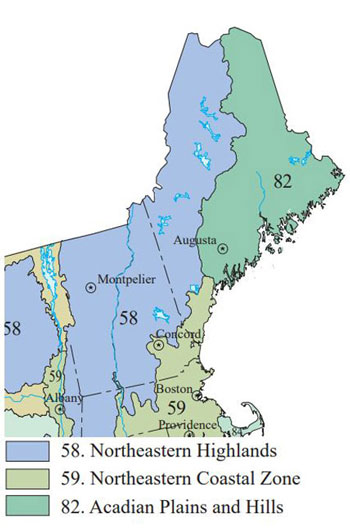 EPA Level III Ecoregions in Maine
Coefficient of Conservatism (CoC) values are the key component of the Floristic Quality Index, a tool used to assess the quality of natural communities. CoC values range from 0 to 10 and are based on two factors: 1) plants have various degrees of fidelity to specific habitats and their quality, and 2) plants have varying tolerances to disturbances and respond in various degrees. These are provided for the three EPA Level III Ecoregions in Maine.
Comments or questions regarding CoC values for Maine or the list should be directed to Don Cameron (don.s.cameron@maine.gov).
Related Resources
Downloadable/Printable Versions
Maine Coefficient of Conservatism - PDF Version | Maine Coefficient of Conservatism - Excel Version
Click on column headers to sort the table.
| Scientific Name | Nativity | EcoReg 58 CoC | EcoReg 59 CoC | EcoReg 82 CoC | Coefficient of Wetness |
| --- | --- | --- | --- | --- | --- |
| Abies balsamea | native | 4 | 6 | 3 | 0 |
| Abies concolor | non-native | 0 | 0 | 0 | 0 |
| Abutilon theophrasti | non-native | 0 | 0 | 0 | 3 |
| Acalypha rhomboidea | native | 2 | 2 | 2 | 3 |
| Acer ginnala | non-native | 0 | 0 | 0 | 0 |
| Acer negundo | non-native | 2 | 3 | 0 | 0 |
| Acer pensylvanicum | native | 5 | 6 | 5 | 3 |
| Acer platanoides | non-native | 0 | 0 | 0 | 5 |
| Acer pseudoplatanus | non-native | 0 | 0 | 0 | 0 |
| Acer rubrum | native | 3 | 3 | 3 | 0 |
| Acer saccharinum | native | 6 | 7 | 6 | -3 |
| Acer saccharum | native | 5 | 6 | 5 | 3 |
| Acer spicatum | native | 6 | 7 | 6 | 3 |
| Acer xfreemanii | native | 2 | 0 | 2 | 0 |
| Achillea millefolium var. millefolium | non-native | 1 | 1 | 0 | 3 |
| Achillea ptarmica | non-native | 0 | 0 | 0 | 3 |
| Acinos arvensis | non-native | 0 | 0 | 0 | 0 |
| Aconitum napellus | non-native | 0 | 0 | 0 | 0 |
| Acorus americanus | native | 6 | 6 | 5 | -5 |
| Acorus calamus | native | 6 | 6 | 5 | -5 |
| Actaea pachypoda | native | 7 | 7 | 7 | 5 |
| Actaea racemosa | non-native | 7 | 8 | 0 | 0 |
| Actaea rubra | native | 7 | 6 | 7 | 3 |
| Actinidia arguta | non-native | 0 | 0 | 0 | 0 |
| Adiantum aleuticum | native | 9 | 0 | 0 | 3 |
| Adiantum pedatum | native | 7 | 7 | 7 | 3 |
| Adlumia fungosa | native | 8 | 8 | 7 | 0 |
| Aegopodium podagraria | non-native | 0 | 0 | 0 | 0 |
| Aesculus glabra | non-native | 0 | 0 | 0 | 0 |
| Aesculus hippocastanum | non-native | 0 | 0 | 0 | 0 |
| Aethusa cynapium | non-native | 0 | 0 | 0 | 0 |
| Agalinis maritima | native | 0 | 9 | 7 | -3 |
| Agalinis neoscotica | native | 0 | 0 | 8 | -3 |
| Agalinis paupercula | native | 5 | 5 | 4 | -5 |
| Agalinis tenuifolia | native | 4 | 4 | 4 | -3 |
| Ageratina altissima | native | 5 | 4 | 5 | 3 |
| Agrimonia gryposepala | native | 4 | 4 | 4 | 3 |
| Agrimonia striata | native | 4 | 4 | 4 | 3 |
| Agrostemma githago | non-native | 0 | 0 | 0 | 0 |
| Agrostis canina | native | 0 | 0 | 0 | 5 |
| Agrostis capillaris | non-native | 0 | 0 | 0 | 0 |
| Agrostis elliottiana | non-native | 0 | 0 | 0 | 3 |
| Agrostis gigantea | non-native | 0 | 0 | 0 | -3 |
| Agrostis hyemalis | native | 3 | 3 | 4 | 0 |
| Agrostis mertensii | native | 8 | 0 | 0 | 3 |
| Agrostis perennans | native | 3 | 3 | 3 | 3 |
| Agrostis scabra | native | 2 | 3 | 2 | 0 |
| Agrostis stolonifera | non-native | 3 | 3 | 0 | -3 |
| Ailanthus altissima | non-native | 0 | 0 | 0 | 5 |
| Ajuga genevensis | non-native | 0 | 0 | 0 | 0 |
| Ajuga reptans | non-native | 0 | 0 | 0 | 0 |
| Alchemilla monticola | non-native | 0 | 0 | 0 | 0 |
| Alisma subcordatum | native | 4 | 4 | 4 | -5 |
| Alisma triviale | native | 4 | 5 | 4 | -5 |
| Alliaria petiolata | non-native | 0 | 0 | 0 | 3 |
| Allium ×proliferum | non-native | 0 | 0 | 0 | 0 |
| Allium canadense | native | 6 | 4 | 6 | 3 |
| Allium cepa | non-native | 0 | 0 | 0 | 0 |
| Allium schoenoprasum var. sibiricum | native | 5 | 5 | 5 | 3 |
| Allium tricoccum | native | 8 | 7 | 6 | 3 |
| Allium vineale | non-native | 0 | 0 | 0 | 3 |
| Alnus glutinosa | non-native | 0 | 0 | 0 | -3 |
| Alnus incana ssp. rugosa | native | 4 | 5 | 3 | -3 |
| Alnus serrulata | native | 5 | 5 | 5 | -5 |
| Alnus viridis | native | 6 | 0 | 4 | 0 |
| Alopecurus aequalis | native | 6 | 6 | 6 | -5 |
| Alopecurus geniculatus | non-native | 0 | 0 | 0 | -5 |
| Alopecurus myosuroides | non-native | 0 | 0 | 0 | -3 |
| Alopecurus pratensis | non-native | 0 | 0 | 0 | 0 |
| Alyssum alyssoides | non-native | 0 | 0 | 0 | 0 |
| Amaranthus albus | non-native | 2 | 2 | 0 | 3 |
| Amaranthus blitoides | non-native | 2 | 2 | 0 | 3 |
| Amaranthus cannabinus | native | 6 | 6 | 7 | -5 |
| Amaranthus caudatus | non-native | 0 | 0 | 0 | 0 |
| Amaranthus cruentus | non-native | 0 | 0 | 0 | 0 |
| Amaranthus hybridus | non-native | 1 | 1 | 0 | 0 |
| Amaranthus powellii | non-native | 0 | 0 | 0 | 0 |
| Amaranthus retroflexus | non-native | 1 | 1 | 0 | 3 |
| Amaranthus spinosus | non-native | 0 | 0 | 0 | 3 |
| Amaranthus tuberculatus | non-native | 3 | 1 | 0 | -5 |
| Ambrosia artemisiifolia | native | 1 | 1 | 2 | 3 |
| Ambrosia psilostachya | non-native | 0 | 0 | 0 | 0 |
| Ambrosia trifida | native | 2 | 2 | 2 | 0 |
| Amelanchier ×intermedia | native | 6 | 0 | 0 | 0 |
| Amelanchier arborea | native | 5 | 4 | 5 | 3 |
| Amelanchier bartramiana | native | 7 | 0 | 6 | 0 |
| Amelanchier canadensis | native | 5 | 5 | 5 | 0 |
| Amelanchier laevis | native | 3 | 4 | 3 | 0 |
| Amelanchier nantucketensis | native | 7 | 7 | 4 | 3 |
| Amelanchier sanguinea | native | 7 | 7 | 5 | 0 |
| Amelanchier sanguinea var. gaspensis | native | 0 | 0 | 7 | 0 |
| Amelanchier stolonifera | native | 5 | 5 | 4 | 0 |
| Amerorchis rotundifolia | native | 10 | 0 | 10 | -5 |
| Ammophila breviligulata | native | 0 | 7 | 6 | 5 |
| Amorpha fruticosa | non-native | 3 | 3 | 0 | -3 |
| Amphicarpaea bracteata | native | 4 | 4 | 5 | 0 |
| Amsinckia douglasiana | non-native | 0 | 0 | 0 | 0 |
| Amsinckia menziesii | non-native | 0 | 0 | 0 | 0 |
| Anagallis arvensis | non-native | 0 | 0 | 0 | 0 |
| Anaphalis margaritacea | native | 2 | 2 | 2 | 3 |
| Anchusa arvensis | non-native | 0 | 0 | 0 | 0 |
| Anchusa officinalis | non-native | 0 | 0 | 0 | 0 |
| Andromeda polifolia | native | 9 | 9 | 7 | -5 |
| Andropogon gerardii | native | 4 | 4 | 3 | 3 |
| Anemone canadensis | native | 5 | 6 | 5 | -3 |
| Anemone cylindrica | native | 6 | 5 | 6 | 0 |
| Anemone quinquefolia | native | 5 | 6 | 6 | 3 |
| Anemone virginiana | native | 5 | 5 | 6 | 3 |
| Anethum graveolens | non-native | 0 | 0 | 0 | 0 |
| Angelica atropurpurea | native | 4 | 4 | 4 | -5 |
| Angelica lucida | native | 0 | 8 | 6 | 0 |
| Antennaria howellii | native | 3 | 3 | 2 | 0 |
| Antennaria neglecta | native | 2 | 3 | 2 | 5 |
| Antennaria parlinii | native | 3 | 3 | 2 | 0 |
| Antennaria plantaginifolia | native | 4 | 4 | 5 | 0 |
| Anthemis arvensis | non-native | 0 | 0 | 0 | 0 |
| Anthemis cotula | non-native | 0 | 0 | 0 | 3 |
| Anthemis tinctoria | non-native | 0 | 0 | 0 | 0 |
| Anthoxanthum aristatum | non-native | 0 | 0 | 0 | 0 |
| Anthoxanthum monticola | native | 10 | 0 | 0 | 0 |
| Anthoxanthum odoratum | non-native | 0 | 0 | 0 | 3 |
| Anthriscus sylvestris | non-native | 0 | 0 | 0 | 0 |
| Apera interrupta | non-native | 0 | 0 | 0 | 0 |
| Apera spica-venti | non-native | 0 | 0 | 0 | 0 |
| Apios americana | native | 4 | 4 | 4 | -3 |
| Apocynum androsaemifolium | native | 2 | 2 | 3 | 5 |
| Apocynum cannabinum | native | 3 | 3 | 3 | 0 |
| Aquilegia canadensis | native | 7 | 6 | 7 | 3 |
| Aquilegia vulgaris | non-native | 0 | 0 | 0 | 0 |
| Arabidopsis thaliana | non-native | 0 | 0 | 0 | 0 |
| Arabis drummondii | native | 7 | 7 | 7 | 0 |
| Arabis glabra | native | 2 | 2 | 2 | 0 |
| Arabis hirsuta var. pycnocarpa | native | 7 | 8 | 6 | 3 |
| Arabis laevigata | native | 7 | 7 | 0 | 0 |
| Arabis missouriensis | native | 8 | 8 | 0 | 0 |
| Aralia hispida | native | 5 | 5 | 5 | 0 |
| Aralia nudicaulis | native | 5 | 4 | 4 | 3 |
| Aralia racemosa | native | 7 | 7 | 6 | 3 |
| Aralia spinosa | non-native | 4 | 4 | 0 | 0 |
| Arceuthobium pusillum | native | 9 | 9 | 7 | 0 |
| Arctium lappa | non-native | 0 | 0 | 0 | 0 |
| Arctium minus | non-native | 0 | 0 | 0 | 3 |
| Arctium tomentosum | non-native | 0 | 0 | 0 | 0 |
| Arctium vulgare | non-native | 0 | 0 | 0 | 0 |
| Arctostaphylos alpina | native | 10 | 0 | 0 | 0 |
| Arctostaphylos uva-ursi | native | 7 | 7 | 6 | 5 |
| Arenaria serpyllifolia | non-native | 0 | 0 | 0 | 0 |
| Arethusa bulbosa | native | 9 | 9 | 9 | -5 |
| Argentina anserina | native | 4 | 3 | 3 | -3 |
| Argentina egedii | native | 0 | 8 | 6 | 0 |
| Arisaema triphyllum ssp. triphyllum | native | 5 | 5 | 6 | 0 |
| Aristida basiramea | native | 2 | 0 | 2 | 0 |
| Aristida dichotoma | native | 2 | 4 | 3 | 3 |
| Aristida oligantha | non-native | 5 | 5 | 0 | 0 |
| Aristolochia macrophylla | non-native | 9 | 0 | 0 | 0 |
| Armoracia rusticana | non-native | 0 | 0 | 0 | 0 |
| Arnica lanceolata | native | 10 | 0 | 0 | 0 |
| Arnoseris minima | non-native | 0 | 0 | 0 | 0 |
| Aronia arbutifolia | native | 5 | 5 | 5 | -3 |
| Aronia melanocarpa | native | 5 | 5 | 5 | 0 |
| Aronia prunifolia | native | 5 | 5 | 6 | -3 |
| Arrhenatherum elatius | non-native | 0 | 0 | 0 | 3 |
| Artemisia abrotanum | non-native | 0 | 0 | 0 | 0 |
| Artemisia absinthium | non-native | 0 | 0 | 0 | 0 |
| Artemisia annua | non-native | 0 | 0 | 0 | 3 |
| Artemisia biennis | non-native | 2 | 2 | 0 | -3 |
| Artemisia campestris | native | 7 | 5 | 8 | 5 |
| Artemisia ludoviciana | non-native | 2 | 2 | 0 | 5 |
| Artemisia pontica | non-native | 0 | 0 | 0 | 0 |
| Artemisia stelleriana | non-native | 0 | 0 | 0 | 3 |
| Artemisia vulgaris | non-native | 0 | 0 | 0 | 5 |
| Aruncus dioicus | non-native | 0 | 0 | 0 | 3 |
| Asarum canadense | native | 8 | 7 | 7 | 5 |
| Asclepias exaltata | native | 5 | 6 | 5 | 5 |
| Asclepias incarnata | native | 4 | 4 | 4 | -5 |
| Asclepias syriaca | native | 2 | 2 | 2 | 5 |
| Asparagus officinalis | non-native | 0 | 0 | 0 | 3 |
| Asplenium platyneuron | native | 6 | 6 | 8 | 3 |
| Asplenium trichomanes | native | 8 | 8 | 8 | 5 |
| Asplenium trichomanes-ramosum | native | 10 | 0 | 0 | 5 |
| Astragalus alpinus | native | 9 | 0 | 9 | 0 |
| Astragalus robbinsii var. minor | native | 8 | 0 | 0 | 5 |
| Athyrium filix-femina | native | 4 | 5 | 4 | 0 |
| Atriplex glabriuscula | native | 8 | 8 | 7 | 3 |
| Atriplex littoralis | non-native | 0 | 0 | 0 | 0 |
| Atriplex patula | non-native | 0 | 0 | 0 | -3 |
| Atriplex prostrata | non-native | 6 | 5 | 0 | 0 |
| Atriplex subspicata | native | 7 | 8 | 7 | -3 |
| Aureolaria flava | native | 6 | 6 | 5 | 0 |
| Aureolaria pedicularia | native | 6 | 7 | 6 | 0 |
| Avena fatua | non-native | 0 | 0 | 0 | 0 |
| Avena sativa | non-native | 0 | 0 | 0 | 5 |
| Axyris amaranthoides | non-native | 0 | 0 | 0 | 0 |
| Barbarea verna | non-native | 0 | 0 | 0 | 0 |
| Barbarea vulgaris | non-native | 0 | 0 | 0 | 0 |
| Bartonia paniculata | native | 7 | 6 | 7 | -5 |
| Bartonia virginica | native | 6 | 6 | 5 | -3 |
| Bassia hyssopifolia | non-native | 0 | 0 | 0 | -3 |
| Bassia scoparia | non-native | 0 | 0 | 0 | 3 |
| Beckmannia syzigachne | non-native | 0 | 0 | 0 | -5 |
| Bellis perennis | non-native | 0 | 0 | 0 | 0 |
| Berberis thunbergii | non-native | 0 | 0 | 0 | 3 |
| Berberis vulgaris | non-native | 0 | 0 | 0 | 3 |
| Berteroa incana | non-native | 0 | 0 | 0 | 0 |
| Beta vulgaris | non-native | 0 | 0 | 0 | 0 |
| Betula ×caerulea | native | 6 | 6 | 6 | 0 |
| Betula alleghaniensis | native | 5 | 6 | 5 | 0 |
| Betula glandulosa | native | 9 | 0 | 9 | -5 |
| Betula lenta | native | 5 | 5 | 5 | 3 |
| Betula minor | native | 9 | 0 | 0 | 0 |
| Betula nana | native | 9 | 0 | 0 | 0 |
| Betula papyrifera var. cordifolia | native | 6 | 7 | 7 | 3 |
| Betula papyrifera var. papyrifera | native | 4 | 5 | 3 | 3 |
| Betula pendula | non-native | 0 | 0 | 0 | 3 |
| Betula platyphylla | non-native | 0 | 0 | 0 | 0 |
| Betula populifolia | native | 3 | 3 | 2 | 0 |
| Betula pubescens | non-native | 0 | 0 | 0 | -3 |
| Betula pumila | native | 8 | 9 | 8 | -5 |
| Bidens aristosa | native | 2 | 2 | 0 | -3 |
| Bidens beckii | native | 7 | 8 | 6 | -5 |
| Bidens cernua | non-native | 4 | 4 | 0 | -5 |
| Bidens connata | native | 4 | 4 | 3 | -3 |
| Bidens discoidea | native | 6 | 6 | 4 | -3 |
| Bidens eatonii | native | 0 | 9 | 6 | -5 |
| Bidens frondosa | native | 2 | 2 | 2 | -3 |
| Bidens hyperborea | native | 5 | 8 | 6 | -5 |
| Bidens tripartita | non-native | 4 | 4 | 0 | -3 |
| Bidens vulgata | native | 2 | 2 | 2 | 0 |
| Boehmeria cylindrica | native | 6 | 4 | 5 | -5 |
| Bolboschoenus fluviatilis | native | 6 | 7 | 6 | -5 |
| Bolboschoenus maritimus | native | 0 | 8 | 6 | -5 |
| Bolboschoenus novae-angliae | native | 9 | 9 | 9 | -5 |
| Bolboschoenus robustus | native | 0 | 9 | 7 | -5 |
| Borago officinalis | non-native | 0 | 0 | 0 | 0 |
| Botrychium dissectum | native | 4 | 4 | 4 | 0 |
| Botrychium lanceolatum var. angustisegmentum | native | 6 | 6 | 5 | -3 |
| Botrychium lunaria | native | 7 | 0 | 4 | -3 |
| Botrychium matricariifolium | native | 6 | 6 | 5 | 3 |
| Botrychium multifidum | native | 4 | 4 | 4 | 0 |
| Botrychium oneidense | native | 5 | 7 | 5 | 0 |
| Botrychium simplex | native | 5 | 6 | 3 | 0 |
| Botrychium virginianum | native | 7 | 7 | 7 | 0 |
| Bouteloua curtipendula | non-native | 5 | 7 | 0 | 0 |
| Bouteloua gracilis | non-native | 0 | 0 | 0 | 0 |
| Bouteloua radicosa | non-native | 0 | 0 | 0 | 0 |
| Bouteloua simplex | non-native | 0 | 0 | 0 | 0 |
| Brachyelytrum aristosum | native | 6 | 5 | 6 | 3 |
| Brasenia schreberi | native | 5 | 6 | 5 | -5 |
| Brassica juncea | non-native | 0 | 0 | 0 | 5 |
| Brassica napus | non-native | 0 | 0 | 0 | 0 |
| Brassica nigra | non-native | 0 | 0 | 0 | 0 |
| Brassica rapa | non-native | 0 | 0 | 0 | 5 |
| Briza media | non-native | 0 | 0 | 0 | 0 |
| Bromus arvensis | non-native | 0 | 0 | 0 | 3 |
| Bromus ciliatus | native | 5 | 6 | 4 | -3 |
| Bromus erectus | non-native | 0 | 0 | 0 | 0 |
| Bromus hordeaceus | non-native | 0 | 0 | 0 | 5 |
| Bromus inermis | non-native | 0 | 0 | 0 | 5 |
| Bromus kalmii | native | 7 | 7 | 7 | 0 |
| Bromus latiglumis | native | 7 | 7 | 6 | -3 |
| Bromus marginatus | non-native | 0 | 0 | 0 | 0 |
| Bromus pubescens | native | 7 | 6 | 7 | 3 |
| Bromus racemosus | non-native | 0 | 0 | 0 | 0 |
| Bromus secalinus | non-native | 0 | 0 | 0 | 0 |
| Bromus tectorum | non-native | 0 | 0 | 0 | 0 |
| Buglossoides arvensis | non-native | 0 | 0 | 0 | 0 |
| Bulbostylis capillaris | native | 2 | 2 | 2 | 3 |
| Butomus umbellatus | non-native | 0 | 0 | 0 | -5 |
| Cakile edentula var. edentula | native | 0 | 8 | 7 | 3 |
| Calamagrostis canadensis | native | 4 | 4 | 3 | -5 |
| Calamagrostis coarctata | native | 5 | 5 | 0 | -5 |
| Calamagrostis pickeringii | native | 7 | 0 | 7 | -3 |
| Calamagrostis stricta ssp. inexpansa | native | 8 | 0 | 8 | -3 |
| Calamagrostis stricta ssp. stricta | native | 9 | 0 | 0 | -3 |
| Calla palustris | native | 7 | 7 | 6 | -5 |
| Callistephus chinensis | non-native | 0 | 0 | 0 | 0 |
| Callitriche heterophylla | native | 6 | 6 | 5 | -5 |
| Callitriche palustris | native | 5 | 6 | 4 | -5 |
| Callitriche terrestris | native | 4 | 5 | 0 | -3 |
| Calluna vulgaris | non-native | 0 | 0 | 0 | 0 |
| Calopogon tuberosus | native | 8 | 9 | 7 | -5 |
| Caltha palustris | native | 5 | 6 | 6 | -5 |
| Calypso bulbosa | native | 9 | 0 | 8 | -3 |
| Calystegia hederacea | non-native | 0 | 0 | 0 | 0 |
| Calystegia sepium | native | 2 | 2 | 2 | 0 |
| Calystegia spithamaea | native | 6 | 7 | 0 | 0 |
| Camelina microcarpa | non-native | 0 | 0 | 0 | 5 |
| Camelina sativa | non-native | 0 | 0 | 0 | 3 |
| Campanula aparinoides | native | 5 | 6 | 5 | -5 |
| Campanula bononiensis | non-native | 0 | 0 | 0 | 0 |
| Campanula glomerata | non-native | 0 | 0 | 0 | 0 |
| Campanula latifolia | non-native | 0 | 0 | 0 | 0 |
| Campanula rapunculoides | non-native | 0 | 0 | 0 | 0 |
| Campanula rotundifolia | native | 7 | 7 | 6 | 3 |
| Campanula trachelium | non-native | 0 | 0 | 0 | 0 |
| Cannabis sativa | non-native | 0 | 0 | 0 | 3 |
| Capsella bursa-pastoris | non-native | 0 | 0 | 0 | 3 |
| Caragana arborescens | non-native | 0 | 0 | 0 | 0 |
| Cardamine bellidifolia | native | 10 | 0 | 0 | -3 |
| Cardamine concatenata | native | 8 | 7 | 8 | 3 |
| Cardamine diphylla | native | 7 | 7 | 6 | 3 |
| Cardamine impatiens | non-native | 0 | 0 | 0 | 0 |
| Cardamine longii | native | 8 | 8 | 8 | -5 |
| Cardamine maxima | native | 7 | 7 | 6 | 3 |
| Cardamine parviflora | native | 6 | 5 | 5 | 0 |
| Cardamine pensylvanica | native | 4 | 4 | 5 | -3 |
| Cardamine pratensis | non-native | 4 | 0 | 0 | 0 |
| Cardaria draba | non-native | 0 | 0 | 0 | 0 |
| Carduus acanthoides | non-native | 0 | 0 | 0 | 0 |
| Carduus crispus | non-native | 0 | 0 | 0 | 0 |
| Carex ×stenolepis | native | 8 | 0 | 0 | 0 |
| Carex adusta | native | 3 | 0 | 3 | 0 |
| Carex albicans | native | 7 | 6 | 5 | 5 |
| Carex alopecoidea | native | 7 | 8 | 8 | -3 |
| Carex annectens | native | 2 | 2 | 2 | -3 |
| Carex appalachica | native | 6 | 6 | 6 | 0 |
| Carex aquatilis | native | 7 | 8 | 6 | -5 |
| Carex arcta | native | 8 | 8 | 6 | -5 |
| Carex arctata | native | 5 | 6 | 4 | 0 |
| Carex argyrantha | native | 5 | 6 | 4 | 0 |
| Carex atherodes | native | 0 | 0 | 3 | -5 |
| Carex atlantica | native | 7 | 7 | 6 | -3 |
| Carex atratiformis | native | 8 | 0 | 8 | -3 |
| Carex aurea | native | 5 | 6 | 4 | -3 |
| Carex backii | native | 7 | 9 | 7 | 0 |
| Carex bebbii | native | 4 | 6 | 4 | -5 |
| Carex bigelowii | native | 8 | 0 | 0 | -3 |
| Carex billingsii | native | 8 | 9 | 8 | -5 |
| Carex blanda | native | 5 | 4 | 0 | 0 |
| Carex brevior | native | 4 | 4 | 3 | 0 |
| Carex bromoides | native | 5 | 6 | 4 | -3 |
| Carex brunnescens | native | 5 | 6 | 4 | -3 |
| Carex bullata | native | 8 | 7 | 7 | -5 |
| Carex buxbaumii | native | 7 | 8 | 7 | -5 |
| Carex canescens | native | 6 | 6 | 5 | -5 |
| Carex capillaris | native | 8 | 0 | 8 | -3 |
| Carex caryophyllea | non-native | 0 | 0 | 0 | 0 |
| Carex castanea | native | 6 | 0 | 6 | -3 |
| Carex cephaloidea | native | 6 | 6 | 7 | 3 |
| Carex cephalophora | native | 5 | 5 | 6 | 3 |
| Carex chordorrhiza | native | 8 | 0 | 7 | -5 |
| Carex communis | native | 5 | 5 | 4 | 0 |
| Carex comosa | native | 5 | 5 | 6 | -5 |
| Carex conoidea | native | 3 | 4 | 4 | -3 |
| Carex crawfordii | native | 3 | 4 | 2 | -3 |
| Carex crinita | native | 4 | 4 | 3 | -5 |
| Carex cryptolepis | native | 6 | 6 | 5 | -5 |
| Carex cumulata | native | 5 | 4 | 3 | 3 |
| Carex debilis var. rudgei | native | 3 | 5 | 3 | -3 |
| Carex deflexa | native | 5 | 5 | 4 | 0 |
| Carex deweyana | native | 5 | 6 | 5 | 3 |
| Carex diandra | native | 8 | 7 | 8 | -5 |
| Carex digitalis | native | 6 | 6 | 6 | 5 |
| Carex disperma | native | 7 | 7 | 5 | -5 |
| Carex eburnea | native | 8 | 8 | 9 | 3 |
| Carex echinata | native | 5 | 6 | 3 | -5 |
| Carex exilis | native | 8 | 9 | 8 | -5 |
| Carex flava | native | 4 | 5 | 4 | -5 |
| Carex foenea | native | 6 | 6 | 5 | 5 |
| Carex folliculata | native | 6 | 6 | 5 | -5 |
| Carex garberi | native | 8 | 0 | 8 | -3 |
| Carex gracillima | native | 3 | 4 | 3 | 3 |
| Carex granularis | native | 4 | 5 | 4 | -3 |
| Carex grisea | native | 6 | 6 | 0 | 0 |
| Carex gynandra | native | 3 | 4 | 2 | -5 |
| Carex gynocrates | native | 9 | 0 | 9 | -5 |
| Carex haydenii | native | 5 | 6 | 4 | -5 |
| Carex hirsutella | native | 4 | 4 | 0 | 0 |
| Carex hirta | non-native | 0 | 0 | 0 | 0 |
| Carex hirtifolia | native | 6 | 6 | 6 | 0 |
| Carex hormathodes | native | 0 | 8 | 6 | -5 |
| Carex houghtoniana | native | 4 | 0 | 3 | 0 |
| Carex hystericina | native | 4 | 6 | 4 | -5 |
| Carex interior | native | 7 | 7 | 6 | -5 |
| Carex intumescens | native | 5 | 4 | 4 | -3 |
| Carex lacustris | native | 5 | 5 | 4 | -5 |
| Carex laevivaginata | native | 6 | 6 | 0 | -5 |
| Carex lasiocarpa | native | 7 | 7 | 6 | -5 |
| Carex laxiculmis | native | 6 | 6 | 7 | 0 |
| Carex laxiflora | native | 6 | 6 | 6 | 5 |
| Carex lenticularis | native | 7 | 0 | 6 | -5 |
| Carex leptalea | native | 6 | 7 | 5 | -5 |
| Carex leptonervia | native | 5 | 6 | 5 | 0 |
| Carex limosa | native | 8 | 8 | 7 | -5 |
| Carex livida | native | 9 | 9 | 9 | -5 |
| Carex lucorum | native | 5 | 6 | 3 | 0 |
| Carex lupulina | native | 6 | 5 | 5 | -5 |
| Carex lurida | native | 3 | 3 | 2 | -5 |
| Carex mackenziei | native | 0 | 7 | 8 | -3 |
| Carex magellanica | native | 8 | 9 | 7 | -5 |
| Carex media | native | 9 | 0 | 0 | -3 |
| Carex merritt-fernaldii | native | 4 | 4 | 3 | 0 |
| Carex michauxiana | native | 8 | 0 | 8 | -5 |
| Carex nigra | native | 6 | 6 | 3 | -3 |
| Carex normalis | native | 3 | 4 | 2 | -3 |
| Carex novae-angliae | native | 6 | 7 | 6 | 3 |
| Carex oligosperma | native | 8 | 9 | 8 | -5 |
| Carex ormostachya | native | 5 | 6 | 5 | 0 |
| Carex oronensis | native | 3 | 0 | 3 | 0 |
| Carex ovalis | non-native | 0 | 0 | 0 | 0 |
| Carex paleacea | native | 0 | 8 | 7 | -5 |
| Carex pallescens | native | 2 | 3 | 3 | 0 |
| Carex panicea | non-native | 0 | 0 | 0 | 0 |
| Carex pauciflora | native | 9 | 0 | 8 | -5 |
| Carex peckii | native | 6 | 0 | 6 | 0 |
| Carex pedunculata | native | 6 | 7 | 5 | 3 |
| Carex pellita | native | 5 | 6 | 6 | -5 |
| Carex pensylvanica | native | 5 | 5 | 5 | 0 |
| Carex plantaginea | native | 7 | 7 | 7 | 0 |
| Carex platyphylla | native | 7 | 6 | 7 | 0 |
| Carex polymorpha | native | 6 | 8 | 0 | 3 |
| Carex praegracilis | non-native | 0 | 0 | 0 | -3 |
| Carex prairea | native | 8 | 8 | 7 | -3 |
| Carex prasina | native | 6 | 6 | 5 | -5 |
| Carex projecta | native | 3 | 5 | 3 | -3 |
| Carex pseudocyperus | native | 6 | 6 | 5 | -5 |
| Carex radiata | native | 6 | 6 | 5 | 0 |
| Carex retrorsa | native | 5 | 6 | 5 | -5 |
| Carex rosea | native | 6 | 5 | 5 | 3 |
| Carex rostrata | native | 7 | 0 | 7 | -5 |
| Carex saxatilis | native | 9 | 0 | 0 | -3 |
| Carex scabrata | native | 7 | 6 | 6 | -5 |
| Carex scirpoidea | native | 9 | 0 | 0 | 3 |
| Carex scoparia | native | 2 | 2 | 2 | -3 |
| Carex siccata | native | 6 | 5 | 5 | 5 |
| Carex silicea | native | 8 | 8 | 5 | 0 |
| Carex sparganioides | native | 6 | 6 | 7 | 3 |
| Carex spicata | non-native | 0 | 0 | 0 | 3 |
| Carex sprengelii | native | 6 | 7 | 5 | 0 |
| Carex sterilis | native | 8 | 9 | 8 | -5 |
| Carex stipata | native | 4 | 5 | 3 | -5 |
| Carex stricta | native | 4 | 4 | 4 | -5 |
| Carex swanii | native | 5 | 4 | 4 | 3 |
| Carex tenera | native | 2 | 4 | 2 | 0 |
| Carex tenuiflora | native | 8 | 0 | 7 | -5 |
| Carex tetanica | native | 8 | 8 | 0 | -3 |
| Carex tincta | native | 6 | 0 | 3 | 0 |
| Carex tonsa | native | 4 | 4 | 3 | 0 |
| Carex torta | native | 8 | 8 | 7 | -5 |
| Carex tribuloides | native | 4 | 4 | 3 | -3 |
| Carex trisperma | native | 6 | 6 | 5 | -5 |
| Carex tuckermanii | native | 6 | 8 | 5 | -5 |
| Carex typhina | native | 8 | 8 | 7 | -5 |
| Carex umbellata | native | 4 | 4 | 3 | 0 |
| Carex utriculata | native | 6 | 6 | 5 | -5 |
| Carex vacillans | native | 0 | 0 | 9 | 0 |
| Carex vaginata | native | 9 | 0 | 8 | -5 |
| Carex vesicaria | native | 6 | 6 | 5 | -5 |
| Carex vestita | native | 5 | 5 | 4 | 0 |
| Carex virescens | native | 5 | 6 | 5 | 0 |
| Carex viridula | native | 6 | 6 | 6 | -5 |
| Carex vulpinoidea | native | 3 | 3 | 2 | -5 |
| Carex wiegandii | native | 8 | 9 | 5 | -5 |
| Carpinus caroliniana | native | 5 | 5 | 5 | 0 |
| Carum carvi | non-native | 0 | 0 | 0 | 5 |
| Carya cordiformis | native | 6 | 6 | 0 | 0 |
| Carya laciniosa | non-native | 7 | 0 | 0 | -3 |
| Carya ovalis | non-native | 6 | 6 | 0 | 3 |
| Carya ovata | native | 6 | 6 | 5 | 3 |
| Castanea dentata | native | 5 | 6 | 5 | 0 |
| Castilleja septentrionalis | native | 8 | 0 | 8 | 3 |
| Catalpa bignonioides | non-native | 0 | 0 | 0 | 3 |
| Catalpa speciosa | non-native | 0 | 0 | 0 | 3 |
| Caulophyllum thalictroides | native | 7 | 7 | 7 | 0 |
| Ceanothus americanus | native | 6 | 5 | 6 | 0 |
| Celastrus orbiculatus | non-native | 0 | 0 | 0 | 5 |
| Celastrus scandens | native | 7 | 7 | 6 | 3 |
| Cenchrus spinifex | non-native | 0 | 0 | 0 | 0 |
| Cenchrus tribuloides | native | 8 | 7 | 0 | 5 |
| Centaurea cyanus | non-native | 0 | 0 | 0 | 5 |
| Centaurea jacea | non-native | 0 | 0 | 0 | 3 |
| Centaurea montana | non-native | 0 | 0 | 0 | 0 |
| Centaurea nigra | non-native | 0 | 0 | 0 | 0 |
| Centaurea scabiosa | non-native | 0 | 0 | 0 | 0 |
| Centaurea stoebe | non-native | 0 | 0 | 0 | 0 |
| Centaurium pulchellum | non-native | 0 | 0 | 0 | 0 |
| Cephalanthus occidentalis | native | 6 | 6 | 6 | -5 |
| Cerastium arvense | native | 5 | 6 | 5 | 3 |
| Cerastium fontanum | non-native | 2 | 2 | 0 | 3 |
| Cerastium pumilum | non-native | 0 | 0 | 0 | 0 |
| Cerastium tomentosum | non-native | 0 | 0 | 0 | 0 |
| Ceratophyllum demersum | native | 4 | 4 | 3 | -5 |
| Ceratophyllum echinatum | native | 5 | 5 | 6 | -5 |
| Chaenorhinum minus | non-native | 0 | 0 | 0 | 0 |
| Chamaecrista nictitans | non-native | 3 | 3 | 0 | 3 |
| Chamaecyparis thyoides | native | 8 | 8 | 8 | -5 |
| Chamaedaphne calyculata | native | 6 | 7 | 5 | -5 |
| Chamaesyce glyptosperma | native | 2 | 0 | 2 | 0 |
| Chamaesyce maculata | native | 2 | 2 | 2 | 3 |
| Chamaesyce polygonifolia | native | 0 | 7 | 7 | 5 |
| Chamaesyce vermiculata | native | 2 | 2 | 2 | 0 |
| Chamerion angustifolium | native | 3 | 3 | 2 | 0 |
| Chelidonium majus | non-native | 0 | 0 | 0 | 5 |
| Chelone glabra | native | 6 | 6 | 6 | -5 |
| Chelone lyonii | non-native | 0 | 0 | 0 | -3 |
| Chenopodium album | non-native | 0 | 10 | 0 | 3 |
| Chenopodium berlandieri | native | 5 | 5 | 2 | 0 |
| Chenopodium bonus-henricus | non-native | 0 | 0 | 0 | 0 |
| Chenopodium capitatum | native | 3 | 2 | 2 | 0 |
| Chenopodium foggii | native | 8 | 8 | 0 | 0 |
| Chenopodium foliosum | non-native | 0 | 0 | 0 | 3 |
| Chenopodium glaucum | non-native | 0 | 0 | 0 | -3 |
| Chenopodium leptophyllum | non-native | 0 | 0 | 0 | 3 |
| Chenopodium murale | non-native | 0 | 0 | 0 | 3 |
| Chenopodium polyspermum | non-native | 0 | 0 | 0 | 0 |
| Chenopodium pratericola | non-native | 0 | 0 | 0 | 0 |
| Chenopodium rubrum | native | 0 | 7 | 0 | -5 |
| Chenopodium simplex | native | 5 | 5 | 5 | 0 |
| Chenopodium urbicum | non-native | 0 | 0 | 0 | 0 |
| Chimaphila maculata | native | 7 | 6 | 5 | 0 |
| Chimaphila umbellata | native | 6 | 6 | 6 | 0 |
| Chloris cucullata | non-native | 0 | 0 | 0 | 0 |
| Chloris gayana | non-native | 0 | 0 | 0 | 3 |
| Chloris virgata | non-native | 0 | 0 | 0 | 3 |
| Chrysosplenium americanum | native | 7 | 7 | 6 | -5 |
| Cichorium intybus | non-native | 0 | 0 | 0 | 3 |
| Cicuta bulbifera | native | 5 | 6 | 4 | -5 |
| Cicuta maculata | native | 4 | 5 | 4 | -5 |
| Cinna arundinacea | native | 6 | 6 | 6 | -3 |
| Cinna latifolia | native | 5 | 6 | 5 | -3 |
| Circaea alpina | native | 7 | 7 | 6 | -3 |
| Circaea lutetiana | native | 4 | 4 | 4 | 0 |
| Cirsium arvense | non-native | 0 | 0 | 0 | 3 |
| Cirsium discolor | native | 2 | 2 | 0 | 5 |
| Cirsium muticum | native | 6 | 6 | 6 | -5 |
| Cirsium pumilum | native | 2 | 2 | 2 | 0 |
| Cirsium vulgare | non-native | 0 | 0 | 0 | 3 |
| Citrullus lanatus | non-native | 0 | 0 | 0 | 5 |
| Cladium mariscoides | native | 7 | 7 | 6 | -5 |
| Cladrastis kentukea | non-native | 0 | 0 | 0 | 0 |
| Claytonia caroliniana | native | 6 | 7 | 6 | 3 |
| Clematis occidentalis | native | 7 | 8 | 7 | 0 |
| Clematis virginiana | native | 3 | 3 | 3 | 0 |
| Cleome serrulata | non-native | 0 | 0 | 0 | 3 |
| Clethra alnifolia | native | 5 | 5 | 5 | 0 |
| Clinopodium vulgare | non-native | 3 | 2 | 0 | 0 |
| Clintonia borealis | native | 5 | 7 | 5 | 0 |
| Collomia linearis | non-native | 0 | 0 | 0 | 3 |
| Comandra umbellata | native | 5 | 5 | 5 | 3 |
| Comarum palustre | native | 7 | 7 | 7 | -5 |
| Commelina communis | non-native | 0 | 0 | 0 | 0 |
| Comptonia peregrina | native | 3 | 5 | 3 | 0 |
| Conioselinum chinense | native | 6 | 7 | 6 | -3 |
| Conium maculatum | non-native | 0 | 0 | 0 | -3 |
| Conopholis americana | native | 7 | 7 | 7 | 0 |
| Conringia orientalis | non-native | 0 | 0 | 0 | 0 |
| Consolida ajacis | non-native | 0 | 0 | 0 | 0 |
| Convallaria majalis | non-native | 0 | 0 | 0 | 0 |
| Convallaria majuscula | non-native | 0 | 0 | 0 | 0 |
| Convolvulus arvensis | non-native | 0 | 0 | 0 | 0 |
| Convolvulus wallichianus | non-native | 0 | 0 | 0 | 0 |
| Conyza canadensis | native | 2 | 1 | 2 | 0 |
| Coptis trifolia | native | 6 | 7 | 6 | -3 |
| Corallorhiza odontorhiza | native | 7 | 8 | 0 | 0 |
| Corallorhiza trifida | native | 7 | 8 | 7 | -3 |
| Corema conradii | native | 0 | 0 | 6 | 0 |
| Coreopsis grandiflora | non-native | 0 | 0 | 0 | 0 |
| Coreopsis lanceolata | non-native | 0 | 0 | 0 | 3 |
| Coreopsis tinctoria | non-native | 0 | 0 | 0 | 3 |
| Cornus alternifolia | native | 5 | 5 | 4 | 3 |
| Cornus amomum | native | 4 | 4 | 3 | -3 |
| Cornus canadensis | native | 5 | 6 | 5 | 0 |
| Cornus florida | native | 7 | 7 | 0 | 3 |
| Cornus racemosa | native | 3 | 3 | 4 | 0 |
| Cornus rugosa | native | 6 | 6 | 5 | 0 |
| Cornus sericea | native | 4 | 5 | 3 | -3 |
| Coronopus didymus | non-native | 0 | 0 | 0 | 0 |
| Corydalis sempervirens | native | 6 | 6 | 6 | 0 |
| Corylus americana | native | 5 | 5 | 5 | 3 |
| Corylus cornuta | native | 4 | 5 | 4 | 3 |
| Corynephorus canescens | non-native | 0 | 0 | 0 | 0 |
| Cosmos bipinnatus | non-native | 0 | 0 | 0 | 0 |
| Cosmos parviflorus | non-native | 0 | 0 | 0 | 3 |
| Crassula aquatica | native | 8 | 8 | 7 | -5 |
| Crataegus chrysocarpa | native | 2 | 3 | 2 | 0 |
| Crataegus crus-galli | non-native | 3 | 3 | 0 | 0 |
| Crataegus dodgei | native | 3 | 3 | 0 | 0 |
| Crataegus flabellata | native | 3 | 3 | 2 | 0 |
| Crataegus holmesiana | non-native | 3 | 3 | 0 | 0 |
| Crataegus irrasa | native | 3 | 0 | 0 | 0 |
| Crataegus jonesiae | native | 0 | 0 | 2 | 0 |
| Crataegus lemingtonensis | native | 2 | 0 | 0 | 0 |
| Crataegus macrosperma | native | 2 | 3 | 2 | 0 |
| Crataegus monogyna | non-native | 0 | 0 | 0 | 3 |
| Crataegus phaenopyrum | non-native | 0 | 0 | 0 | 0 |
| Crataegus pruinosa | native | 3 | 3 | 0 | 0 |
| Crataegus schuettei | native | 2 | 3 | 0 | 0 |
| Crataegus submollis | native | 3 | 3 | 2 | 0 |
| Crepis capillaris | non-native | 0 | 0 | 0 | 5 |
| Crepis tectorum | non-native | 0 | 0 | 0 | 0 |
| Cryptogramma stelleri | native | 10 | 10 | 0 | 3 |
| Cryptotaenia canadensis | native | 6 | 6 | 7 | 0 |
| Cucurbita maxima | non-native | 0 | 0 | 0 | 0 |
| Cuscuta cephalanthi | native | 6 | 5 | 0 | 0 |
| Cuscuta epithymum | non-native | 0 | 0 | 0 | 0 |
| Cuscuta europaea | non-native | 0 | 0 | 0 | 0 |
| Cuscuta gronovii var. gronovii | native | 3 | 3 | 3 | 0 |
| Cyclachaena xanthiifolia | non-native | 2 | 0 | 0 | 0 |
| Cynanchum louiseae | non-native | 0 | 0 | 0 | 0 |
| Cynoglossum officinale | non-native | 0 | 0 | 0 | 5 |
| Cynoglossum virginianum | native | 7 | 8 | 0 | 0 |
| Cynosurus cristatus | non-native | 0 | 0 | 0 | 0 |
| Cyperus bipartitus | native | 4 | 4 | 3 | -3 |
| Cyperus dentatus | native | 5 | 6 | 5 | -5 |
| Cyperus diandrus | native | 5 | 5 | 4 | -5 |
| Cyperus esculentus | native | 2 | 2 | 2 | -3 |
| Cyperus filicinus | native | 4 | 5 | 5 | -5 |
| Cyperus lupulinus ssp. lupulinus | native | 5 | 4 | 4 | 3 |
| Cyperus polystachyos | native | 8 | 8 | 0 | -3 |
| Cyperus squarrosus | native | 4 | 4 | 4 | -5 |
| Cyperus strigosus | native | 3 | 3 | 3 | -3 |
| Cypripedium acaule | native | 5 | 6 | 4 | -3 |
| Cypripedium arietinum | native | 8 | 0 | 6 | -3 |
| Cypripedium parviflorum | native | 8 | 9 | 8 | 0 |
| Cypripedium reginae | native | 8 | 9 | 8 | -3 |
| Cystopteris bulbifera | native | 7 | 7 | 6 | -3 |
| Cystopteris fragilis | native | 6 | 7 | 6 | 3 |
| Cystopteris tenuis | native | 6 | 7 | 6 | 0 |
| Cytisus scoparius | non-native | 0 | 0 | 0 | 0 |
| Dactylis glomerata | non-native | 0 | 0 | 0 | 3 |
| Dactyloctenium aegyptium | non-native | 0 | 0 | 0 | 0 |
| Dactylorhiza viridis | native | 7 | 8 | 7 | 0 |
| Dalibarda repens | native | 5 | 7 | 5 | 0 |
| Danthonia compressa | native | 4 | 5 | 3 | 3 |
| Danthonia spicata | native | 3 | 3 | 3 | 0 |
| Daphne mezereum | non-native | 0 | 0 | 0 | 3 |
| Dasiphora fruticosa | native | 6 | 6 | 8 | -3 |
| Datura inoxia | non-native | 0 | 0 | 0 | 0 |
| Datura stramonium | non-native | 0 | 0 | 0 | 0 |
| Daucus carota | non-native | 0 | 0 | 0 | 5 |
| Decodon verticillatus | native | 6 | 6 | 6 | -5 |
| Delphinium exaltatum | non-native | 0 | 0 | 0 | 0 |
| Dennstaedtia punctilobula | native | 3 | 3 | 2 | 5 |
| Deparia acrostichoides | native | 5 | 7 | 5 | 0 |
| Deschampsia cespitosa | native | 6 | 8 | 0 | 0 |
| Deschampsia danthonioides | non-native | 0 | 0 | 0 | -3 |
| Deschampsia elongata | non-native | 0 | 0 | 0 | -3 |
| Deschampsia flexuosa | native | 6 | 5 | 4 | 3 |
| Descurainia sophia | non-native | 0 | 0 | 0 | 0 |
| Desmodium canadense | native | 4 | 4 | 4 | 0 |
| Desmodium glutinosum | native | 6 | 6 | 6 | 0 |
| Desmodium nudiflorum | native | 6 | 6 | 6 | 0 |
| Desmodium paniculatum | native | 6 | 5 | 6 | 3 |
| Desmodium perplexum | native | 5 | 5 | 5 | 0 |
| Dianthus armeria | non-native | 0 | 0 | 0 | 5 |
| Dianthus barbatus | non-native | 0 | 0 | 0 | 0 |
| Dianthus deltoides | non-native | 0 | 0 | 0 | 5 |
| Dianthus plumarius | non-native | 0 | 0 | 0 | 0 |
| Diapensia lapponica | native | 10 | 0 | 0 | 0 |
| Dicentra canadensis | native | 8 | 8 | 0 | 0 |
| Dicentra cucullaria | native | 8 | 7 | 7 | 0 |
| Dichanthelium acuminatum | native | 4 | 5 | 4 | 0 |
| Dichanthelium boreale | native | 4 | 5 | 3 | 0 |
| Dichanthelium clandestinum | native | 3 | 3 | 3 | -3 |
| Dichanthelium columbianum | native | 5 | 6 | 0 | 0 |
| Dichanthelium depauperatum | native | 4 | 4 | 4 | 0 |
| Dichanthelium dichotomum | native | 5 | 5 | 0 | 0 |
| Dichanthelium latifolium | native | 5 | 5 | 6 | 3 |
| Dichanthelium linearifolium | native | 5 | 4 | 4 | 0 |
| Dichanthelium meridionale | native | 5 | 4 | 0 | 0 |
| Dichanthelium oligosanthes | native | 4 | 4 | 4 | 3 |
| Dichanthelium sphaerocarpon | native | 4 | 5 | 0 | 3 |
| Dichanthelium spretum | native | 6 | 7 | 6 | 0 |
| Dichanthelium xanthophysum | native | 6 | 6 | 5 | 0 |
| Diervilla lonicera | native | 5 | 6 | 4 | 0 |
| Digitalis grandiflora | non-native | 0 | 0 | 0 | 0 |
| Digitalis lanata | non-native | 0 | 0 | 0 | 0 |
| Digitalis purpurea | non-native | 0 | 0 | 0 | 3 |
| Digitaria ischaemum | non-native | 2 | 2 | 0 | 3 |
| Digitaria sanguinalis | non-native | 2 | 2 | 0 | 3 |
| Diplotaxis muralis | non-native | 0 | 0 | 0 | 0 |
| Diplotaxis tenuifolia | non-native | 0 | 0 | 0 | 0 |
| Dirca palustris | native | 7 | 8 | 7 | 0 |
| Distichlis spicata | native | 7 | 8 | 6 | -3 |
| Doellingeria umbellata | native | 3 | 4 | 3 | -3 |
| Draba arabisans | native | 10 | 0 | 0 | 0 |
| Draba breweri | native | 9 | 0 | 0 | 0 |
| Draba verna | non-native | 0 | 0 | 0 | 0 |
| Drosera anglica | native | 9 | 0 | 10 | -5 |
| Drosera intermedia | native | 6 | 7 | 5 | -5 |
| Drosera linearis | native | 0 | 0 | 10 | -5 |
| Drosera rotundifolia | native | 5 | 7 | 4 | -5 |
| Dryopteris ×boottii | native | 6 | 6 | 0 | -3 |
| Dryopteris ×triploidea | native | 4 | 6 | 0 | 0 |
| Dryopteris ×uliginosa | native | 4 | 4 | 0 | 0 |
| Dryopteris campyloptera | native | 6 | 8 | 6 | 3 |
| Dryopteris carthusiana | native | 5 | 5 | 4 | -3 |
| Dryopteris clintoniana | native | 7 | 7 | 6 | -3 |
| Dryopteris cristata | native | 6 | 7 | 6 | -5 |
| Dryopteris filix-mas | native | 8 | 0 | 8 | 0 |
| Dryopteris fragrans | native | 10 | 0 | 9 | 0 |
| Dryopteris goldieana | native | 8 | 8 | 7 | 0 |
| Dryopteris intermedia | native | 4 | 4 | 4 | 0 |
| Dryopteris marginalis | native | 6 | 6 | 5 | 3 |
| Dulichium arundinaceum | native | 6 | 6 | 5 | -5 |
| Dysphania botrys | non-native | 0 | 0 | 0 | 0 |
| Dysphania graveolens | non-native | 0 | 0 | 0 | 0 |
| Dyssodia papposa | non-native | 0 | 0 | 0 | 0 |
| Echinacea pallida | non-native | 0 | 0 | 0 | 0 |
| Echinochloa crus-galli | non-native | 0 | 0 | 0 | 0 |
| Echinochloa frumentacea | non-native | 0 | 0 | 0 | 0 |
| Echinochloa muricata | native | 2 | 2 | 2 | -5 |
| Echinocystis lobata | native | 3 | 2 | 3 | -3 |
| Echinops sphaerocephalus | non-native | 0 | 0 | 0 | 0 |
| Echium creticum | non-native | 0 | 0 | 0 | 0 |
| Echium vulgare | non-native | 0 | 0 | 0 | 0 |
| Elaeagnus angustifolia | non-native | 0 | 0 | 0 | 3 |
| Elaeagnus umbellata | non-native | 0 | 0 | 0 | 0 |
| Elatine americana | native | 7 | 9 | 6 | -5 |
| Elatine minima | native | 7 | 8 | 6 | -5 |
| Eleocharis acicularis | native | 4 | 4 | 4 | -5 |
| Eleocharis aestuum | native | 8 | 8 | 8 | -5 |
| Eleocharis diandra | native | 8 | 8 | 0 | -5 |
| Eleocharis elliptica | native | 4 | 4 | 4 | -5 |
| Eleocharis erythropoda | native | 4 | 6 | 4 | 0 |
| Eleocharis halophila | native | 6 | 6 | 6 | -5 |
| Eleocharis intermedia | native | 5 | 7 | 5 | -5 |
| Eleocharis nitida | native | 4 | 0 | 3 | -5 |
| Eleocharis obtusa | native | 2 | 2 | 2 | -5 |
| Eleocharis olivacea | native | 5 | 5 | 5 | -5 |
| Eleocharis ovata | native | 6 | 6 | 4 | 0 |
| Eleocharis palustris | native | 5 | 5 | 6 | -5 |
| Eleocharis parvula | native | 7 | 7 | 7 | -5 |
| Eleocharis quinqueflora | native | 8 | 0 | 8 | -5 |
| Eleocharis robbinsii | native | 8 | 9 | 6 | -5 |
| Eleocharis rostellata | native | 9 | 9 | 8 | -5 |
| Eleocharis tenuis | native | 4 | 4 | 3 | -3 |
| Eleocharis uniglumis | native | 7 | 8 | 6 | 0 |
| Eleusine indica | non-native | 0 | 0 | 0 | 3 |
| Elodea canadensis | native | 4 | 4 | 5 | -5 |
| Elodea nuttallii | native | 5 | 4 | 6 | -5 |
| Elsholtzia ciliata | non-native | 0 | 0 | 0 | 0 |
| Elymus canadensis | native | 6 | 5 | 5 | 3 |
| Elymus hystrix | native | 6 | 5 | 6 | 3 |
| Elymus macgregorii | native | 7 | 7 | 6 | 0 |
| Elymus repens | non-native | 0 | 0 | 0 | 3 |
| Elymus riparius | native | 6 | 6 | 6 | -3 |
| Elymus trachycaulus | native | 5 | 5 | 5 | 3 |
| Elymus virginicus | native | 5 | 5 | 5 | -3 |
| Elymus wiegandii | native | 6 | 7 | 6 | 0 |
| Empetrum eamesii | native | 9 | 0 | 8 | 0 |
| Empetrum nigrum | native | 7 | 0 | 7 | 0 |
| Epifagus virginiana | native | 6 | 7 | 5 | 0 |
| Epigaea repens | native | 6 | 5 | 4 | 0 |
| Epilobium anagallidifolium | native | 9 | 0 | 0 | -3 |
| Epilobium ciliatum | native | 3 | 5 | 3 | -3 |
| Epilobium coloratum | native | 3 | 4 | 3 | -5 |
| Epilobium hirsutum | native | 0 | 2 | 0 | -3 |
| Epilobium hornemannii | native | 9 | 0 | 0 | -3 |
| Epilobium lactiflorum | native | 9 | 8 | 10 | -3 |
| Epilobium leptophyllum | native | 5 | 6 | 4 | -5 |
| Epilobium palustre | native | 5 | 6 | 5 | -5 |
| Epilobium strictum | native | 5 | 6 | 5 | -5 |
| Epipactis helleborine | non-native | 0 | 0 | 0 | 5 |
| Equisetum ×litorale | native | 4 | 4 | 0 | -5 |
| Equisetum ×mackaii | native | 3 | 0 | 3 | -3 |
| Equisetum arvense | native | 2 | 2 | 2 | 0 |
| Equisetum fluviatile | native | 5 | 6 | 6 | -5 |
| Equisetum hyemale | native | 2 | 3 | 2 | 0 |
| Equisetum palustre | native | 6 | 7 | 6 | -3 |
| Equisetum pratense | native | 4 | 5 | 3 | -3 |
| Equisetum scirpoides | native | 7 | 8 | 6 | 0 |
| Equisetum sylvaticum | native | 5 | 6 | 5 | -3 |
| Equisetum variegatum | native | 3 | 4 | 4 | -3 |
| Eragrostis capillaris | native | 3 | 2 | 2 | 0 |
| Eragrostis cilianensis | non-native | 0 | 0 | 0 | 3 |
| Eragrostis mexicana | non-native | 0 | 0 | 0 | 0 |
| Eragrostis minor | non-native | 0 | 0 | 0 | 0 |
| Eragrostis pectinacea | native | 2 | 2 | 2 | 0 |
| Eragrostis pilosa | native | 0 | 2 | 0 | 3 |
| Eragrostis spectabilis | native | 3 | 2 | 2 | 5 |
| Erechtites hieraciifolius | native | 1 | 1 | 2 | 0 |
| Erechtites hieraciifolius var. hieraciifolius | native | 2 | 2 | 2 | 0 |
| Erica tetralix | non-native | 0 | 0 | 0 | 3 |
| Erigeron annuus | native | 2 | 2 | 2 | 3 |
| Erigeron hyssopifolius | native | 9 | 0 | 9 | -3 |
| Erigeron philadelphicus var. philadelphicus | native | 2 | 2 | 2 | 0 |
| Erigeron pulchellus | native | 3 | 3 | 2 | 3 |
| Erigeron strigosus | native | 1 | 2 | 2 | 3 |
| Eriocaulon aquaticum | native | 8 | 9 | 6 | -5 |
| Eriocaulon parkeri | native | 0 | 9 | 8 | -5 |
| Eriophorum angustifolium | native | 7 | 0 | 6 | -5 |
| Eriophorum gracile | native | 8 | 8 | 7 | -5 |
| Eriophorum tenellum | native | 8 | 8 | 7 | -5 |
| Eriophorum vaginatum | native | 8 | 9 | 6 | -5 |
| Eriophorum virginicum | native | 7 | 7 | 6 | -5 |
| Eriophorum viridicarinatum | native | 8 | 9 | 8 | -5 |
| Erodium botrys | non-native | 0 | 0 | 0 | 3 |
| Erodium cicutarium | non-native | 0 | 0 | 0 | 0 |
| Erodium moschatum | non-native | 0 | 0 | 0 | 0 |
| Erucastrum gallicum | non-native | 0 | 0 | 0 | 0 |
| Erysimum cheiranthoides | native | 0 | 0 | 0 | 3 |
| Erysimum inconspicuum | non-native | 0 | 0 | 0 | 0 |
| Erythronium americanum | native | 5 | 5 | 5 | 0 |
| Euonymus atropurpureus | non-native | 6 | 6 | 0 | 3 |
| Euonymus europaeus | non-native | 0 | 0 | 0 | 0 |
| Eupatorium perfoliatum | native | 3 | 3 | 4 | -3 |
| Eupatorium rotundifolium | non-native | 0 | 5 | 0 | 0 |
| Euphorbia corollata | non-native | 0 | 0 | 0 | 0 |
| Euphorbia cyparissias | non-native | 0 | 0 | 0 | 0 |
| Euphorbia esula | non-native | 0 | 0 | 0 | 0 |
| Euphorbia helioscopia | non-native | 0 | 0 | 0 | 0 |
| Euphorbia peplus | non-native | 0 | 0 | 0 | 0 |
| Euphrasia nemorosa | non-native | 0 | 0 | 0 | 0 |
| Euphrasia randii | native | 4 | 4 | 4 | -3 |
| Euphrasia stricta | non-native | 0 | 0 | 0 | 3 |
| Eurybia divaricata | native | 6 | 5 | 0 | 0 |
| Eurybia macrophylla | native | 5 | 5 | 4 | 5 |
| Eurybia radula | native | 6 | 6 | 6 | -5 |
| Euthamia caroliniana | native | 5 | 4 | 0 | 0 |
| Euthamia graminifolia | native | 2 | 2 | 2 | 0 |
| Eutrochium dubium | native | 6 | 5 | 5 | 0 |
| Eutrochium fistulosum | native | 3 | 4 | 0 | 0 |
| Eutrochium maculatum | native | 3 | 4 | 4 | 0 |
| Fagopyrum esculentum | non-native | 0 | 0 | 0 | 0 |
| Fagopyrum tataricum | non-native | 0 | 0 | 0 | 0 |
| Fagus grandifolia | native | 5 | 5 | 4 | 3 |
| Fagus sylvatica | non-native | 0 | 0 | 0 | 0 |
| Festuca brevipila | non-native | 0 | 0 | 0 | 0 |
| Festuca heteromalla | non-native | 0 | 0 | 0 | 0 |
| Festuca prolifera | native | 10 | 0 | 0 | 3 |
| Festuca rubra ssp. pruinosa | native | 5 | 7 | 2 | 3 |
| Festuca rubra ssp. rubra | non-native | 0 | 0 | 0 | 3 |
| Festuca subverticillata | native | 7 | 7 | 7 | 3 |
| Filipendula rubra | non-native | 0 | 0 | 0 | -3 |
| Filipendula ulmaria | non-native | 0 | 0 | 0 | 0 |
| Filipendula vulgaris | non-native | 0 | 0 | 0 | 0 |
| Fimbristylis autumnalis | native | 6 | 7 | 6 | -3 |
| Foeniculum vulgare | non-native | 0 | 0 | 0 | 0 |
| Fragaria vesca | native | 4 | 3 | 4 | 5 |
| Fragaria virginiana | native | 2 | 2 | 2 | 3 |
| Frangula alnus | non-native | 0 | 0 | 0 | 0 |
| Fraxinus americana | native | 3 | 5 | 3 | 3 |
| Fraxinus nigra | native | 7 | 7 | 6 | -3 |
| Fraxinus pennsylvanica | native | 4 | 5 | 3 | -3 |
| Fumaria officinalis | non-native | 0 | 0 | 0 | 0 |
| Gaillardia pulchella | non-native | 0 | 0 | 0 | 5 |
| Galearis spectabilis | native | 8 | 8 | 8 | 0 |
| Galega officinalis | non-native | 0 | 0 | 0 | 0 |
| Galeopsis bifida | non-native | 0 | 0 | 0 | 0 |
| Galeopsis tetrahit | non-native | 0 | 0 | 0 | 3 |
| Galinsoga parviflora | non-native | 0 | 0 | 0 | 5 |
| Galinsoga quadriradiata | non-native | 0 | 0 | 0 | 3 |
| Galium aparine | native | 2 | 2 | 2 | 3 |
| Galium asprellum | native | 4 | 4 | 3 | -5 |
| Galium boreale | native | 5 | 7 | 4 | 0 |
| Galium circaezans | native | 7 | 6 | 8 | 3 |
| Galium kamtschaticum | native | 8 | 0 | 0 | 0 |
| Galium labradoricum | native | 8 | 0 | 9 | -5 |
| Galium lanceolatum | native | 7 | 6 | 6 | 0 |
| Galium mollugo | non-native | 0 | 0 | 0 | 3 |
| Galium palustre | native | 4 | 5 | 4 | -5 |
| Galium sylvaticum | non-native | 0 | 0 | 0 | 0 |
| Galium tinctorium | native | 4 | 4 | 3 | -5 |
| Galium trifidum | native | 5 | 6 | 4 | -3 |
| Galium triflorum | native | 6 | 5 | 6 | 3 |
| Galium verum | non-native | 0 | 0 | 0 | 0 |
| Gastridium phleoides | non-native | 0 | 0 | 0 | 3 |
| Gaultheria hispidula | native | 7 | 8 | 6 | -3 |
| Gaultheria procumbens | native | 4 | 5 | 4 | 3 |
| Gaylussacia baccata | native | 6 | 6 | 5 | 3 |
| Gaylussacia dumosa | native | 8 | 9 | 8 | 0 |
| Genista tinctoria | non-native | 0 | 0 | 0 | 0 |
| Gentiana clausa | native | 5 | 6 | 6 | -3 |
| Gentiana linearis | native | 5 | 0 | 6 | -3 |
| Gentiana rubricaulis | native | 0 | 0 | 3 | -5 |
| Gentianella amarella | native | 7 | 0 | 8 | -5 |
| Gentianopsis crinita | native | 5 | 5 | 4 | -3 |
| Geocaulon lividum | native | 9 | 0 | 9 | 0 |
| Geranium bicknellii | native | 5 | 6 | 5 | 0 |
| Geranium carolinianum | native | 3 | 3 | 3 | 0 |
| Geranium maculatum | native | 5 | 4 | 5 | 3 |
| Geranium molle | non-native | 0 | 0 | 0 | 0 |
| Geranium pratense | non-native | 0 | 0 | 0 | 0 |
| Geranium pusillum | non-native | 0 | 0 | 0 | 0 |
| Geranium robertianum | non-native | 5 | 4 | 0 | 3 |
| Geranium sanguineum | non-native | 0 | 0 | 0 | 0 |
| Geum aleppicum | native | 4 | 4 | 3 | 0 |
| Geum canadense | native | 4 | 4 | 4 | 0 |
| Geum laciniatum | native | 4 | 4 | 3 | -3 |
| Geum macrophyllum | native | 6 | 0 | 6 | -3 |
| Geum rivale | native | 6 | 6 | 6 | -5 |
| Glaux maritima | native | 7 | 7 | 7 | -5 |
| Glebionis coronarium | non-native | 0 | 0 | 0 | 0 |
| Glebionis segetum | non-native | 0 | 0 | 0 | 0 |
| Glechoma hederacea | non-native | 0 | 0 | 0 | 3 |
| Gleditsia triacanthos | non-native | 0 | 0 | 0 | 0 |
| Glyceria acutiflora | native | 8 | 7 | 0 | -5 |
| Glyceria borealis | native | 6 | 7 | 6 | -5 |
| Glyceria canadensis | native | 4 | 6 | 4 | -5 |
| Glyceria grandis | native | 4 | 4 | 5 | -5 |
| Glyceria laxa | native | 7 | 6 | 6 | -5 |
| Glyceria melicaria | native | 6 | 6 | 5 | -5 |
| Glyceria obtusa | native | 7 | 7 | 6 | -5 |
| Glyceria striata | native | 4 | 5 | 3 | -5 |
| Glycyrrhiza lepidota | non-native | 10 | 0 | 0 | 3 |
| Gnaphalium uliginosum | native | 2 | 0 | 0 | 0 |
| Goodyera oblongifolia | native | 8 | 0 | 8 | 3 |
| Goodyera pubescens | native | 7 | 6 | 6 | 3 |
| Goodyera repens | native | 7 | 8 | 6 | 3 |
| Goodyera tesselata | native | 7 | 7 | 6 | 3 |
| Gratiola aurea | native | 6 | 6 | 6 | -5 |
| Gratiola neglecta | native | 4 | 3 | 5 | -5 |
| Gymnocarpium dryopteris | native | 6 | 7 | 6 | 3 |
| Gymnocladus dioicus | non-native | 5 | 0 | 0 | 0 |
| Gypsophila elegans | non-native | 0 | 0 | 0 | 0 |
| Gypsophila muralis | non-native | 0 | 0 | 0 | 0 |
| Gypsophila paniculata | non-native | 0 | 0 | 0 | 0 |
| Gypsophila repens | non-native | 0 | 0 | 0 | 0 |
| Hackelia deflexa | native | 9 | 9 | 0 | 0 |
| Halenia deflexa | native | 7 | 0 | 5 | 0 |
| Hamamelis virginiana | native | 5 | 6 | 5 | 3 |
| Harrimanella hypnoides | native | 10 | 0 | 0 | 0 |
| Hedeoma hispida | non-native | 6 | 4 | 0 | 0 |
| Hedeoma pulegioides | native | 4 | 4 | 2 | 0 |
| Hedysarum alpinum | native | 8 | 0 | 8 | 0 |
| Helenium autumnale | native | 5 | 5 | 4 | -3 |
| Helenium flexuosum | native | 2 | 3 | 3 | 0 |
| Helianthemum bicknellii | native | 5 | 5 | 4 | 0 |
| Helianthemum canadense | native | 5 | 4 | 4 | 0 |
| Helianthus annuus | non-native | 0 | 0 | 0 | 3 |
| Helianthus debilis | non-native | 0 | 0 | 0 | 5 |
| Helianthus decapetalus | native | 6 | 5 | 6 | 3 |
| Helianthus divaricatus | native | 6 | 5 | 6 | 0 |
| Helianthus giganteus | native | 5 | 4 | 0 | -3 |
| Helianthus grosseserratus | non-native | 0 | 0 | 0 | -3 |
| Helianthus maximiliani | non-native | 0 | 0 | 0 | 5 |
| Helianthus mollis | non-native | 0 | 0 | 0 | 0 |
| Helianthus pauciflorus | non-native | 0 | 0 | 0 | 0 |
| Helianthus petiolaris | non-native | 0 | 0 | 0 | 0 |
| Helianthus strumosus | native | 4 | 4 | 3 | 3 |
| Helianthus tuberosus | non-native | 0 | 0 | 0 | 3 |
| Heliopsis helianthoides | non-native | 5 | 0 | 0 | 3 |
| Heliotropium curassavicum | non-native | 0 | 0 | 0 | -5 |
| Hemerocallis fulva | non-native | 0 | 0 | 0 | 5 |
| Hemerocallis lilioasphodelus | non-native | 0 | 0 | 0 | 0 |
| Hepatica nobilis var. acuta | native | 7 | 0 | 7 | 0 |
| Hepatica nobilis var. obtusa | native | 7 | 7 | 7 | 0 |
| Heracleum mantegazzianum | non-native | 0 | 0 | 0 | 0 |
| Heracleum maximum | native | 5 | 4 | 3 | -3 |
| Heracleum sphondylium | non-native | 0 | 0 | 0 | 5 |
| Herniaria glabra | non-native | 0 | 0 | 0 | 0 |
| Hesperis matronalis | non-native | 0 | 0 | 0 | 3 |
| Heteranthera dubia | native | 6 | 6 | 6 | -5 |
| Hibiscus trionum | non-native | 0 | 0 | 0 | 0 |
| Hieracium ×flagellare | non-native | 0 | 0 | 0 | 0 |
| Hieracium aurantiacum | non-native | 0 | 0 | 0 | 0 |
| Hieracium caespitosum | non-native | 0 | 0 | 0 | 0 |
| Hieracium canadense | native | 2 | 0 | 2 | 0 |
| Hieracium gronovii | native | 5 | 4 | 0 | 5 |
| Hieracium kalmii | native | 4 | 5 | 3 | 0 |
| Hieracium murorum | non-native | 0 | 0 | 0 | 0 |
| Hieracium paniculatum | native | 6 | 5 | 6 | 0 |
| Hieracium pilosella | non-native | 0 | 0 | 0 | 0 |
| Hieracium piloselloides | non-native | 0 | 0 | 0 | 0 |
| Hieracium praealtum | non-native | 0 | 0 | 0 | 0 |
| Hieracium robinsonii | native | 8 | 0 | 9 | 0 |
| Hieracium scabrum | native | 4 | 4 | 4 | 0 |
| Hieracium venosum | native | 6 | 6 | 0 | 0 |
| Hippuris vulgaris | native | 8 | 0 | 7 | -5 |
| Holcus lanatus | non-native | 0 | 0 | 0 | 3 |
| Holcus mollis | non-native | 0 | 0 | 0 | 3 |
| Honckenya peploides | native | 0 | 9 | 7 | 3 |
| Hordeum brachyantherum | non-native | 0 | 0 | 0 | -3 |
| Hordeum jubatum | native | 2 | 2 | 3 | 0 |
| Hordeum pusillum | non-native | 0 | 0 | 0 | 0 |
| Hordeum vulgare | non-native | 0 | 0 | 0 | 0 |
| Hottonia inflata | native | 8 | 8 | 7 | -5 |
| Houstonia caerulea | non-native | 2 | 2 | 0 | 3 |
| Houstonia longifolia | native | 7 | 7 | 7 | 0 |
| Houstonia purpurea | native | 7 | 5 | 5 | 0 |
| Hudsonia ericoides | native | 6 | 8 | 6 | 0 |
| Hudsonia tomentosa | native | 7 | 7 | 8 | 0 |
| Humulus japonicus | non-native | 0 | 0 | 0 | 3 |
| Humulus lupulus var. lupuloides | native | 0 | 3 | 2 | 3 |
| Humulus lupulus var. lupulus | native | 1 | 0 | 0 | 3 |
| Huperzia appalachiana | native | 8 | 0 | 8 | 0 |
| Huperzia lucidula | native | 6 | 6 | 6 | 0 |
| Huperzia selago | native | 7 | 0 | 7 | 3 |
| Hydrangea paniculata | non-native | 0 | 0 | 0 | 0 |
| Hydrilla verticillata | non-native | 0 | 0 | 0 | -5 |
| Hydrocotyle americana | native | 5 | 4 | 5 | -5 |
| Hylotelephium erythrostictum | non-native | 0 | 0 | 0 | 0 |
| Hylotelephium telephium | non-native | 0 | 0 | 0 | 0 |
| Hyoscyamus niger | non-native | 0 | 0 | 0 | 0 |
| Hypericum ascyron | native | 7 | 8 | 7 | 0 |
| Hypericum boreale | native | 5 | 6 | 6 | -5 |
| Hypericum canadense | native | 5 | 5 | 5 | -3 |
| Hypericum ellipticum | native | 4 | 5 | 4 | -5 |
| Hypericum gentianoides | native | 4 | 4 | 4 | 3 |
| Hypericum majus | native | 4 | 5 | 4 | -3 |
| Hypericum mutilum | native | 4 | 4 | 4 | -3 |
| Hypericum perforatum | non-native | 0 | 2 | 0 | 5 |
| Hypericum prolificum | non-native | 3 | 3 | 0 | 3 |
| Hypericum punctatum | native | 3 | 3 | 3 | 0 |
| Hypochaeris glabra | non-native | 0 | 0 | 0 | 0 |
| Hypochaeris radicata | non-native | 0 | 0 | 0 | 3 |
| Hyssopus officinalis | non-native | 0 | 0 | 0 | 0 |
| Iberis amara | non-native | 0 | 0 | 0 | 0 |
| Iberis umbellata | non-native | 0 | 0 | 0 | 0 |
| Ilex glabra | native | 8 | 8 | 8 | -3 |
| Ilex laevigata | native | 7 | 6 | 0 | -5 |
| Ilex mucronata | native | 6 | 6 | 6 | 0 |
| Ilex opaca | non-native | 8 | 7 | 0 | 3 |
| Ilex verticillata | native | 5 | 5 | 4 | -3 |
| Impatiens capensis | native | 3 | 3 | 3 | -3 |
| Impatiens glandulifera | non-native | 0 | 0 | 0 | 0 |
| Impatiens pallida | native | 5 | 5 | 0 | -3 |
| Inula helenium | non-native | 0 | 0 | 0 | 3 |
| Ionactis linariifolius | native | 5 | 4 | 4 | 0 |
| Ipomoea nil | non-native | 0 | 0 | 0 | 3 |
| Ipomoea purpurea | non-native | 0 | 0 | 0 | 3 |
| Iris germanica | non-native | 0 | 0 | 0 | 0 |
| Iris prismatica | native | 7 | 7 | 5 | -5 |
| Iris pseudacorus | non-native | 0 | 0 | 0 | -5 |
| Iris setosa | native | 0 | 0 | 8 | -3 |
| Iris versicolor | native | 4 | 4 | 3 | -5 |
| Isoetes acadiensis | native | 8 | 0 | 6 | -5 |
| Isoetes lacustris | native | 9 | 9 | 8 | -5 |
| Isoetes prototypus | native | 0 | 0 | 8 | -5 |
| Isoetes tenella | native | 7 | 8 | 6 | -5 |
| Isoetes tuckermanii | native | 8 | 8 | 6 | -5 |
| Isotria medeoloides | native | 7 | 8 | 6 | 3 |
| Iva annua | non-native | 0 | 0 | 0 | 0 |
| Juglans ailantifolia | non-native | 0 | 0 | 0 | 0 |
| Juglans cinerea | native | 6 | 6 | 4 | 3 |
| Juglans nigra | non-native | 5 | 5 | 0 | 3 |
| Juncus acuminatus | native | 5 | 5 | 5 | -5 |
| Juncus alpinoarticulatus | native | 7 | 0 | 7 | -5 |
| Juncus ambiguus | native | 0 | 8 | 8 | 0 |
| Juncus anthelatus | native | 3 | 4 | 3 | -3 |
| Juncus arcticus | native | 4 | 5 | 5 | -5 |
| Juncus articulatus | native | 4 | 4 | 5 | -5 |
| Juncus brachycephalus | native | 8 | 8 | 7 | -5 |
| Juncus brevicaudatus | native | 3 | 3 | 3 | -5 |
| Juncus bufonius | native | 2 | 2 | 2 | -3 |
| Juncus canadensis | native | 5 | 4 | 4 | -5 |
| Juncus compressus | non-native | 0 | 0 | 0 | -3 |
| Juncus dichotomus | native | 6 | 4 | 3 | -3 |
| Juncus dudleyi | native | 4 | 5 | 5 | -3 |
| Juncus effusus | native | 2 | 2 | 2 | -5 |
| Juncus filiformis | native | 5 | 7 | 5 | -3 |
| Juncus gerardii | native | 0 | 7 | 6 | -5 |
| Juncus greenei | native | 4 | 4 | 3 | 0 |
| Juncus marginatus | native | 3 | 4 | 2 | -3 |
| Juncus militaris | native | 8 | 8 | 6 | -5 |
| Juncus nodosus | native | 5 | 6 | 6 | -5 |
| Juncus pelocarpus | native | 6 | 5 | 5 | -5 |
| Juncus secundus | native | 7 | 7 | 6 | 3 |
| Juncus stygius | native | 9 | 0 | 9 | -5 |
| Juncus subtilis | native | 7 | 0 | 0 | -5 |
| Juncus tenuis | native | 2 | 2 | 2 | 0 |
| Juncus trifidus | native | 8 | 0 | 0 | 3 |
| Juncus vaseyi | native | 6 | 0 | 6 | -3 |
| Juniperus communis | native | 3 | 4 | 3 | 3 |
| Juniperus horizontalis | native | 8 | 7 | 6 | 3 |
| Juniperus virginiana | native | 3 | 3 | 4 | 3 |
| Kalmia angustifolia | native | 5 | 5 | 4 | 0 |
| Kalmia latifolia | native | 6 | 5 | 6 | 3 |
| Kalmia polifolia | native | 9 | 9 | 8 | -5 |
| Knautia arvensis | non-native | 0 | 0 | 0 | 0 |
| Koeleria macrantha | non-native | 0 | 0 | 0 | 0 |
| Krigia virginica | native | 4 | 4 | 4 | 5 |
| Lactuca biennis | native | 3 | 2 | 3 | 0 |
| Lactuca canadensis | native | 2 | 2 | 3 | 3 |
| Lactuca hirsuta | native | 4 | 5 | 3 | 0 |
| Lactuca sativa | non-native | 0 | 0 | 0 | 0 |
| Lactuca serriola | non-native | 0 | 0 | 0 | 3 |
| Lactuca tatarica | non-native | 0 | 0 | 0 | 0 |
| Lamium album | non-native | 0 | 0 | 0 | 0 |
| Lamium amplexicaule | non-native | 0 | 0 | 0 | 0 |
| Lamium maculatum | non-native | 0 | 0 | 0 | 0 |
| Lamium purpureum | non-native | 0 | 0 | 0 | 0 |
| Lamprocapnos spectabilis | non-native | 0 | 0 | 0 | 0 |
| Laportea canadensis | native | 7 | 6 | 6 | -3 |
| Lappula occidentalis | non-native | 2 | 0 | 0 | 0 |
| Lappula squarrosa | non-native | 0 | 0 | 0 | 0 |
| Lapsana communis | non-native | 0 | 0 | 0 | 3 |
| Larix decidua | non-native | 0 | 0 | 0 | 0 |
| Larix laricina | native | 5 | 7 | 4 | -3 |
| Lathyrus japonicus | native | 7 | 8 | 7 | 3 |
| Lathyrus latifolius | non-native | 0 | 0 | 0 | 0 |
| Lathyrus odoratus | non-native | 0 | 0 | 0 | 0 |
| Lathyrus palustris | native | 6 | 6 | 6 | -3 |
| Lathyrus pratensis | non-native | 0 | 0 | 0 | 3 |
| Lathyrus tuberosus | non-native | 0 | 0 | 0 | 0 |
| Lechea intermedia | native | 4 | 4 | 3 | 0 |
| Lechea maritima | native | 7 | 6 | 6 | 0 |
| Ledum groenlandicum | native | 7 | 9 | 8 | 0 |
| Leersia oryzoides | native | 5 | 4 | 5 | -5 |
| Leersia virginica | native | 5 | 4 | 5 | -3 |
| Lemna minor | native | 3 | 2 | 3 | -5 |
| Lemna trisulca | native | 5 | 5 | 3 | -5 |
| Lens culinaris | non-native | 0 | 0 | 0 | 0 |
| Leontodon autumnalis | non-native | 0 | 0 | 0 | 3 |
| Leonurus cardiaca | non-native | 0 | 0 | 0 | 0 |
| Lepidium campestre | non-native | 0 | 0 | 0 | 0 |
| Lepidium densiflorum | non-native | 0 | 0 | 0 | 3 |
| Lepidium perfoliatum | non-native | 0 | 0 | 0 | 3 |
| Lepidium ruderale | non-native | 0 | 0 | 0 | 0 |
| Lepidium sativum | non-native | 0 | 0 | 0 | 0 |
| Lepidium virginicum | native | 2 | 2 | 2 | 3 |
| Leptochloa fusca | non-native | 4 | 8 | 0 | 0 |
| Leptochloa fusca ssp. fascicularis | non-native | 6 | 9 | 0 | 0 |
| Leptochloa panicea ssp. brachiata | non-native | 0 | 0 | 0 | 0 |
| Lespedeza capitata | native | 3 | 3 | 4 | 3 |
| Lespedeza hirta | native | 6 | 4 | 0 | 0 |
| Leucanthemum vulgare | non-native | 0 | 0 | 0 | 5 |
| Leucojum aestivum | non-native | 0 | 0 | 0 | 0 |
| Levisticum officinale | non-native | 0 | 0 | 0 | 0 |
| Leymus mollis | native | 5 | 8 | 6 | 3 |
| Liatris scariosa var. novae-angliae | native | 6 | 7 | 0 | 5 |
| Ligusticum scoticum | non-native | 0 | 8 | 0 | 0 |
| Ligustrum amurense | non-native | 0 | 0 | 0 | 0 |
| Ligustrum vulgare | non-native | 0 | 0 | 0 | 3 |
| Lilaeopsis chinensis | native | 0 | 9 | 8 | -5 |
| Lilium canadense | native | 6 | 6 | 6 | 0 |
| Lilium lancifolium | non-native | 0 | 0 | 0 | 0 |
| Lilium philadelphicum | native | 7 | 6 | 6 | 0 |
| Limonium carolinianum | native | 0 | 8 | 7 | -5 |
| Limosella australis | native | 8 | 8 | 7 | -5 |
| Linaria dalmatica | non-native | 0 | 0 | 0 | 0 |
| Linaria maroccana | non-native | 0 | 0 | 0 | 0 |
| Linaria repens | non-native | 0 | 0 | 0 | 0 |
| Linaria vulgaris | non-native | 0 | 0 | 0 | 0 |
| Lindera benzoin | native | 6 | 5 | 0 | -3 |
| Lindernia dubia | native | 5 | 4 | 5 | -5 |
| Linnaea borealis | native | 6 | 8 | 5 | 0 |
| Linum catharticum | non-native | 0 | 0 | 0 | 0 |
| Linum medium | native | 4 | 5 | 3 | 3 |
| Linum perenne | non-native | 0 | 0 | 0 | 0 |
| Linum usitatissimum | non-native | 0 | 0 | 0 | 0 |
| Liparis loeselii | native | 6 | 7 | 6 | -3 |
| Lipocarpha micrantha | native | 8 | 8 | 8 | -5 |
| Listera auriculata | native | 8 | 0 | 7 | -3 |
| Listera convallarioides | native | 9 | 0 | 8 | -3 |
| Listera cordata | native | 9 | 9 | 8 | -3 |
| Lithospermum officinale | non-native | 0 | 0 | 0 | 0 |
| Littorella uniflora | native | 7 | 0 | 7 | 0 |
| Lobelia cardinalis | native | 6 | 6 | 6 | -5 |
| Lobelia dortmanna | native | 8 | 8 | 7 | -5 |
| Lobelia inflata | native | 2 | 2 | 2 | 3 |
| Lobelia kalmii | native | 7 | 8 | 7 | -5 |
| Lobelia spicata | native | 4 | 4 | 4 | 0 |
| Lobularia maritima | non-native | 0 | 0 | 0 | 0 |
| Loiseleuria procumbens | native | 10 | 0 | 0 | -3 |
| Lolium perenne | non-native | 0 | 0 | 0 | 3 |
| Lolium temulentum | non-native | 0 | 0 | 0 | 0 |
| Lomatogonium rotatum | native | 0 | 0 | 8 | -5 |
| Lonicera ×bella | non-native | 0 | 0 | 0 | 3 |
| Lonicera canadensis | native | 6 | 7 | 5 | 3 |
| Lonicera dioica | native | 6 | 6 | 5 | 3 |
| Lonicera japonica | non-native | 0 | 0 | 0 | 3 |
| Lonicera morrowii | non-native | 0 | 0 | 0 | 3 |
| Lonicera oblongifolia | native | 8 | 0 | 7 | -5 |
| Lonicera periclymenum | non-native | 0 | 0 | 0 | 0 |
| Lonicera sempervirens | non-native | 5 | 4 | 0 | 3 |
| Lonicera tatarica | non-native | 0 | 0 | 0 | 3 |
| Lonicera villosa | native | 7 | 7 | 6 | -3 |
| Lonicera xylosteum | non-native | 0 | 0 | 0 | 0 |
| Lotus corniculatus | non-native | 0 | 0 | 0 | 3 |
| Ludwigia palustris | native | 5 | 3 | 5 | -5 |
| Ludwigia polycarpa | native | 8 | 9 | 0 | -5 |
| Lunaria annua | non-native | 0 | 0 | 0 | 0 |
| Lupinus polyphyllus | non-native | 0 | 0 | 0 | 3 |
| Luzula acuminata | native | 5 | 6 | 5 | 3 |
| Luzula confusa | native | 10 | 0 | 0 | 0 |
| Luzula luzuloides | non-native | 0 | 0 | 0 | 0 |
| Luzula multiflora | native | 3 | 3 | 2 | 3 |
| Luzula pallidula | non-native | 0 | 0 | 0 | 0 |
| Luzula parviflora | native | 7 | 0 | 6 | 0 |
| Luzula spicata | native | 8 | 0 | 0 | 5 |
| Lychnis chalcedonica | non-native | 0 | 0 | 0 | 0 |
| Lychnis coronaria | non-native | 0 | 0 | 0 | 0 |
| Lychnis flos-cuculi | non-native | 0 | 0 | 0 | 0 |
| Lychnis viscaria | non-native | 0 | 0 | 0 | 0 |
| Lycium barbarum | non-native | 0 | 0 | 0 | 0 |
| Lycium chinense | non-native | 0 | 0 | 0 | 0 |
| Lycopodiella alopecuroides | native | 0 | 0 | 4 | -3 |
| Lycopodiella appressa | native | 0 | 6 | 5 | -3 |
| Lycopodiella inundata | native | 5 | 6 | 4 | -5 |
| Lycopodium annotinum | native | 7 | 0 | 5 | 0 |
| Lycopodium clavatum | native | 5 | 4 | 4 | 0 |
| Lycopodium complanatum | native | 6 | 6 | 5 | 0 |
| Lycopodium dendroideum | native | 5 | 5 | 5 | 0 |
| Lycopodium digitatum | native | 5 | 5 | 5 | 0 |
| Lycopodium hickeyi | native | 6 | 6 | 5 | 0 |
| Lycopodium lagopus | native | 3 | 5 | 3 | 3 |
| Lycopodium obscurum | native | 5 | 5 | 5 | 0 |
| Lycopodium sabinifolium | native | 5 | 0 | 4 | 0 |
| Lycopodium sitchense | native | 8 | 0 | 0 | 0 |
| Lycopodium tristachyum | native | 5 | 5 | 6 | 0 |
| Lycopodium tristachyum | native | 5 | 5 | 6 | 0 |
| Lycopus americanus | native | 4 | 4 | 3 | -5 |
| Lycopus uniflorus | native | 4 | 4 | 3 | -5 |
| Lycopus virginicus | native | 5 | 4 | 5 | -5 |
| Lycurus phleoides | non-native | 0 | 0 | 0 | 0 |
| Lycurus setosus | non-native | 0 | 0 | 0 | 0 |
| Lyonia ligustrina | native | 6 | 6 | 4 | -3 |
| Lysimachia ×producta | native | 3 | 3 | 3 | 0 |
| Lysimachia ciliata | native | 4 | 3 | 5 | -3 |
| Lysimachia clethroides | non-native | 0 | 0 | 0 | 0 |
| Lysimachia hybrida | non-native | 8 | 7 | 0 | -5 |
| Lysimachia nummularia | non-native | 0 | 0 | 0 | -3 |
| Lysimachia punctata | non-native | 0 | 0 | 0 | -5 |
| Lysimachia quadrifolia | native | 6 | 4 | 4 | 3 |
| Lysimachia terrestris | native | 4 | 4 | 3 | -5 |
| Lysimachia thyrsiflora | native | 7 | 6 | 6 | -5 |
| Lysimachia vulgaris | non-native | 0 | 0 | 0 | -3 |
| Lythrum alatum | non-native | 4 | 6 | 0 | -5 |
| Lythrum hyssopifolium | native | 0 | 0 | 4 | 0 |
| Lythrum salicaria | non-native | 0 | 0 | 0 | -5 |
| Macleaya cordata | non-native | 0 | 0 | 0 | 0 |
| Madia glomerata | non-native | 0 | 0 | 0 | 3 |
| Madia sativa | non-native | 0 | 0 | 0 | 0 |
| Magnolia acuminata | non-native | 7 | 0 | 0 | 3 |
| Maianthemum canadense | native | 3 | 4 | 3 | 3 |
| Maianthemum racemosum | native | 5 | 5 | 5 | 3 |
| Maianthemum stellatum | native | 6 | 6 | 6 | 0 |
| Maianthemum trifolium | native | 8 | 8 | 7 | -5 |
| Malaxis brachypoda | native | 9 | 0 | 9 | 0 |
| Malaxis unifolia | native | 7 | 7 | 5 | 0 |
| Malus baccata | non-native | 0 | 0 | 0 | 0 |
| Malus prunifolia | non-native | 0 | 0 | 0 | 0 |
| Malus pumila | non-native | 0 | 0 | 0 | 0 |
| Malva alcea | non-native | 0 | 0 | 0 | 0 |
| Malva moschata | non-native | 0 | 0 | 0 | 0 |
| Malva neglecta | non-native | 0 | 0 | 0 | 0 |
| Malva sylvestris | non-native | 0 | 0 | 0 | 0 |
| Malva verticillata | non-native | 0 | 0 | 0 | 0 |
| Marrubium vulgare | non-native | 0 | 0 | 0 | 3 |
| Marsilea quadrifolia | non-native | 0 | 0 | 0 | -5 |
| Matricaria discoidea | non-native | 0 | 0 | 0 | 3 |
| Matricaria recutita | non-native | 0 | 0 | 0 | 0 |
| Matteuccia struthiopteris | native | 6 | 6 | 5 | 0 |
| Mazus miquelii | non-native | 0 | 0 | 0 | 0 |
| Medeola virginiana | native | 5 | 5 | 5 | 3 |
| Medicago arabica | non-native | 0 | 0 | 0 | 0 |
| Medicago laciniata | non-native | 0 | 0 | 0 | 0 |
| Medicago lupulina | non-native | 0 | 0 | 0 | 3 |
| Medicago polymorpha | non-native | 0 | 0 | 0 | 3 |
| Medicago sativa | non-native | 0 | 0 | 0 | 5 |
| Melampyrum lineare | native | 6 | 6 | 6 | 3 |
| Melilotus altissimus | non-native | 0 | 0 | 0 | 0 |
| Melilotus indicus | non-native | 0 | 0 | 0 | 3 |
| Melilotus officinalis | non-native | 0 | 0 | 0 | 3 |
| Melissa officinalis | non-native | 0 | 0 | 0 | 5 |
| Mentha xgracilis | non-native | 0 | 0 | 0 | -5 |
| Mentha xpiperita | non-native | 0 | 0 | 0 | -5 |
| Mentha xvillosa | non-native | 0 | 0 | 0 | 0 |
| Mentha aquatica | non-native | 0 | 0 | 0 | -5 |
| Mentha arvensis | native | 4 | 3 | 0 | -3 |
| Mentha spicata | non-native | 0 | 0 | 0 | -3 |
| Mentha suaveolens | non-native | 0 | 0 | 0 | 0 |
| Menyanthes trifoliata | native | 8 | 9 | 8 | -5 |
| Mercurialis annua | non-native | 0 | 0 | 0 | 0 |
| Mertensia maritima | native | 0 | 7 | 7 | -3 |
| Mertensia virginica | non-native | 7 | 0 | 0 | 0 |
| Milium effusum | native | 7 | 8 | 7 | 3 |
| Mimulus moschatus | non-native | 7 | 0 | 0 | -5 |
| Mimulus ringens | native | 5 | 5 | 6 | -5 |
| Minuartia glabra | native | 7 | 9 | 6 | 5 |
| Minuartia groenlandica | native | 6 | 0 | 7 | 0 |
| Minuartia rubella | native | 9 | 0 | 0 | 5 |
| Mirabilis hirsuta | non-native | 0 | 0 | 0 | 0 |
| Mirabilis nyctaginea | non-native | 1 | 1 | 0 | 5 |
| Miscanthus sacchariflorus | non-native | 0 | 0 | 0 | 0 |
| Misopates orontium | non-native | 0 | 0 | 0 | 0 |
| Mitchella repens | native | 6 | 5 | 5 | 3 |
| Mitella nuda | native | 8 | 8 | 7 | -3 |
| Moehringia lateriflora | native | 6 | 6 | 5 | 3 |
| Molinia caerulea | non-native | 0 | 0 | 0 | 3 |
| Mollugo verticillata | non-native | 3 | 3 | 0 | 0 |
| Monarda bradburiana | non-native | 0 | 0 | 0 | 3 |
| Monarda didyma | non-native | 7 | 7 | 0 | 3 |
| Monarda media | non-native | 1 | 2 | 0 | 0 |
| Moneses uniflora | native | 7 | 8 | 7 | 0 |
| Monolepis nuttalliana | non-native | 0 | 0 | 0 | 5 |
| Monotropa hypopitys | native | 6 | 6 | 6 | 0 |
| Monotropa uniflora | native | 6 | 6 | 6 | 3 |
| Montia fontana | native | 0 | 0 | 9 | -5 |
| Morella pensylvanica | native | 5 | 4 | 4 | 0 |
| Morus alba | non-native | 0 | 0 | 0 | 3 |
| Muhlenbergia frondosa | native | 3 | 3 | 3 | -3 |
| Muhlenbergia glomerata | native | 8 | 7 | 7 | -5 |
| Muhlenbergia mexicana | native | 4 | 4 | 4 | -3 |
| Muhlenbergia racemosa | native | 2 | 2 | 2 | 3 |
| Muhlenbergia richardsonis | native | 8 | 0 | 8 | -3 |
| Muhlenbergia schreberi | native | 2 | 2 | 2 | 0 |
| Muhlenbergia sobolifera | native | 8 | 7 | 0 | 0 |
| Muhlenbergia sylvatica | native | 6 | 6 | 6 | -3 |
| Muhlenbergia uniflora | native | 5 | 5 | 4 | -5 |
| Mycelis muralis | non-native | 0 | 0 | 0 | 0 |
| Myosotis arvensis | non-native | 4 | 0 | 0 | 3 |
| Myosotis discolor | non-native | 0 | 0 | 0 | 5 |
| Myosotis laxa | native | 4 | 5 | 5 | -5 |
| Myosotis scorpioides | non-native | 0 | 0 | 0 | -5 |
| Myosotis stricta | non-native | 0 | 0 | 0 | 0 |
| Myosotis sylvatica | non-native | 0 | 0 | 0 | 5 |
| Myosotis verna | native | 5 | 4 | 4 | 3 |
| Myrica gale | native | 7 | 7 | 5 | -5 |
| Myriophyllum alterniflorum | native | 7 | 9 | 7 | -5 |
| Myriophyllum farwellii | native | 7 | 8 | 7 | -5 |
| Myriophyllum heterophyllum | non-native | 4 | 4 | 0 | -5 |
| Myriophyllum humile | native | 6 | 6 | 6 | -5 |
| Myriophyllum sibiricum | native | 6 | 8 | 6 | -5 |
| Myriophyllum spicatum | non-native | 0 | 0 | 0 | -5 |
| Myriophyllum tenellum | native | 8 | 8 | 6 | -5 |
| Myriophyllum verticillatum | native | 6 | 8 | 5 | -5 |
| Najas flexilis | native | 4 | 4 | 6 | -5 |
| Najas gracillima | native | 7 | 6 | 6 | -5 |
| Najas guadalupensis | native | 5 | 4 | 3 | -5 |
| Narcissus poeticus | non-native | 0 | 0 | 0 | 0 |
| Nasturtium microphyllum | non-native | 0 | 0 | 0 | -5 |
| Nasturtium officinale | non-native | 0 | 0 | 0 | -5 |
| Nelumbo lutea | non-native | 10 | 0 | 0 | -5 |
| Nepeta cataria | non-native | 0 | 0 | 0 | 3 |
| Neslia paniculata | non-native | 0 | 0 | 0 | 0 |
| Nicandra physalodes | non-native | 0 | 0 | 0 | 0 |
| Nigella damascena | non-native | 0 | 0 | 0 | 0 |
| Nonea rosea | non-native | 0 | 0 | 0 | 0 |
| Nuphar lutea ssp. advena | native | 6 | 0 | 7 | -5 |
| Nuphar lutea ssp. pumila | native | 7 | 8 | 7 | -5 |
| Nuphar lutea ssp. variegata | native | 4 | 4 | 4 | -5 |
| Nuttallanthus canadensis | native | 2 | 2 | 2 | 0 |
| Nymphaea leibergii | native | 8 | 0 | 8 | -5 |
| Nymphaea odorata ssp. odorata | native | 4 | 5 | 5 | -5 |
| Nymphoides cordata | native | 7 | 7 | 6 | -5 |
| Nyssa sylvatica | native | 7 | 6 | 7 | 0 |
| Oclemena acuminata | native | 4 | 5 | 4 | 3 |
| Oclemena nemoralis | native | 8 | 8 | 8 | -5 |
| Odontites vernus | native | 0 | 2 | 0 | 0 |
| Oenothera biennis | native | 2 | 2 | 2 | 3 |
| Oenothera fruticosa ssp. fruticosa | non-native | 5 | 6 | 0 | 3 |
| Oenothera fruticosa ssp. tetragona | non-native | 10 | 8 | 0 | 3 |
| Oenothera glazioviana | non-native | 0 | 0 | 0 | 0 |
| Oenothera laciniata | non-native | 1 | 0 | 0 | 3 |
| Oenothera nutans | native | 2 | 2 | 3 | 0 |
| Oenothera oakesiana | native | 2 | 2 | 2 | 0 |
| Oenothera parviflora | native | 2 | 2 | 3 | 3 |
| Oenothera perennis | native | 3 | 3 | 2 | 0 |
| Oenothera pilosella | non-native | 2 | 0 | 0 | 0 |
| Oenothera villosa | native | 2 | 2 | 2 | 0 |
| Omalotheca supina | native | 9 | 0 | 0 | 0 |
| Omalotheca sylvatica | native | 4 | 0 | 3 | 0 |
| Onoclea sensibilis | native | 2 | 2 | 3 | -3 |
| Ophioglossum pusillum | native | 5 | 7 | 5 | -3 |
| Ornithogalum umbellatum | non-native | 0 | 0 | 0 | 3 |
| Orobanche uniflora | native | 4 | 4 | 4 | 5 |
| Orthilia secunda | native | 7 | 7 | 7 | 0 |
| Oryzopsis asperifolia | native | 6 | 6 | 6 | 0 |
| Osmorhiza berteroi | native | 7 | 0 | 7 | 3 |
| Osmorhiza claytonii | native | 7 | 7 | 7 | 3 |
| Osmorhiza depauperata | native | 8 | 0 | 0 | 0 |
| Osmorhiza longistylis | native | 7 | 7 | 7 | 3 |
| Osmunda cinnamomea | native | 5 | 4 | 4 | -3 |
| Osmunda claytoniana | native | 4 | 4 | 4 | 0 |
| Osmunda regalis | native | 5 | 5 | 6 | 0 |
| Ostrya virginiana | native | 6 | 6 | 6 | 3 |
| Oxalis corniculata | non-native | 3 | 0 | 0 | 3 |
| Oxalis dillenii | native | 2 | 2 | 2 | 3 |
| Oxalis montana | native | 7 | 7 | 6 | 3 |
| Oxytropis campestris | native | 9 | 0 | 9 | 0 |
| Packera aurea | native | 6 | 5 | 5 | -3 |
| Packera paupercula | native | 7 | 8 | 7 | 0 |
| Packera schweinitziana | native | 6 | 0 | 6 | -3 |
| Panax quinquefolius | native | 8 | 8 | 8 | 0 |
| Panax trifolius | native | 7 | 6 | 6 | 0 |
| Panicum capillare | native | 2 | 2 | 2 | 0 |
| Panicum miliaceum | non-native | 0 | 0 | 0 | 0 |
| Panicum philadelphicum | native | 4 | 5 | 2 | 0 |
| Panicum rigidulum | native | 6 | 6 | 6 | -3 |
| Panicum virgatum | native | 4 | 3 | 4 | 0 |
| Papaver rhoeas | non-native | 0 | 0 | 0 | 0 |
| Papaver somniferum | non-native | 0 | 0 | 0 | 0 |
| Pappophorum vaginatum | non-native | 0 | 0 | 0 | 0 |
| Parnassia glauca | native | 8 | 8 | 8 | -5 |
| Paronychia argyrocoma | native | 9 | 0 | 0 | 0 |
| Parthenocissus quinquefolia | native | 3 | 2 | 3 | 3 |
| Parthenocissus tricuspidata | non-native | 0 | 0 | 0 | 0 |
| Parthenocissus vitacea | native | 4 | 3 | 4 | 3 |
| Pastinaca sativa | non-native | 0 | 0 | 0 | 0 |
| Patis racemosa | native | 8 | 8 | 7 | 0 |
| Pedicularis canadensis | native | 5 | 5 | 4 | 3 |
| Pedicularis furbishiae | native | 9 | 0 | 9 | -3 |
| Peltandra virginica | native | 7 | 6 | 7 | -5 |
| Pennisetum glaucum | non-native | 0 | 0 | 0 | 0 |
| Penstemon calycosus | non-native | 8 | 0 | 0 | 3 |
| Penstemon digitalis | native | 3 | 3 | 3 | 0 |
| Penstemon hirsutus | native | 5 | 6 | 4 | 0 |
| Penstemon pallidus | non-native | 6 | 7 | 0 | 5 |
| Pentaglottis sempervirens | non-native | 0 | 0 | 0 | 0 |
| Penthorum sedoides | native | 4 | 4 | 3 | -5 |
| Petasites frigidus | native | 8 | 8 | 7 | -3 |
| Petrorhagia saxifraga | non-native | 0 | 0 | 0 | 0 |
| Petunia axillaris | non-native | 0 | 0 | 0 | 0 |
| Petunia integrifolia | non-native | 0 | 0 | 0 | 0 |
| Phacelia linearis | non-native | 0 | 0 | 0 | 0 |
| Phacelia tanacetifolia | non-native | 0 | 0 | 0 | 0 |
| Phalaris arundinacea | native | 1 | 1 | 1 | -3 |
| Phalaris canariensis | non-native | 0 | 0 | 0 | 3 |
| Phaseolus vulgaris | non-native | 0 | 0 | 0 | 0 |
| Phedimus spurius | non-native | 0 | 0 | 0 | 0 |
| Phegopteris connectilis | native | 5 | 7 | 5 | 3 |
| Phegopteris hexagonoptera | native | 7 | 7 | 7 | 3 |
| Philadelphus coronarius | non-native | 0 | 0 | 0 | 0 |
| Phleum alpinum | native | 9 | 0 | 9 | -3 |
| Phleum pratense | non-native | 0 | 0 | 0 | 3 |
| Phlox maculata | non-native | 7 | 0 | 0 | -3 |
| Phlox paniculata | non-native | 0 | 0 | 0 | 3 |
| Phlox stolonifera | non-native | 0 | 0 | 0 | 0 |
| Phlox subulata | non-native | 7 | 7 | 0 | 0 |
| Phragmites australis | non-native | 5 | 5 | 0 | -3 |
| Phragmites australis ssp. americanus | native | 6 | 6 | 6 | -3 |
| Phyllodoce caerulea | native | 10 | 0 | 0 | 0 |
| Physalis alkekengi | non-native | 0 | 0 | 0 | 0 |
| Physalis heterophylla | native | 2 | 2 | 3 | 0 |
| Physalis longifolia | non-native | 1 | 2 | 0 | 0 |
| Physalis virginiana | non-native | 1 | 1 | 0 | 0 |
| Physocarpus opulifolius | non-native | 6 | 6 | 0 | -3 |
| Physostegia virginiana | native | 6 | 0 | 6 | -3 |
| Phytolacca americana | native | 2 | 2 | 2 | 3 |
| Picea abies | non-native | 0 | 0 | 0 | 0 |
| Picea glauca | native | 5 | 0 | 3 | 3 |
| Picea mariana | native | 7 | 8 | 6 | -3 |
| Picea pungens | non-native | 0 | 0 | 0 | 3 |
| Picea rubens | native | 5 | 6 | 4 | 3 |
| Picris echioides | non-native | 0 | 0 | 0 | 0 |
| Pilea pumila | native | 4 | 3 | 4 | -3 |
| Pimpinella saxifraga | non-native | 0 | 0 | 0 | 3 |
| Pinguicula vulgaris | native | 10 | 0 | 0 | -5 |
| Pinus banksiana | native | 7 | 0 | 6 | 3 |
| Pinus nigra | non-native | 0 | 0 | 0 | 0 |
| Pinus resinosa | native | 5 | 6 | 5 | 3 |
| Pinus rigida | native | 6 | 5 | 6 | 3 |
| Pinus strobus | native | 3 | 3 | 3 | 3 |
| Pinus sylvestris | non-native | 0 | 0 | 0 | 0 |
| Piptatheropsis canadensis | native | 7 | 0 | 5 | 0 |
| Piptatheropsis pungens | native | 7 | 7 | 7 | 0 |
| Pisum sativum | non-native | 0 | 0 | 0 | 0 |
| Plantago arenaria | non-native | 0 | 0 | 0 | 3 |
| Plantago aristata | non-native | 0 | 0 | 0 | 0 |
| Plantago lanceolata | non-native | 0 | 0 | 0 | 3 |
| Plantago major | non-native | 0 | 0 | 0 | 3 |
| Plantago maritima | native | 0 | 8 | 6 | -3 |
| Plantago media | non-native | 0 | 0 | 0 | 0 |
| Plantago patagonica | non-native | 0 | 0 | 0 | 0 |
| Plantago rugelii | native | 2 | 2 | 2 | 0 |
| Plantago virginica | native | 7 | 8 | 0 | 3 |
| Platanthera ×andrewsii | native | 4 | 4 | 0 | -5 |
| Platanthera aquilonis | native | 6 | 7 | 5 | -3 |
| Platanthera blephariglottis | native | 9 | 9 | 8 | -5 |
| Platanthera clavellata | native | 6 | 6 | 4 | -3 |
| Platanthera dilatata | native | 7 | 8 | 6 | -3 |
| Platanthera flava | native | 5 | 6 | 5 | -3 |
| Platanthera grandiflora | native | 7 | 7 | 6 | -3 |
| Platanthera hookeri | native | 7 | 7 | 6 | 0 |
| Platanthera huronensis | native | 6 | 7 | 5 | -3 |
| Platanthera lacera | native | 4 | 4 | 5 | -3 |
| Platanthera leucophaea | native | 0 | 0 | 10 | -3 |
| Platanthera macrophylla | native | 8 | 8 | 7 | 0 |
| Platanthera obtusata | native | 8 | 0 | 7 | -3 |
| Platanthera orbiculata | native | 8 | 8 | 7 | 0 |
| Platanthera psycodes | native | 6 | 7 | 6 | -3 |
| Poa alsodes | native | 5 | 5 | 5 | 0 |
| Poa annua | non-native | 0 | 0 | 0 | 3 |
| Poa compressa | non-native | 0 | 0 | 0 | 3 |
| Poa glauca | native | 9 | 0 | 0 | 0 |
| Poa laxa | native | 10 | 0 | 0 | 0 |
| Poa nemoralis | non-native | 3 | 3 | 0 | 3 |
| Poa palustris | native | 3 | 3 | 3 | -3 |
| Poa pratensis ssp. pratensis | non-native | 0 | 0 | 0 | 3 |
| Poa saltuensis | native | 6 | 6 | 6 | 0 |
| Poa secunda | non-native | 0 | 0 | 0 | 3 |
| Poa trivialis | non-native | 0 | 0 | 0 | -3 |
| Podophyllum peltatum | non-native | 5 | 5 | 0 | 3 |
| Podostemum ceratophyllum | native | 8 | 9 | 7 | -5 |
| Pogonia ophioglossoides | native | 7 | 8 | 5 | -5 |
| Polemonium caeruleum | non-native | 0 | 0 | 0 | -3 |
| Polemonium vanbruntiae | native | 6 | 0 | 0 | -3 |
| Polygala paucifolia | native | 5 | 6 | 5 | 0 |
| Polygala polygama | native | 5 | 4 | 4 | 3 |
| Polygala sanguinea | native | 2 | 3 | 2 | 3 |
| Polygala senega | native | 8 | 0 | 7 | 3 |
| Polygala verticillata | native | 3 | 3 | 2 | 5 |
| Polygonatum biflorum | non-native | 5 | 5 | 0 | 3 |
| Polygonatum pubescens | native | 6 | 5 | 6 | 3 |
| Polygonella articulata | native | 3 | 3 | 3 | 0 |
| Polygonum achoreum | native | 2 | 0 | 2 | 3 |
| Polygonum amphibium | native | 5 | 4 | 5 | 0 |
| Polygonum arenastrum | non-native | 0 | 0 | 0 | 0 |
| Polygonum arifolium | native | 4 | 4 | 5 | 0 |
| Polygonum aviculare | non-native | 2 | 2 | 0 | 3 |
| Polygonum bellardii | non-native | 0 | 0 | 0 | 0 |
| Polygonum bistorta | non-native | 0 | 0 | 0 | 0 |
| Polygonum buxiforme | native | 4 | 5 | 7 | 0 |
| Polygonum careyi | native | 3 | 3 | 2 | 0 |
| Polygonum cespitosum | non-native | 0 | 0 | 0 | 0 |
| Polygonum cilinode | native | 4 | 3 | 4 | 0 |
| Polygonum convolvulus | non-native | 0 | 0 | 0 | 0 |
| Polygonum cuspidatum | non-native | 0 | 0 | 0 | 0 |
| Polygonum douglasii | native | 8 | 8 | 0 | 3 |
| Polygonum erectum | native | 4 | 5 | 2 | 3 |
| Polygonum fowleri | native | 0 | 0 | 7 | -3 |
| Polygonum hydropiper | non-native | 4 | 5 | 0 | 0 |
| Polygonum hydropiperoides | native | 5 | 4 | 4 | 0 |
| Polygonum lapathifolium | native | 3 | 3 | 2 | 0 |
| Polygonum orientale | non-native | 0 | 0 | 0 | 0 |
| Polygonum patulum | non-native | 0 | 0 | 0 | 0 |
| Polygonum pensylvanicum | native | 3 | 2 | 2 | 0 |
| Polygonum persicaria | non-native | 4 | 0 | 0 | 0 |
| Polygonum punctatum | native | 4 | 4 | 5 | 0 |
| Polygonum ramosissimum | native | 4 | 6 | 5 | 0 |
| Polygonum sachalinense | non-native | 0 | 0 | 0 | 0 |
| Polygonum sagittatum | native | 3 | 3 | 4 | 0 |
| Polygonum scandens | native | 5 | 4 | 4 | 0 |
| Polygonum viviparum | native | 9 | 0 | 0 | 0 |
| Polypodium appalachianum | native | 7 | 7 | 6 | 0 |
| Polypodium virginianum | native | 7 | 7 | 6 | 0 |
| Polypogon monspeliensis | non-native | 0 | 0 | 0 | -5 |
| Polystichum acrostichoides | native | 6 | 5 | 6 | 3 |
| Polystichum braunii | native | 8 | 0 | 7 | 0 |
| Pontederia cordata | native | 5 | 5 | 4 | -5 |
| Populus alba | non-native | 0 | 0 | 0 | 0 |
| Populus balsamifera | native | 3 | 4 | 2 | -3 |
| Populus deltoides | non-native | 4 | 4 | 0 | 0 |
| Populus grandidentata | native | 3 | 3 | 3 | 3 |
| Populus nigra | non-native | 0 | 0 | 0 | 0 |
| Populus tremuloides | native | 2 | 2 | 2 | 3 |
| Portulaca oleracea | non-native | 4 | 0 | 0 | 3 |
| Potamogeton xmysticus | native | 5 | 0 | 0 | -5 |
| Potamogeton alpinus | native | 7 | 0 | 7 | -5 |
| Potamogeton amplifolius | native | 6 | 7 | 6 | -5 |
| Potamogeton bicupulatus | native | 7 | 7 | 6 | -5 |
| Potamogeton confervoides | native | 8 | 8 | 8 | -5 |
| Potamogeton epihydrus | native | 5 | 5 | 5 | -5 |
| Potamogeton foliosus | native | 4 | 5 | 6 | -5 |
| Potamogeton friesii | native | 8 | 9 | 5 | -5 |
| Potamogeton natans | native | 5 | 5 | 5 | -5 |
| Potamogeton nodosus | native | 5 | 7 | 7 | -5 |
| Potamogeton oakesianus | native | 7 | 7 | 7 | -5 |
| Potamogeton obtusifolius | native | 6 | 7 | 7 | -5 |
| Potamogeton perfoliatus | native | 5 | 5 | 5 | -5 |
| Potamogeton praelongus | native | 6 | 8 | 6 | -5 |
| Potamogeton pulcher | native | 7 | 7 | 6 | -5 |
| Potamogeton pusillus ssp. pusillus | native | 4 | 4 | 6 | -5 |
| Potamogeton richardsonii | native | 6 | 7 | 7 | -5 |
| Potamogeton robbinsii | native | 6 | 5 | 6 | -5 |
| Potamogeton spirillus | native | 6 | 6 | 6 | -5 |
| Potamogeton strictifolius | native | 9 | 9 | 9 | -5 |
| Potamogeton vaseyi | native | 7 | 8 | 6 | -5 |
| Potamogeton zosteriformis | native | 5 | 6 | 6 | -5 |
| Potentilla argentea | non-native | 0 | 0 | 0 | 3 |
| Potentilla arguta | native | 5 | 6 | 5 | 0 |
| Potentilla canadensis | native | 2 | 2 | 2 | 0 |
| Potentilla intermedia | non-native | 0 | 0 | 0 | 0 |
| Potentilla norvegica | native | 2 | 2 | 2 | 0 |
| Potentilla pensylvanica | native | 3 | 3 | 2 | 3 |
| Potentilla recta | non-native | 0 | 0 | 0 | 0 |
| Potentilla rivalis | non-native | 0 | 0 | 0 | -3 |
| Potentilla simplex | native | 2 | 2 | 2 | 3 |
| Prenanthes alba | native | 7 | 6 | 5 | 3 |
| Prenanthes altissima | native | 5 | 5 | 5 | 3 |
| Prenanthes boottii | native | 8 | 0 | 0 | 0 |
| Prenanthes nana | native | 7 | 0 | 0 | 0 |
| Prenanthes racemosa | native | 8 | 0 | 8 | -3 |
| Prenanthes trifoliolata | native | 5 | 5 | 5 | 0 |
| Primula laurentiana | native | 9 | 0 | 9 | 0 |
| Primula mistassinica | native | 9 | 0 | 9 | -3 |
| Primula veris | non-native | 0 | 0 | 0 | 0 |
| Proboscidea louisianica | non-native | 0 | 0 | 0 | 0 |
| Proserpinaca palustris | native | 5 | 5 | 5 | -5 |
| Prunella vulgaris | non-native | 1 | 1 | 0 | 0 |
| Prunus avium | non-native | 0 | 0 | 0 | 3 |
| Prunus cerasus | non-native | 0 | 0 | 0 | 0 |
| Prunus domestica | non-native | 0 | 0 | 0 | 0 |
| Prunus maritima | native | 0 | 7 | 0 | 0 |
| Prunus nigra | non-native | 0 | 3 | 0 | 3 |
| Prunus pensylvanica | native | 0 | 4 | 2 | 3 |
| Prunus persica | non-native | 0 | 0 | 0 | 0 |
| Prunus pumila | native | 6 | 7 | 6 | 0 |
| Prunus serotina | native | 3 | 3 | 3 | 3 |
| Prunus spinosa | non-native | 0 | 0 | 0 | 0 |
| Prunus susquehanae | native | 7 | 7 | 6 | 0 |
| Prunus virginiana | native | 3 | 3 | 2 | 3 |
| Pseudognaphalium helleri | native | 5 | 0 | 0 | 0 |
| Pseudognaphalium macounii | native | 2 | 3 | 2 | 0 |
| Pseudognaphalium obtusifolium | native | 2 | 3 | 2 | 0 |
| Pseudolysimachion longifolium | non-native | 0 | 0 | 0 | 0 |
| Ptelea trifoliata | non-native | 8 | 0 | 0 | 3 |
| Pteridium aquilinum | native | 2 | 3 | 3 | 3 |
| Puccinellia distans | non-native | 0 | 0 | 0 | -3 |
| Puccinellia fasciculata | non-native | 9 | 8 | 0 | -5 |
| Puccinellia maritima | non-native | 0 | 0 | 0 | -5 |
| Puccinellia nuttalliana | non-native | 0 | 0 | 0 | -5 |
| Puccinellia tenella | native | 6 | 0 | 7 | -3 |
| Pueraria montana | non-native | 0 | 0 | 0 | 5 |
| Pulsatilla patens ssp. multifida | native | 9 | 9 | 9 | 0 |
| Pycnanthemum tenuifolium | native | 4 | 3 | 4 | 0 |
| Pycnanthemum virginianum | native | 4 | 3 | 4 | -3 |
| Pyrola americana | native | 6 | 6 | 6 | 0 |
| Pyrola asarifolia | native | 8 | 0 | 6 | -3 |
| Pyrola chlorantha | native | 7 | 7 | 6 | 3 |
| Pyrola elliptica | native | 6 | 6 | 5 | 3 |
| Pyrola minor | native | 8 | 0 | 0 | 0 |
| Pyrus communis | non-native | 0 | 0 | 0 | 0 |
| Quercus alba | native | 5 | 5 | 5 | 3 |
| Quercus bicolor | native | 7 | 7 | 6 | -3 |
| Quercus coccinea | native | 0 | 6 | 0 | 0 |
| Quercus ilicifolia | native | 6 | 6 | 7 | 0 |
| Quercus macrocarpa | native | 6 | 0 | 5 | 3 |
| Quercus montana | native | 7 | 6 | 0 | 5 |
| Quercus palustris | non-native | 7 | 6 | 0 | -3 |
| Quercus robur | non-native | 0 | 0 | 0 | 0 |
| Quercus rubra | native | 4 | 4 | 4 | 3 |
| Quercus velutina | native | 5 | 4 | 5 | 0 |
| Radiola linoides | non-native | 0 | 0 | 0 | 0 |
| Ranunculus abortivus | native | 6 | 5 | 6 | 0 |
| Ranunculus acris | native | 0 | 0 | 0 | 0 |
| Ranunculus bulbosus | non-native | 0 | 0 | 0 | -3 |
| Ranunculus cymbalaria | native | 8 | 9 | 6 | -5 |
| Ranunculus fascicularis | native | 8 | 8 | 0 | 3 |
| Ranunculus flabellaris | native | 7 | 6 | 6 | -5 |
| Ranunculus flammula | native | 6 | 6 | 5 | -3 |
| Ranunculus gmelinii | native | 0 | 0 | 6 | -3 |
| Ranunculus hispidus | native | 7 | 7 | 0 | 0 |
| Ranunculus lapponicus | native | 8 | 0 | 8 | -5 |
| Ranunculus pensylvanicus | native | 4 | 5 | 3 | -5 |
| Ranunculus recurvatus | non-native | 6 | 4 | 0 | -3 |
| Ranunculus repens | non-native | 0 | 0 | 0 | 0 |
| Ranunculus sceleratus | native | 3 | 3 | 3 | -5 |
| Ranunculus trichophyllus | native | 6 | 7 | 6 | -5 |
| Raphanus raphanistrum | non-native | 0 | 0 | 0 | 0 |
| Raphanus sativus | non-native | 0 | 0 | 0 | 0 |
| Reseda alba | non-native | 0 | 0 | 0 | 0 |
| Reseda lutea | non-native | 0 | 0 | 0 | 0 |
| Rhamnus alnifolia | native | 7 | 7 | 6 | -5 |
| Rhamnus cathartica | non-native | 0 | 0 | 0 | 0 |
| Rheum rhabarbarum | non-native | 0 | 0 | 0 | 0 |
| Rhexia virginica | native | 7 | 6 | 7 | -5 |
| Rhinanthus minor ssp. groenlandicus | native | 6 | 0 | 0 | 0 |
| Rhinanthus minor var. minor | native | 0 | 0 | 0 | 0 |
| Rhodiola rosea | native | 9 | 0 | 8 | 3 |
| Rhododendron canadense | native | 6 | 7 | 5 | -3 |
| Rhododendron lapponicum | native | 10 | 0 | 0 | -3 |
| Rhododendron maximum | native | 8 | 8 | 0 | 0 |
| Rhododendron viscosum | native | 7 | 6 | 0 | -3 |
| Rhus xborealis | native | 2 | 0 | 0 | 0 |
| Rhus copallinum | native | 4 | 4 | 3 | 5 |
| Rhus glabra | native | 2 | 2 | 2 | 0 |
| Rhus typhina | native | 2 | 2 | 2 | 0 |
| Rhynchospora alba | native | 7 | 7 | 6 | -5 |
| Rhynchospora capillacea | native | 9 | 0 | 8 | -5 |
| Rhynchospora capitellata | native | 5 | 5 | 4 | -5 |
| Rhynchospora fusca | native | 7 | 8 | 6 | -5 |
| Rhynchospora macrostachya | native | 9 | 8 | 0 | -5 |
| Ribes americanum | native | 6 | 6 | 5 | -3 |
| Ribes cynosbati | native | 6 | 6 | 6 | 3 |
| Ribes glandulosum | native | 6 | 0 | 5 | -3 |
| Ribes hirtellum | native | 6 | 6 | 5 | -3 |
| Ribes lacustre | native | 7 | 8 | 6 | -3 |
| Ribes nigrum | non-native | 0 | 0 | 0 | 0 |
| Ribes oxyacanthoides | native | 0 | 0 | 5 | 3 |
| Ribes rubrum | non-native | 0 | 0 | 0 | 0 |
| Ribes triste | native | 7 | 8 | 6 | -5 |
| Ribes uva-crispa | non-native | 0 | 0 | 0 | 0 |
| Robinia hispida | non-native | 0 | 0 | 0 | 0 |
| Robinia pseudoacacia | non-native | 0 | 0 | 0 | 3 |
| Robinia viscosa | non-native | 0 | 0 | 0 | 0 |
| Rorippa amphibia | non-native | 0 | 0 | 0 | -3 |
| Rorippa palustris | native | 4 | 3 | 4 | -5 |
| Rorippa sylvestris | non-native | 4 | 0 | 0 | -5 |
| Rosa acicularis | native | 8 | 8 | 8 | 3 |
| Rosa blanda | native | 4 | 4 | 5 | 3 |
| Rosa canina | non-native | 0 | 0 | 0 | 0 |
| Rosa carolina | native | 3 | 3 | 4 | 3 |
| Rosa ferruiginea | non-native | 0 | 0 | 0 | 0 |
| Rosa gallica | non-native | 0 | 0 | 0 | 0 |
| Rosa micrantha | non-native | 0 | 0 | 0 | 3 |
| Rosa multiflora | non-native | 0 | 0 | 0 | 3 |
| Rosa nitida | native | 7 | 8 | 7 | -3 |
| Rosa palustris | native | 6 | 5 | 5 | -5 |
| Rosa rubiginosa | non-native | 0 | 0 | 0 | 3 |
| Rosa rugosa | non-native | 0 | 0 | 0 | 3 |
| Rosa spinosissima | non-native | 0 | 0 | 0 | 0 |
| Rosa virginiana | native | 4 | 3 | 3 | 0 |
| Rubus allegheniensis | native | 2 | 2 | 2 | 3 |
| Rubus canadensis | native | 4 | 4 | 4 | 0 |
| Rubus chamaemorus | native | 9 | 0 | 8 | -3 |
| Rubus elegantulus | native | 3 | 0 | 4 | 0 |
| Rubus flagellaris | native | 2 | 2 | 3 | 3 |
| Rubus frondosus | native | 2 | 2 | 2 | 0 |
| Rubus hispidus | native | 4 | 4 | 3 | -3 |
| Rubus idaeus ssp. idaeus | native | 2 | 2 | 2 | 3 |
| Rubus idaeus ssp. strigosus | native | 2 | 2 | 2 | 3 |
| Rubus illecebrosus | non-native | 0 | 0 | 0 | 0 |
| Rubus occidentalis | native | 2 | 2 | 2 | 0 |
| Rubus odoratus | native | 5 | 4 | 3 | 0 |
| Rubus pergratus | native | 3 | 2 | 0 | 0 |
| Rubus pubescens | native | 6 | 6 | 6 | -3 |
| Rubus recurvicaulis | native | 2 | 3 | 2 | 0 |
| Rubus semisetosus | native | 2 | 3 | 2 | 0 |
| Rubus setosus | native | 3 | 3 | 3 | -3 |
| Rubus vermontanus | native | 2 | 3 | 2 | 0 |
| Rudbeckia hirta | non-native | 2 | 2 | 0 | 3 |
| Rudbeckia laciniata | native | 6 | 5 | 6 | -3 |
| Rumex acetosa | non-native | 0 | 0 | 0 | 5 |
| Rumex acetosella | non-native | 0 | 0 | 0 | 3 |
| Rumex alpinus | non-native | 0 | 0 | 0 | 0 |
| Rumex altissimus | native | 7 | 6 | 0 | -3 |
| Rumex aquaticus = r. occidentalis | native | 0 | 0 | 0 | 0 |
| Rumex crispus | non-native | 0 | 0 | 0 | 0 |
| Rumex longifolius | non-native | 0 | 0 | 0 | 0 |
| Rumex maritimus | native | 7 | 8 | 7 | -3 |
| Rumex obtusifolius | non-native | 0 | 0 | 0 | 0 |
| Rumex orbiculatus | native | 6 | 4 | 5 | 0 |
| Rumex pallidus | native | 7 | 7 | 7 | -3 |
| Rumex patientia | non-native | 0 | 0 | 0 | 0 |
| Rumex salicifolius | native | 5 | 0 | 0 | 0 |
| Ruppia maritima | native | 8 | 9 | 7 | -5 |
| Sagina nodosa ssp. borealis | native | 0 | 0 | 7 | 3 |
| Sagina nodosa ssp. nodosa | non-native | 0 | 0 | 0 | 3 |
| Sagina procumbens | native | 3 | 2 | 4 | 0 |
| Sagittaria calycina | native | 8 | 9 | 7 | -5 |
| Sagittaria cuneata | native | 7 | 8 | 7 | -5 |
| Sagittaria filiformis | native | 0 | 8 | 7 | -5 |
| Sagittaria graminea | native | 7 | 7 | 6 | -5 |
| Sagittaria latifolia | native | 4 | 5 | 5 | -5 |
| Sagittaria rigida | native | 6 | 6 | 6 | -5 |
| Salicornia bigelovii | native | 8 | 9 | 8 | -5 |
| Salicornia depressa | native | 0 | 8 | 5 | -5 |
| Salix xpendulinaH | non-native | 0 | 0 | 0 | -3 |
| Salix xrubens | non-native | 0 | 0 | 0 | 0 |
| Salix alba | non-native | 0 | 0 | 0 | -3 |
| Salix arctophila | native | 10 | 0 | 0 | -3 |
| Salix argyrocarpa | native | 9 | 0 | 0 | 3 |
| Salix atrocinerea | non-native | 0 | 0 | 0 | -3 |
| Salix bebbiana | native | 3 | 3 | 3 | -3 |
| Salix candida | native | 9 | 8 | 9 | -5 |
| Salix cinerea | non-native | 0 | 0 | 0 | -3 |
| Salix discolor | native | 3 | 3 | 3 | -3 |
| Salix eriocephala | native | 3 | 3 | 3 | -3 |
| Salix fragilis | non-native | 0 | 0 | 0 | 0 |
| Salix herbacea | native | 10 | 0 | 0 | 0 |
| Salix humilis var. humilis | native | 4 | 5 | 3 | 3 |
| Salix interior | native | 6 | 7 | 7 | -3 |
| Salix lucida | native | 5 | 6 | 5 | -3 |
| Salix myricoides | native | 8 | 0 | 8 | -3 |
| Salix nigra | native | 5 | 4 | 5 | -5 |
| Salix pedicellaris | native | 8 | 8 | 7 | -5 |
| Salix pellita | native | 7 | 0 | 6 | -3 |
| Salix pentandra | non-native | 0 | 0 | 0 | 0 |
| Salix petiolaris | native | 4 | 5 | 3 | -3 |
| Salix planifolia | native | 9 | 0 | 9 | -5 |
| Salix purpurea | non-native | 0 | 0 | 0 | -3 |
| Salix sericea | native | 4 | 5 | 4 | -5 |
| Salix uva-ursi | native | 9 | 0 | 0 | 0 |
| Salix viminalis | non-native | 0 | 0 | 0 | -3 |
| Salsola kali | native | 7 | 6 | 7 | 3 |
| Salsola tragus | non-native | 0 | 0 | 0 | 3 |
| Salvia officinalis | non-native | 0 | 0 | 0 | 0 |
| Sambucus nigra | native | 4 | 4 | 3 | -3 |
| Sambucus racemosa | native | 5 | 6 | 5 | 3 |
| Samolus valerandi | native | 7 | 7 | 7 | -5 |
| Sanguinaria canadensis | native | 6 | 6 | 7 | 3 |
| Sanguisorba canadensis | native | 7 | 6 | 5 | -3 |
| Sanguisorba minor | non-native | 0 | 5 | 0 | 0 |
| Sanguisorba officinalis | non-native | 0 | 0 | 0 | -3 |
| Sanicula marilandica | native | 6 | 6 | 6 | 3 |
| Sanicula odorata | native | 7 | 6 | 0 | 0 |
| Sanicula trifoliata | native | 6 | 6 | 8 | 0 |
| Saponaria officinalis | non-native | 0 | 0 | 0 | 3 |
| Sarracenia purpurea | native | 8 | 8 | 7 | -5 |
| Sassafras albidum | native | 4 | 4 | 0 | 3 |
| Satureja hortensis | non-native | 0 | 0 | 0 | 0 |
| Saxifraga foliolosa | native | 10 | 0 | 0 | -5 |
| Saxifraga paniculata | native | 10 | 0 | 0 | 0 |
| Saxifraga pensylvanica | native | 7 | 7 | 6 | -5 |
| Saxifraga virginiensis | native | 7 | 7 | 7 | 3 |
| Schedonorus arundinaceus | non-native | 0 | 0 | 0 | 3 |
| Schedonorus pratensis | non-native | 0 | 0 | 0 | 3 |
| Scheuchzeria palustris | native | 8 | 9 | 8 | -5 |
| Schizachne purpurascens | native | 7 | 8 | 6 | 3 |
| Schizachyrium scoparium | native | 3 | 3 | 2 | 3 |
| Schoenoplectiella purshiana | native | 6 | 7 | 6 | -5 |
| Schoenoplectiella smithii | native | 7 | 8 | 7 | -5 |
| Schoenoplectus acutus | native | 6 | 7 | 5 | -5 |
| Schoenoplectus pungens | native | 6 | 7 | 6 | -5 |
| Schoenoplectus subterminalis | native | 8 | 9 | 6 | -5 |
| Schoenoplectus tabernaemontani | native | 5 | 5 | 5 | -5 |
| Schoenoplectus torreyi | native | 8 | 9 | 6 | -5 |
| Scirpus xpeckii | native | 2 | 2 | 2 | -5 |
| Scirpus atrocinctus | native | 4 | 5 | 3 | -5 |
| Scirpus atrovirens | native | 3 | 3 | 2 | -5 |
| Scirpus cyperinus | native | 3 | 4 | 2 | -5 |
| Scirpus expansus | native | 4 | 6 | 4 | -5 |
| Scirpus georgianus | native | 5 | 5 | 0 | -5 |
| Scirpus hattorianus | native | 2 | 4 | 2 | -5 |
| Scirpus longii | native | 7 | 9 | 0 | -5 |
| Scirpus microcarpus | native | 4 | 5 | 4 | -5 |
| Scirpus pedicellatus | native | 5 | 7 | 4 | -5 |
| Scirpus pendulus | native | 3 | 4 | 2 | -5 |
| Scleranthus annuus | non-native | 0 | 0 | 0 | 3 |
| Scrophularia lanceolata | native | 4 | 4 | 4 | 3 |
| Scutellaria xchurchilliana | native | 5 | 5 | 5 | -3 |
| Scutellaria galericulata | native | 5 | 5 | 4 | -5 |
| Scutellaria lateriflora | native | 6 | 5 | 5 | -5 |
| Scutellaria parvula | native | 7 | 8 | 0 | 3 |
| Secale cereale | non-native | 0 | 0 | 0 | 0 |
| Securigera varia | non-native | 0 | 0 | 0 | 0 |
| Sedum acre | non-native | 0 | 0 | 0 | 0 |
| Sedum album | non-native | 0 | 0 | 0 | 0 |
| Sedum hispanicum | non-native | 0 | 0 | 0 | 0 |
| Sedum ochroleucum | non-native | 0 | 0 | 0 | 0 |
| Sedum sarmentosum | non-native | 0 | 0 | 0 | 0 |
| Sedum stoloniferum | non-native | 0 | 0 | 0 | 0 |
| Sedum ternatum | non-native | 5 | 0 | 0 | 3 |
| Selaginella apoda | native | 4 | 4 | 3 | -3 |
| Selaginella rupestris | native | 7 | 8 | 7 | 0 |
| Selaginella selaginoides | native | 10 | 0 | 10 | -3 |
| Sempervivum tectorum | non-native | 0 | 0 | 0 | 0 |
| Senecio jacobaea | non-native | 0 | 0 | 0 | 5 |
| Senecio sylvaticus | non-native | 0 | 0 | 0 | 5 |
| Senecio viscosus | non-native | 0 | 0 | 0 | 0 |
| Senecio vulgaris | non-native | 0 | 0 | 0 | 3 |
| Senna hebecarpa | non-native | 5 | 7 | 0 | -3 |
| Sericocarpus asteroides | native | 5 | 5 | 0 | 0 |
| Setaria faberi | non-native | 0 | 0 | 0 | 3 |
| Setaria italica | non-native | 0 | 0 | 0 | 3 |
| Setaria pumila | non-native | 0 | 0 | 0 | 0 |
| Setaria verticillata | non-native | 0 | 0 | 0 | 3 |
| Setaria viridis | non-native | 0 | 0 | 0 | 0 |
| Shepherdia canadensis | native | 8 | 0 | 9 | 5 |
| Sherardia arvensis | non-native | 0 | 0 | 0 | 0 |
| Sibbaldiopsis tridentata | native | 7 | 7 | 6 | 0 |
| Sicyos angulatus | non-native | 5 | 4 | 0 | -3 |
| Sida spinosa | non-native | 0 | 0 | 0 | 3 |
| Silene antirrhina | native | 2 | 2 | 2 | 0 |
| Silene armeria | non-native | 0 | 0 | 0 | 0 |
| Silene csereii | non-native | 0 | 0 | 0 | 0 |
| Silene dichotoma | non-native | 0 | 0 | 0 | 0 |
| Silene dioica | non-native | 0 | 0 | 0 | 0 |
| Silene gallica | non-native | 0 | 0 | 0 | 0 |
| Silene latifolia | non-native | 0 | 0 | 0 | 0 |
| Silene nivea | non-native | 0 | 0 | 0 | -3 |
| Silene noctiflora | non-native | 0 | 0 | 0 | 0 |
| Silene nutans | non-native | 0 | 0 | 0 | 0 |
| Silene pendula | non-native | 0 | 0 | 0 | 0 |
| Silene vulgaris | non-native | 0 | 0 | 0 | 0 |
| Silphium perfoliatum | non-native | 5 | 0 | 0 | -3 |
| Sinapis alba | non-native | 0 | 0 | 0 | 3 |
| Sinapis arvensis | non-native | 0 | 0 | 0 | 0 |
| Sisymbrium altissimum | non-native | 0 | 0 | 0 | 3 |
| Sisymbrium loeselii | non-native | 0 | 0 | 0 | 0 |
| Sisymbrium officinale | non-native | 0 | 0 | 0 | 0 |
| Sisyrinchium albidum | non-native | 10 | 0 | 0 | 3 |
| Sisyrinchium angustifolium | native | 3 | 3 | 3 | 0 |
| Sisyrinchium atlanticum | native | 3 | 3 | 3 | -3 |
| Sisyrinchium montanum | native | 2 | 3 | 2 | 0 |
| Sisyrinchium mucronatum | native | 3 | 5 | 3 | 0 |
| Sium carsonii | native | 4 | 5 | 0 | -5 |
| Sium suave | native | 5 | 6 | 5 | -5 |
| Smilax herbacea | native | 6 | 4 | 6 | 0 |
| Smilax rotundifolia | native | 4 | 3 | 4 | 0 |
| Solanum carolinense | non-native | 2 | 2 | 0 | 3 |
| Solanum dulcamara | non-native | 0 | 0 | 0 | 0 |
| Solanum lycopersicum | non-native | 0 | 0 | 0 | 0 |
| Solanum ptycanthum | native | 2 | 2 | 3 | 3 |
| Solanum rostratum | non-native | 0 | 0 | 0 | 0 |
| Solanum tuberosum | non-native | 0 | 0 | 0 | 0 |
| Solanum villosum | non-native | 0 | 0 | 0 | 0 |
| Solidago xasperula | native | 4 | 5 | 0 | -5 |
| Solidago altissima | native | 2 | 2 | 2 | 3 |
| Solidago arguta | native | 5 | 5 | 5 | 3 |
| Solidago bicolor | native | 4 | 4 | 3 | 0 |
| Solidago caesia | native | 6 | 5 | 6 | 3 |
| Solidago canadensis | native | 2 | 2 | 2 | 3 |
| Solidago cutleri | native | 9 | 0 | 0 | 0 |
| Solidago flexicaulis | native | 6 | 6 | 5 | 3 |
| Solidago gigantea | native | 3 | 3 | 3 | -3 |
| Solidago hispida | native | 5 | 7 | 5 | 0 |
| Solidago juncea | native | 2 | 3 | 2 | 0 |
| Solidago macrophylla | native | 8 | 0 | 7 | 0 |
| Solidago multiradiata | native | 9 | 9 | 9 | 3 |
| Solidago nemoralis | native | 3 | 3 | 3 | 0 |
| Solidago puberula | native | 4 | 4 | 4 | 3 |
| Solidago rugosa | native | 2 | 2 | 3 | 0 |
| Solidago sempervirens | native | 5 | 5 | 4 | -3 |
| Solidago simplex | native | 8 | 0 | 7 | 3 |
| Solidago speciosa | native | 0 | 4 | 0 | 0 |
| Solidago squarrosa | native | 6 | 5 | 6 | 0 |
| Sonchus arvensis | non-native | 0 | 0 | 0 | 3 |
| Sonchus asper | non-native | 0 | 0 | 0 | 3 |
| Sonchus oleraceus | non-native | 0 | 0 | 0 | 3 |
| Sorbaria sorbifolia | non-native | 0 | 0 | 0 | 0 |
| Sorbus americana | native | 7 | 7 | 6 | 0 |
| Sorbus aucuparia | non-native | 0 | 0 | 0 | 0 |
| Sorbus decora | native | 7 | 8 | 6 | 3 |
| Sorbus hybrida | non-native | 0 | 0 | 0 | 0 |
| Sorghastrum nutans | native | 5 | 4 | 3 | 3 |
| Sorghum bicolor | non-native | 0 | 0 | 0 | 5 |
| Sparganium americanum | native | 4 | 5 | 5 | -5 |
| Sparganium androcladum | native | 6 | 6 | 7 | -5 |
| Sparganium angustifolium | native | 6 | 6 | 6 | -5 |
| Sparganium eurycarpum | native | 5 | 6 | 6 | -5 |
| Sparganium fluctuans | native | 7 | 8 | 6 | -5 |
| Sparganium natans | native | 8 | 9 | 6 | -5 |
| Spartina xcaespitosa | native | 0 | 6 | 6 | -5 |
| Spartina alterniflora | native | 0 | 8 | 6 | -5 |
| Spartina patens | native | 0 | 8 | 6 | -3 |
| Spartina pectinata | native | 5 | 5 | 5 | -3 |
| Spergula arvensis | non-native | 0 | 0 | 0 | 0 |
| Spergularia canadensis | native | 6 | 8 | 6 | -5 |
| Spergularia rubra | non-native | 0 | 0 | 0 | 3 |
| Spergularia salina | non-native | 0 | 7 | 7 | -3 |
| Sphenopholis intermedia | native | 6 | 6 | 5 | 0 |
| Spinacia oleracea | non-native | 0 | 0 | 0 | 0 |
| Spiraea alba | native | 3 | 4 | 3 | -3 |
| Spiraea alba var. latifolia | native | 3 | 3 | 3 | -3 |
| Spiraea japonica | non-native | 0 | 0 | 0 | 5 |
| Spiraea septentrionalis | native | 4 | 0 | 0 | -3 |
| Spiraea tomentosa | native | 3 | 4 | 4 | -3 |
| Spiranthes casei | native | 3 | 0 | 0 | 0 |
| Spiranthes cernua | native | 3 | 4 | 3 | -3 |
| Spiranthes lacera | native | 4 | 5 | 3 | 0 |
| Spiranthes lucida | native | 6 | 7 | 8 | -3 |
| Spiranthes ochroleuca | native | 4 | 6 | 4 | 0 |
| Spiranthes romanzoffiana | native | 6 | 8 | 5 | -5 |
| Spirodela polyrrhiza | native | 3 | 3 | 3 | -5 |
| Sporobolus compositus | native | 5 | 4 | 7 | 0 |
| Sporobolus contractus | native | 1 | 0 | 0 | 0 |
| Sporobolus cryptandrus | native | 5 | 5 | 3 | 3 |
| Sporobolus nealleyi | non-native | 0 | 0 | 0 | 0 |
| Sporobolus neglectus | native | 4 | 6 | 3 | 3 |
| Sporobolus vaginiflorus | native | 2 | 2 | 2 | 0 |
| Stachys annua | non-native | 0 | 0 | 0 | 0 |
| Stachys arvensis | non-native | 0 | 0 | 0 | 0 |
| Stachys hyssopifolia | non-native | 4 | 6 | 0 | -3 |
| Stachys palustris | native | 4 | 0 | 4 | -5 |
| Stachys tenuifolia | native | 4 | 6 | 0 | -3 |
| Stellaria alsine | native | 6 | 7 | 6 | -5 |
| Stellaria borealis | native | 8 | 8 | 7 | -3 |
| Stellaria graminea | non-native | 2 | 0 | 0 | 5 |
| Stellaria holostea | non-native | 0 | 0 | 0 | 0 |
| Stellaria humifusa | native | 7 | 0 | 7 | -5 |
| Stellaria longifolia | native | 4 | 5 | 4 | -3 |
| Stellaria media | non-native | 0 | 0 | 0 | 3 |
| Stellaria palustris | non-native | 0 | 0 | 0 | 0 |
| Streptopus amplexifolius | native | 8 | 9 | 7 | 0 |
| Streptopus lanceolatus | native | 7 | 8 | 7 | 3 |
| Strophostyles helvola | non-native | 2 | 3 | 0 | 0 |
| Stuckenia filiformis | native | 9 | 0 | 8 | -5 |
| Stuckenia pectinata | native | 4 | 4 | 5 | -5 |
| Suaeda calceoliformis | native | 6 | 7 | 7 | -3 |
| Suaeda linearis | native | 8 | 8 | 6 | -5 |
| Suaeda maritima ssp. maritima | non-native | 0 | 0 | 0 | -5 |
| Suaeda maritima ssp. richii | native | 8 | 8 | 7 | -5 |
| Subularia aquatica | native | 8 | 8 | 7 | -5 |
| Symphoricarpos albus | non-native | 9 | 0 | 0 | 3 |
| Symphyotrichum anticostense | native | 0 | 0 | 7 | 0 |
| Symphyotrichum boreale | native | 9 | 0 | 7 | -5 |
| Symphyotrichum ciliolatum | native | 3 | 0 | 3 | 0 |
| Symphyotrichum cordifolium | native | 3 | 4 | 2 | 0 |
| Symphyotrichum ericoides | native | 2 | 3 | 3 | 3 |
| Symphyotrichum laeve | native | 3 | 3 | 0 | 3 |
| Symphyotrichum lanceolatum | native | 2 | 2 | 2 | -3 |
| Symphyotrichum lateriflorum | native | 2 | 2 | 2 | 0 |
| Symphyotrichum novae-angliae | native | 2 | 2 | 2 | -3 |
| Symphyotrichum novi-belgii | native | 5 | 4 | 4 | -3 |
| Symphyotrichum pilosum | native | 3 | 3 | 3 | 3 |
| Symphyotrichum puniceum | native | 4 | 4 | 3 | -5 |
| Symphyotrichum racemosum | native | 3 | 2 | 0 | -3 |
| Symphyotrichum subulatum | native | 0 | 8 | 8 | -3 |
| Symphyotrichum tradescantii | native | 7 | 0 | 7 | -3 |
| Symphyotrichum undulatum | native | 3 | 4 | 3 | 0 |
| Symphytum asperum | non-native | 0 | 0 | 0 | 5 |
| Symphytum officinale | non-native | 0 | 0 | 0 | 0 |
| Symphytum tuberosum | non-native | 0 | 0 | 0 | 0 |
| Symplocarpus foetidus | native | 6 | 4 | 6 | -5 |
| Syringa vulgaris | non-native | 0 | 0 | 0 | 0 |
| Tanacetum balsamita | non-native | 0 | 0 | 0 | 0 |
| Tanacetum bipinnatum | native | 7 | 0 | 7 | 0 |
| Tanacetum parthenium | non-native | 0 | 0 | 0 | 0 |
| Tanacetum vulgare | non-native | 0 | 0 | 0 | 3 |
| Taraxacum laevigatum | non-native | 0 | 0 | 0 | 0 |
| Taraxacum officinale | non-native | 0 | 0 | 0 | 3 |
| Taxus canadensis | native | 7 | 7 | 6 | 3 |
| Teucrium canadense | native | 4 | 3 | 4 | -3 |
| Thalictrum dioicum | native | 7 | 7 | 7 | 3 |
| Thalictrum pubescens | native | 3 | 4 | 3 | -3 |
| Thalictrum venulosum | native | 0 | 0 | 8 | -3 |
| Thelypteris noveboracensis | native | 4 | 3 | 3 | 0 |
| Thelypteris palustris | native | 4 | 4 | 3 | -3 |
| Thelypteris simulata | native | 7 | 7 | 6 | 0 |
| Thermopsis villosa | non-native | 0 | 0 | 0 | 0 |
| Thinopyrum pycnanthum | non-native | 0 | 0 | 0 | -3 |
| Thlaspi arvense | non-native | 0 | 0 | 0 | 5 |
| Thuja occidentalis | native | 5 | 8 | 3 | -3 |
| Thymus pulegioides | non-native | 0 | 0 | 0 | 0 |
| Tiarella cordifolia | native | 6 | 7 | 5 | 3 |
| Tilia americana | native | 6 | 6 | 5 | 3 |
| Tilia cordata | non-native | 0 | 0 | 0 | 0 |
| Tilia platyphyllos | non-native | 0 | 0 | 0 | 0 |
| Toxicodendron radicans | native | 3 | 2 | 3 | 0 |
| Toxicodendron rydbergii | native | 4 | 3 | 5 | 0 |
| Toxicodendron vernix | native | 7 | 7 | 6 | -5 |
| Tradescantia ohiensis | non-native | 3 | 3 | 0 | 3 |
| Tradescantia virginiana | non-native | 5 | 5 | 0 | 5 |
| Tragopogon dubius | non-native | 0 | 0 | 0 | 0 |
| Tragopogon porrifolius | non-native | 0 | 0 | 0 | 0 |
| Tragus berteronianus | non-native | 0 | 0 | 0 | 0 |
| Tragus racemosus | non-native | 0 | 0 | 0 | 0 |
| Triadenum fraseri | native | 6 | 6 | 6 | 0 |
| Triadenum virginicum | native | 6 | 6 | 6 | 0 |
| Triantha glutinosa | native | 9 | 0 | 8 | -5 |
| Trichophorum alpinum | native | 8 | 8 | 8 | -5 |
| Trichophorum cespitosum | native | 7 | 0 | 7 | 0 |
| Trichophorum clintonii | native | 9 | 0 | 9 | 3 |
| Trichostema dichotomum | native | 3 | 3 | 3 | 5 |
| Trientalis borealis | native | 4 | 5 | 4 | 0 |
| Trifolium arvense | non-native | 0 | 0 | 0 | 0 |
| Trifolium aureum | non-native | 0 | 0 | 0 | 0 |
| Trifolium campestre | non-native | 0 | 0 | 0 | 0 |
| Trifolium dubium | non-native | 0 | 0 | 0 | 3 |
| Trifolium hybridum | non-native | 0 | 0 | 0 | 3 |
| Trifolium incarnatum | non-native | 0 | 0 | 0 | 0 |
| Trifolium medium | non-native | 0 | 0 | 0 | 0 |
| Trifolium pratense | non-native | 0 | 0 | 0 | 3 |
| Trifolium repens | non-native | 0 | 0 | 0 | 3 |
| Triglochin gaspensis | native | 0 | 0 | 8 | -5 |
| Triglochin maritima | native | 8 | 9 | 7 | -5 |
| Triglochin palustris | native | 8 | 9 | 8 | -5 |
| Trillium cernuum | native | 7 | 7 | 8 | 0 |
| Trillium erectum | native | 6 | 6 | 5 | 3 |
| Trillium undulatum | native | 7 | 7 | 6 | 3 |
| Triodanis perfoliata | native | 5 | 4 | 0 | 3 |
| Triosteum aurantiacum | native | 6 | 7 | 5 | 0 |
| Triphora trianthophora | native | 8 | 9 | 0 | 3 |
| Tripleurospermum maritimum | non-native | 0 | 0 | 0 | 0 |
| Tripleurospermum perforatum | non-native | 0 | 0 | 0 | 0 |
| Trisetum melicoides | native | 7 | 0 | 7 | 0 |
| Trisetum spicatum | native | 8 | 8 | 7 | 0 |
| Triticum aestivum | non-native | 0 | 0 | 0 | 0 |
| Tsuga canadensis | native | 5 | 5 | 4 | 3 |
| Tussilago farfara | non-native | 0 | 0 | 0 | 3 |
| Typha xglauca | non-native | 1 | 1 | 0 | -5 |
| Typha angustifolia | non-native | 2 | 2 | 0 | -5 |
| Typha latifolia | native | 2 | 2 | 2 | -5 |
| Ulmus americana | native | 3 | 4 | 2 | -3 |
| Ulmus glabra | non-native | 0 | 0 | 0 | 3 |
| Ulmus parvifolia | non-native | 0 | 0 | 0 | 5 |
| Ulmus procera | non-native | 0 | 0 | 0 | 0 |
| Urtica dioica ssp. dioica | non-native | 0 | 0 | 0 | 0 |
| Urtica dioica ssp. gracilis | native | 3 | 2 | 3 | 0 |
| Urtica urens | non-native | 0 | 0 | 0 | 0 |
| Utricularia cornuta | native | 7 | 7 | 6 | -5 |
| Utricularia geminiscapa | native | 7 | 8 | 6 | -5 |
| Utricularia gibba | native | 7 | 7 | 6 | -5 |
| Utricularia intermedia | native | 7 | 7 | 6 | -5 |
| Utricularia macrorhiza | native | 4 | 6 | 4 | -5 |
| Utricularia minor | native | 8 | 8 | 6 | -5 |
| Utricularia purpurea | native | 7 | 7 | 5 | -5 |
| Utricularia radiata | native | 8 | 8 | 7 | -5 |
| Utricularia resupinata | native | 8 | 8 | 7 | -5 |
| Uvularia sessilifolia | native | 5 | 5 | 4 | 3 |
| Vaccaria hispanica | non-native | 0 | 0 | 0 | 5 |
| Vaccinium angustifolium | native | 3 | 4 | 3 | 3 |
| Vaccinium boreale | native | 9 | 0 | 9 | 0 |
| Vaccinium caesariense | native | 5 | 6 | 5 | -5 |
| Vaccinium cespitosum | native | 7 | 0 | 7 | 0 |
| Vaccinium corymbosum | native | 5 | 5 | 4 | -3 |
| Vaccinium fuscatum | native | 6 | 6 | 6 | -3 |
| Vaccinium macrocarpon | native | 6 | 6 | 5 | -5 |
| Vaccinium myrtilloides | native | 5 | 6 | 5 | -3 |
| Vaccinium oxycoccos | native | 8 | 8 | 7 | -5 |
| Vaccinium pallidum | native | 6 | 5 | 6 | 0 |
| Vaccinium uliginosum | native | 8 | 0 | 7 | 0 |
| Vaccinium vitis-idaea | native | 8 | 9 | 7 | 0 |
| Vahlodea atropurpurea | native | 9 | 0 | 0 | -3 |
| Valeriana officinalis | non-native | 0 | 0 | 0 | 0 |
| Valeriana uliginosa | native | 9 | 0 | 8 | -5 |
| Valerianella locusta | non-native | 0 | 0 | 0 | 0 |
| Vallisneria americana | native | 5 | 6 | 6 | -5 |
| Ventenata dubia | non-native | 0 | 0 | 0 | 0 |
| Veratrum viride | native | 5 | 5 | 5 | -3 |
| Verbascum blattaria | non-native | 0 | 0 | 0 | 3 |
| Verbascum phlomoides | non-native | 0 | 0 | 0 | 0 |
| Verbascum thapsus | non-native | 0 | 0 | 0 | 5 |
| Verbena bracteata | non-native | 4 | 0 | 0 | 3 |
| Verbena hastata | native | 4 | 4 | 4 | -3 |
| Veronica agrestis | non-native | 0 | 0 | 0 | 0 |
| Veronica americana | native | 6 | 6 | 5 | -5 |
| Veronica anagallis-aquatica | native | 0 | 0 | 0 | -5 |
| Veronica austriaca | non-native | 0 | 0 | 0 | 0 |
| Veronica beccabunga | non-native | 0 | 0 | 0 | -5 |
| Veronica catenata | native | 10 | 0 | 0 | 0 |
| Veronica chamaedrys | non-native | 0 | 0 | 0 | 5 |
| Veronica officinalis | non-native | 0 | 0 | 0 | 3 |
| Veronica peregrina | native | 2 | 2 | 2 | 0 |
| Veronica persica | non-native | 0 | 0 | 0 | 0 |
| Veronica polita | non-native | 0 | 0 | 0 | 0 |
| Veronica scutellata | native | 5 | 4 | 5 | -5 |
| Veronica serpyllifolia | native | 2 | 0 | 2 | 0 |
| Veronica wormskjoldii | native | 10 | 0 | 0 | 0 |
| Veronicastrum virginicum | non-native | 5 | 7 | 0 | 0 |
| Viburnum acerifolium | native | 6 | 5 | 5 | 5 |
| Viburnum dentatum | native | 4 | 4 | 4 | 0 |
| Viburnum edule | native | 8 | 0 | 8 | -3 |
| Viburnum lantana | non-native | 0 | 0 | 0 | 0 |
| Viburnum lantanoides | native | 7 | 7 | 6 | 3 |
| Viburnum lentago | native | 4 | 5 | 4 | 0 |
| Viburnum nudum var. cassinoides | native | 5 | 5 | 5 | -3 |
| Viburnum opulus var. americanum | native | 4 | 4 | 4 | -3 |
| Viburnum opulus var. opulus | non-native | 0 | 0 | 0 | -3 |
| Vicia cracca | non-native | 0 | 0 | 0 | 0 |
| Vicia faba | non-native | 0 | 0 | 0 | 0 |
| Vicia hirsuta | non-native | 0 | 0 | 0 | 0 |
| Vicia sativa | non-native | 0 | 0 | 0 | 3 |
| Vinca minor | non-native | 0 | 0 | 0 | 0 |
| Viola xprimulifolia | native | 3 | 5 | 3 | -3 |
| Viola adunca | native | 6 | 6 | 5 | 3 |
| Viola affinis | native | 4 | 5 | 0 | -3 |
| Viola arvensis | non-native | 0 | 0 | 0 | 0 |
| Viola blanda | native | 5 | 5 | 4 | -3 |
| Viola canadensis | native | 8 | 8 | 0 | 3 |
| Viola cucullata | native | 4 | 5 | 4 | -5 |
| Viola labradorica | native | 4 | 4 | 3 | 0 |
| Viola lanceolata | native | 4 | 6 | 4 | -5 |
| Viola macloskeyi | native | 4 | 5 | 3 | -5 |
| Viola nephrophylla | native | 8 | 8 | 8 | -3 |
| Viola novae-angliae | native | 7 | 0 | 7 | -5 |
| Viola odorata | non-native | 0 | 0 | 0 | 0 |
| Viola pubescens | native | 6 | 6 | 6 | 3 |
| Viola renifolia | native | 7 | 0 | 6 | -3 |
| Viola rotundifolia | native | 6 | 7 | 6 | 0 |
| Viola sagittata | native | 3 | 4 | 2 | 0 |
| Viola selkirkii | native | 7 | 8 | 7 | 0 |
| Viola sororia | non-native | 4 | 4 | 0 | 0 |
| Viola tricolor | non-native | 0 | 0 | 0 | 0 |
| Vitis xnovae-angliae | native | 3 | 5 | 5 | 0 |
| Vitis aestivalis | native | 5 | 3 | 0 | 3 |
| Vitis labrusca | native | 4 | 4 | 3 | 3 |
| Vitis riparia | native | 3 | 4 | 3 | 0 |
| Vulpia bromoides | non-native | 0 | 0 | 0 | 5 |
| Vulpia myuros | non-native | 0 | 0 | 0 | 3 |
| Vulpia octoflora | native | 2 | 2 | 0 | 3 |
| Waldsteinia fragarioides | native | 5 | 7 | 3 | 0 |
| Wisteria floribunda | non-native | 0 | 0 | 0 | 0 |
| Wolffia borealis | native | 3 | 4 | 4 | -5 |
| Wolffia brasiliensis | native | 3 | 2 | 4 | -5 |
| Wolffia columbiana | native | 3 | 3 | 3 | -5 |
| Woodsia alpina | native | 10 | 0 | 10 | 0 |
| Woodsia glabella | native | 10 | 0 | 10 | 0 |
| Woodsia ilvensis | native | 8 | 8 | 7 | 0 |
| Woodsia obtusa | native | 8 | 8 | 9 | 0 |
| Woodwardia virginica | native | 8 | 7 | 7 | -5 |
| Xanthium spinosum | non-native | 0 | 5 | 0 | 3 |
| Xanthium strumarium | non-native | 3 | 2 | 0 | 0 |
| Xanthorhiza simplicissima | non-native | 0 | 0 | 0 | -3 |
| Xyris difformis | native | 8 | 8 | 7 | -5 |
| Xyris montana | native | 8 | 9 | 6 | -5 |
| Xyris smalliana | native | 9 | 9 | 0 | -5 |
| Zannichellia palustris | native | 6 | 7 | 5 | -5 |
| Zanthoxylum americanum | non-native | 4 | 4 | 0 | 3 |
| Zea mays | non-native | 0 | 0 | 0 | 0 |
| Zizania aquatica | native | 6 | 7 | 5 | -5 |
| Zizania palustris | native | 7 | 8 | 6 | -5 |
| Zizia aurea | native | 4 | 4 | 3 | 0 |
| Zostera marina | native | 8 | 9 | 8 | -5 |
| Solidago uliginosa | native | 9 | 9 | 8 | 0 |
| Hierochloe odorata | native | 6 | 6 | 6 | -5 |
| Salix pyrifolia | native | 7 | 7 | 7 | -3 |