Carex sparganioides Muhl. ex Willd.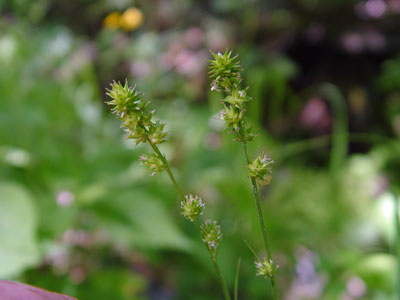 Bur-reed Sedge
Habitat: Rich woods, usually maple-basswood-ash type. [ Hardwood to mixed forest (forest, upland)]
Range: Southern Maine and southwest Quebec , west to South Dakota , south to Virginia and Kansas.
Aids to Identification: Identification of species of the genus Carex is usually difficult and dependent upon rather technical characters. C. sparganioides is in the section Phaestoglochin which is characterized by androgynous spikes (staminate flowers borne near the apex of the spike), sharp margined perigynia, cespitose stems, and 1-8 spikes per inflorescence. This species is distinguished from the others in this section by the following characters: loose, septate-nodulose sheaths, elongate inflorescence, floral scales +/- equal the length of the perigynia.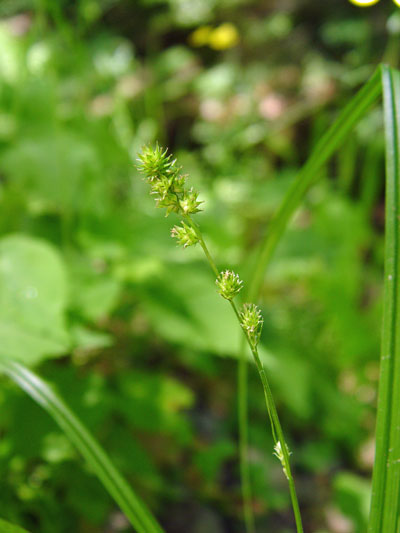 Ecological characteristics: The only documented occurrence of this sedge in Maine is from a rocky hardwood forest bordering a dirt road.
Phenology: Fruits June - August.
Family: Cyperaceae
Synonyms: None noted.
Known Distribution in Maine: This rare plant has been documented from a total of 1 town(s) in the following county(ies): Oxford.
Reason(s) for rarity: At northern limit of range.
Conservation considerations: This sedge apparently requires some forest cover but also tolerates disturbance. Semi-open rocky woods are the typical habitat, but one population grows on the verge of a minor road through the woods that is periodically but infrequently graded.