Boechera missouriensis (Greene) Al-Shehbaz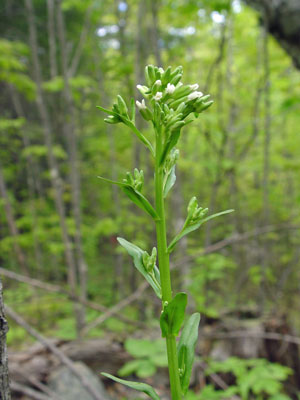 Missouri Rockcress
Habitat: Circumneutral bluffs, ledges or rocky woods. [Rocky summits and outcrops (non-forested, upland); Hardwood to mixed forest (forest, upland)]
Range: Quebec to Ontario, as far south as Georgia and west to Oklahoma.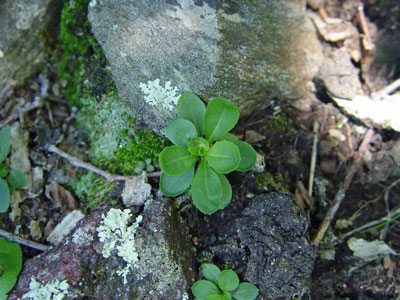 Aids to Identification: Missouri rock-cress is one of several similar rock-loving plants belonging to the Mustard family. It is a stiffly upright plant, growing 20-50 cm high, with narrow, upward-pointing stem leaves and a basal rosette of broader, toothed leaves. It bears an elongated cluster (raceme) of 4-petaled white flowers up to 2 cm in diameter. These strictly upright flowers develop into narrow, drooping pods 5-8 cm in length. The stem is not glaucous and bears many leaves.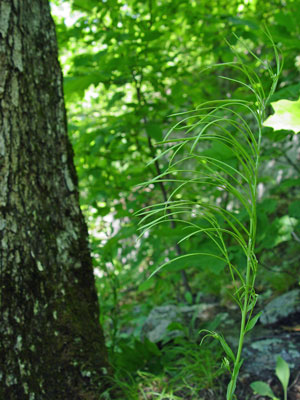 Ecological characteristics: Found on ledges and in rocky woods.
Phenology: Flowers in June.
Family: Brassicaceae
Synonyms: Arabis laevigata (Muhl. ex Willd.) Poir. var. missouriensis (Greene) Ahles; Arabis missouriensis Greene; Arabis viridis Harger.
Known Distribution in Maine: This rare plant has been documented from a total of 6 town(s) in the following county(ies): Cumberland, Oxford, York.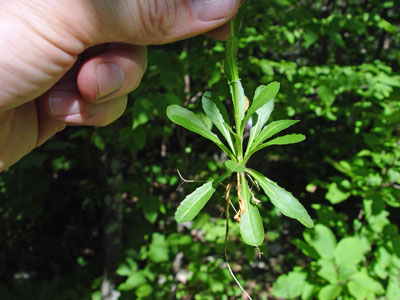 Reason(s) for rarity: Reaches the northern limit of its range in Maine.
Conservation considerations: Effects of logging have not been documented, but partial removal of the canopy may mimic natural conditions as the plant tends to grow in rocky openings in the woods.