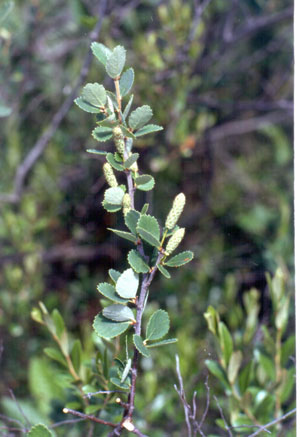 Betula pumila L.
Swamp Birch
Habitat: Bogs and wooded swamps. [Forested wetland; Open wetland, not coastal nor rivershore (non-forested, wetland)]
Range: Newfoundland to Ontario, south to Connecticut and west to Wisconsin.
Aids to Identification: Swamp birch, also called dwarf or low birch, is a medium-sized shrub, 0.3-3 m high, with small, distinctively shaped leaves. The leaves, borne alternately on the dark twigs, are almost round in outline, with very coarse teeth around the leaf margin; they are lighter green or whitish beneath. The aments (elongate fruit clusters typical of birches) are borne upright and are about 2-3 cm in length.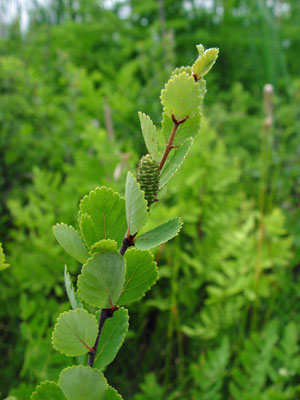 Ecological characteristics: Little information is available on the ecology of Betula pumila. It is a highly variable species, both morphologically and ecologically; different varieties are found in habitats ranging from Coastal Plain bogs of New Jersey to tundra and alpine barrens of Labrador. In Maine, it is restricted to fen areas in bogs, or to similarly minerotrophic habitats on lake margins. It is sporadic in this part of its range.
Phenology: A perennial woody shrub; deciduous leaves. Flowers in May and June.
Family: Betulaceae
Synonyms: Betula gladulifera (Regel) Butler; Betula glandulosa Michx. var. glandulifera (Regel) Gleason; Betula pumila L. var. galndulifera Regel; Betula pumila L. var. reinifolia Fern.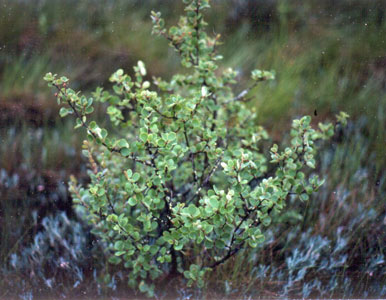 Known Distribution in Maine: This rare plant has been documented from a total of 20 town(s) in the following county(ies): Aroostook, Penobscot, Piscataquis, Somerset, Waldo, Washington.
Reason(s) for rarity: Unclear; in Maine, scarcity of suitable calcareous habitat. Local in this eastern portion of range.
Conservation considerations: Appears to be secure where it grows, except where hydrologic alterations favor invasion by other woody species.