Floodplain Management Program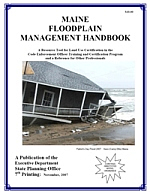 Cover (PDF 450KB)
Tech Resources (PDF 210KB)
Prologue & Acronyms (PDF 330KB)
Contents (PDF 17KB)
Introduction (PDF 259KB)
Chapter One: Model Floodplain Ordinance (PDF 206KB)
Overview of participation in the NFIP, Ordinance Adoption - Model Floodplain Management Ordinance (PDF 136KB)
Chapter Two: Floodplain Data (PDF 1.6MB)
The Base Flood, Special Flood Hazard Area, Making map Determinations, base Flood Elevations, Riverine SFHAs and Floodways, Coastal High Hazard Areas, Base Flood Studies, Revising Regulatory Floodplain Data
Chapter Three: Activities Regulated (PDF 309KB)
Development, Statutory Authority to Regulate, Other Activities, Other Regulations
Chapter Four: Preventing Increased Damages (PDF 401KB)
The Problem,The Floodway Concept, Hazardous Materials
Chapter Five: Protecting Structures (PDF 550KB)
Structures, The Flood Protection Elevation, How Floods Damage Buildings, Protecting Against Flood Damage, Substantial Improvements/Substantial Damages
Chapter Six: Administrative Procedures (PDF 3.3MB)
The Development Permit System, Record Keeping Requirements, Checking Elevations in the Field, Variances, Enforcement
Chapter Seven: Related Important Information (PDF 29KB)
Community Rating System, Emergency Management Institute (PDF 103KB)
Appendix A: Annotated Flood Hazard Development Application & Permits (Coastal E Model) (PDF 82KB)
Find the Flood Hazard Development Applications and Permits that are appropriate for use in your town.
Appendix B: Flood Hazard Development Application & Permits (Coastal E Model) (PDF 110KB)
Appendix C: Checking Elevations in the Field (PDF 133KB)
Appendix D: Elevation Certificate (PDF 2.4MB)
Appendix E: Floodproofing Certificate
Appendix F: Other Certificates, V Zone Certificate & Hydraulic Openings Certificate (PDF 27KB)
Appendix G: Related Publications & Videos (PDF 28KB)
Appendix H: NFIP Entry Information (PDF 174KB)
Appendix I: Order FEMA Flood Maps On Line (PDF 393KB)
You may also order directly from FEMA's Map Service Center web site.
Appendix J: Assorted Floodplain Management Articles (PDF 92KB)
The articles in this file include: Is it in the Floodplain, What if I Subdivide in the Floodplain?, They Just Don't Get It, Hugo's Lessons on Construction: NFIP Standards Work, Common Community Errors in Floodplain Management, and Flood Hazard Determination Issues.
Appendix K: Biennial Report (PDF 247KB)
Appendix L: Executive Order 11988 (PDF 59KB)
Appendix M: Benefits of Participation & Effects of Suspension from the NFIP (PDF 1.2MB)
Appendix N: Protecting Your Property From Flooding, Anchoring Heating Oil/Propane Tanks - (FEMA 481 DVD Video) (PDF 403KB)
Appendix O: Glossary (PDF 51KB)
Back Cover (PDF 488KB)