Mapping Resources
Floodplain Maps Online
Accessing Preliminary Pending and Effective Flood Insurance Rate Maps on the FEMA Map Service Center and Maine Flood Hazard Map (PDF 0.5MB)
View the Maine Flood Hazard Map application. This interactive web map contains the following flood hazard layers:

National Flood Hazard Layers (NFHL): This layer contains the most current digital FIRM maps accepted and approved by FEMA.
Q3 Flood Maps: This is a layer of digitized flood zones from the old, approximate data. It should be used with confirmation from the official, printed FIRM maps.



The FEMA Map Service Center is an excellent source of information for most of your mapping needs. The home page has a helpful index of commonly requested services and some specific links are provided below.

The study area
Engineering methods used to determine base flood elevations
Exhibits showing flood profiles
Tables showing floodway data, summary of discharges and still water elevations, etc.
Flood Insurance Rate Map (FIRM) Floodplain Map Updating through Risk MAP
Coastal Map Updates for Local Officials (PDF 9.0MB)
Glossary of FEMA Map Update Acronyms (PDF 0.1MB)
Flood zone terminology (PDF 0.1MB)
Map Updates Timeline (PDF 0.3MB)
Maine Coastal Map Updates - Insurance Impact Comparision Brief (PDF 0.6MB)
State Map Update
Flood Insurance Rate Map (FIRM) Floodplain Map Updating through Cooperating Technical Partners (CTP)
Community Summary of Map Action (SOMA) Toolkit
SOMA Templates for impacted property owners by category
Not only is flooding one of the most common and costly disasters, flood risk can also change over time because of new building and development, weather patterns and other factors. FEMA is working with federal, state, tribal and local partners across the nation to identify flood risk and help reduce that risk through the Risk Mapping, Assessment and Planning (Risk MAP) program.
Risk MAP provides high quality flood maps and information, tools to better assess the risk from flooding and planning and outreach support to communities to help them take action to reduce or mitigate flood risk. Each Risk MAP flood risk project is tailored to the needs of each community and may involve different products and services. Learn more about the goals and long term vision of Risk MAP, how the program works and what it means for you in the sections below.
The latest version of the State of Maine Risk MAP Business Plan (dated March 2016) outlines the current State of Maine plan for assisting FEMA in implementing the Risk MAP program.
Challenges to Good Floodplain Mapping
Good Elevation Data
Floodplains are called that because they tend to be wide and relatively flat. When the river floods it spreads out and inundates a large area. Depth of water is measured in feet and may be as much as 30 feet above the normal high water mark of the river or stream. So when mapping a floodplain it is important to be able to determine land elevations very accurately.
The problem here in Maine is that for most of the State elevation data has not been remapped since the 1920's when the United States Geological Survey completed a nation wide survey to determine elevations. Most of the maps show topographic elevations in 10 or 20 foot increments. Consequently it is impossible to delineate floodplain boundaries that generally fall within a range of a few feet accurately.
Cost
The process of creating completely new Floodplain maps is incredibly costly, time consuming and complex. Google Earth and other similar programs lure you into the impression that it is mere childs play to create simple easy to use maps.
Creating new digital floodplain maps is neither simple nor easy. Even the shortened process of upgrading existing floodplain maps to overlay new ortho-photo base maps is an expensive time consuming process that requires a significant amount of time and effort. Even with the increased funding FEMA has received for upgrading the nation's floodplain maps it is insufficient to correct all the known shortcomings.
This process requires building new maps with several layers of information and integrating huge databases of supporting documentation. Each layer must be registered to the new base map and go through a rigorous quality analysis and control process to ensure that the databases have been accurately compiled, before it is stored on the FEMA mapping information platform. In addition because the various layers of information are mapped at different scales each layer must be electronically manipulated to fit as closely as possible to the base map.
Just this relatively simple process will cost over $2,000 per flood map panel. With over 1800 map panels in Maine, the total cost of just converting to digital would be over 3.5 million dollars. This does not include any additional funding for new topography, hydraulic, hydrological analysis or re-delineation of floodplain boundaries. Early estimates of costs for new high resolution topographical data alone come in at approximately 5 million dollars and completing new hydrological and hydraulic data to cover areas that have been mapped with only approximate studies have not been estimated with any degree of accuracy but would undoubtedly run into the millions of dollars also.
More accurate floodplain maps will be hard to come by until high resolution topography can obtained.
If you would like to learn more about estimating mapping values, FEMA publishes a Blue Book that establishes values of products provided by outside agencies that can be used in developing floodplain maps.
Flood Risk Communication Toolkit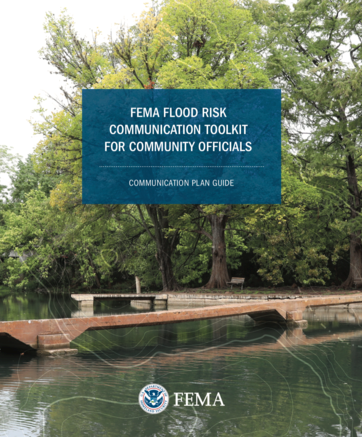 In May 2019, FEMA's Risk Management Directorate debuted their Flood Risk Communication Toolkit and YouTube video series at the Association of State Floodplain Managers' annual conference. The Toolkit and videos help FEMA deliver on its promise to provide simpler, more consistent experiences for its customers. These resources are designed to empower community officials when talking with the public about flood risk in the effort to create more resilient homes and communities. The Toolkit and videos showcase the benefits of the mapping program and its role in risk reduction and resilience.
The Flood Risk Communication Toolkit includes several components, including a Start Guide that introduces the user to the components and provides helpful tips for discussing complex risk topics in a meaningful way. Other components include the Communication Plan Guide, the Social Media Guide, the Designing Effective Public Meetings Guide, the YouTube video series, and an appendix of community engagement tactical examples of public-oriented communication tools developed by local community officials. The YouTube video series includes eight 2- to 5-minute videos that showcase personal stories from around the country that communicate technical information in a relatable manner. Sample topics include "Introduction to the NFIP" and "We have a map – now what?" This suite of tools can be used to proactively plan for community engagement or as the need arises.