Gold in Maine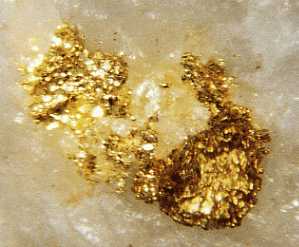 Gold occurs in several geologic environments in Maine: in bedrock, in sediments that were eroded from bedrock by glaciers, and in stream deposits derived from either of these sources. Veins of gold in bedrock are called "lode" deposits, and "placer" deposits are concentrations of gold that accumulated in unconsolidated sediments. Most of the gold presently found in Maine comes from placer deposits in stream beds.
General Regulations
As with any outdoor recreational activity in Maine, it is important to know who owns the property and to have landowner permission before going there. Furthermore, the land under streams is private property and any gold present belongs to the landowner. State laws are designed to allow small scale prospecting for gold in streams while protecting the stream and the environment. The regulations recognize two types of activity, gold panning which uses only hand tools, and motorized recreational gold prospecting which could have greater impact and therefore is more restricted.
Gold panning is allowed without a special permit from the State provided that stream banks are not disturbed and no unlicensed discharge is created (section 5 of 38 M.R.S. §480-Q(5)). In the White Mountain National Forest of western Maine, which is federal land, a free permit is required for gold panning.
Motorized recreational gold prospecting is only allowed from June 15th to September 15th, and only with written permission of the landowner (or landowners). Motorized prospecting is not allowed on closed rivers and streams. There are four lists of waters closed to motorized recreational gold prospecting:
Waters listed in Rules of the LUPC, Chapter 10, Section 10.27,G(6)
Waters listed in Rules of the DEP
Waters designated as Class AA waters, (38 M.R.S. §467, 38 M.R.S. §468, webmap)
Areas of critical or high-value brook trout or Atlantic salmon habitat (see 38 M.R.S. §480-Q(5-A)(G)(4))
Motorized equipment may not exceed 7 horsepower, the diameter of the suction dredge hose may not exceed 4 inches, and the area of a sluice may not exceed 10 square feet.
For more details, see the statute concerning Motorized recreational gold prospecting, section 5-A of 38 M.R.S. §480-Q of Maine's Natural Resources Protection Act.
---
Organized Or Unorganized Township?
To know which state agency is responsible for overseeing Maine's environmental regulations about gold prospecting, you need to know whether you will be in an organized town, or in an unorganized/deorganized township or plantation, collectively known as the Unorganized Territory (UT) of Maine (map). The Maine Department of Environmental Protection (DEP) is responsible for the organized towns, and the Land Use Planning Commission (LUPC) is responsible for the Unorganized Territory. Please direct questions to the appropriate regulatory agency.
The LUPC has developed a set of regulations for gold panning and motorized recreational gold prospecting to be followed in the Unorganized Territory as part of their Chapter 10 Rules, Section 10.27,G. For example, streams must be at least four feet wide for motorized prospecting, and the site must be restored before you leave. It is your responsibility to know all the standards. If the standards are followed, a permit is not required. There is also a process for obtaining a permit for recreational gold prospecting from the LUPC that does not conform to the standards of Section 10.27G of the Rules.
---
Sources Of Gold Information
Information on gold localities and methods of prospecting may be found in the following books or obtained from other references in libraries and bookstores. There are no active gold mines in the state at the present time, but some old gold mines are listed in a two-volume series entitled "Maine Mines and Minerals", by Philip Morrill and William Hinckley, which may be available in Maine mineral shops or local libraries.
The Next Bend in the River (Gold Mining in Maine), by C. J. Stevens; John Wade - Publisher, P. O. Box 303, Phillips, ME 04966; 177 p. (1989).
Gold Fever - The Art of Panning and Sluicing, by L. DeLorenzo; Gem Guides Book Co., 315 Cloverleaf Dr., Suite F, Baldwin Park, CA 91706; 80 p. (1995).
Gold! Gold!, by J. F. Petralia; Sierra Outdoor Products Co., P. O. Box 2497, San Francisco, CA 94126-2497; 143 p. (1996).
Gold Panning is Easy, by R. Lagal; Ram Publishing Co., P. O. Box 38649, Dallas, TX 75238; 134 p. (1995).
Gold Mining in the 1990's, by D. McCracken; Keene Industries, 9330 Corbin Ave., Northridge, CA 91324; phone: 818-993-0411; 279 p. (1993).
Gold Prospectors Handbook, by J. Black; Gem Guides Book Co. (address given above); 176 p. (1996).
The Modern Goldseekers Manual, by T. Bryant; Bedrock Supply Ltd., 9435-63AVE, Edmonton, Alberta, Canada T6E 0G2; phone: 1-800-661-3988; 223 p. (1990)
---
Gold Prospecting Club
---
Gold Panning Equipment And Advice
---
Gold Panning Streams
Some streams from which gold has been reported are listed below, and there are probably many others that are less well known. Note that some of these are now closed to motorized recreational gold prospecting by law in order to protect exceptionally high water quality (class AA) or high value brook trout or Atlantic salmon habitat. Even in those areas, however, gold panning and use of hand tools is allowed with landowner permission.
Closed to Motorized Recreational Gold Prospecting
| Stream | Township | County |
| --- | --- | --- |
| Sandy River | Madrid to Phillips | Franklin |
| Gold Brook | Bowmantown | Oxford |
| Kibby Stream | Kibby | Franklin |
Motorized Recreational Gold Prospecting allowed
| Stream | Township | County |
| --- | --- | --- |
| Swift River and its tributaries | Byron area | Oxford, Franklin |
| Sandy River | Avon to New Sharon | Franklin |
| South Branch-Penobscot River | Sandy Bay; Bald Mtn; Prentiss | Somerset |
| Gold Brook | Chain of Ponds; Kibby | Franklin |
| Gold Brook | Chase Stream | Somerset |
| Gold Brook | T5 R6 BKP WKR; Appleton Township | Somerset |
| Nile Brook | Dallas Plt; Rangeley | Franklin |
| St. Croix River | Baileyville | Washington |
Topographic maps covering these areas may be viewed online or downloaded or purchased from the Maine Geological Survey, 93 State House Station, Augusta, Maine 04333. Telephone: (207) 287-2801.
---
Last updated on April 12, 2023