Animal Welfare Program
The purpose of the Animal Welfare Program is to ensure humane and proper treatment of animals by developing, implementing and administering a comprehensive program that upholds the animal welfare laws of Maine through communication, education and enforcement.
---
How to Contact the Animal Welfare Office
To report an animal cruelty or neglect complaint during business hours 8 am to 4:30 pm, Monday through Friday:
Complaints received via email must contain the reporting party's name and phone number; the name of the animal owner, (if known), a physical address, a description of the animals and the type of complaint.
(207) 287-3846
1-877-269-9200 (Toll Free)
For an emergency outside of business hours:
Please call the Bangor Barracks of the State Police, 207-973-3700, and they will contact an Animal Welfare Program representative.
Animal Control Officer Contacts
---
Support the Animal Welfare Program
Support Animal Welfare License Plate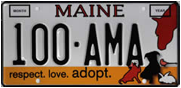 The proceeds from the Support Animal Welfare specialty plate will be equally distributed between the Animal Welfare Auxiliary Fund and the Companion Animal Sterilization Fund.
Donations
Help fight animal cruelty and pet overpopulation in the State of Maine by making a donation online!
Income Tax Form Check Off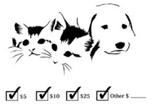 Make a voluntary contribution to Maine's Companion Animal Sterilization Fund on your income tax return. On your Maine State Tax Form, check the box called The Companion Animal Sterilization Fund.
The fund will be used to save lives by:
spaying/neutering cats and dogs
preventing unwanted litters
lowering shelter intakes
lowering shelter euthanasia
reducing the number of feral cats
reducing dog bites