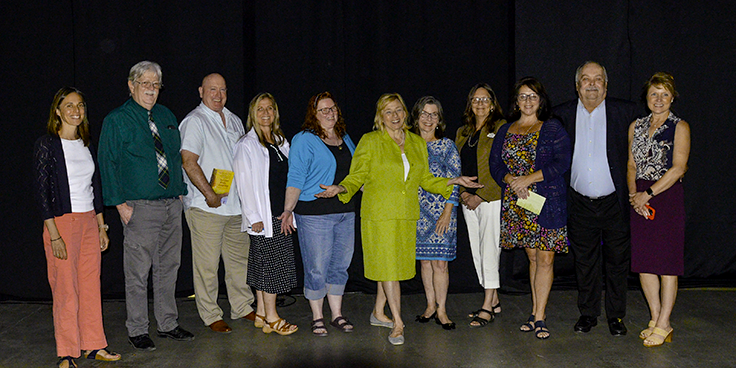 On February 6, 2019, Governor Mills issued Executive Order 2: An Order to Implement Immediate Responses to Maine's Opioid Epidemic (PDF). Since then, the Mills Administration has taken significant action to respond to the opioid crisis, including increased access to the life-saving reversal drug naloxone; additional recovery resources in communities across the state; expanded treatment capacity, including the number of beds for medically supervised withdrawal; and developed innovative policy solutions to support Maine people with substance use disorder.
Under Director of Opioid Response Gordon Smith, the Mills Administration has developed an Opioid Response Strategic Plan (PDF) to address the opioid crisis, which was updated in 2021 to address particular challenges stemming from the COVID-19 pandemic and the increased prevalence of the lethal non-pharmaceutical fentanyl, which is now responsible for nearly 80 percent of all fatal overdoses in Maine.

To support of this plan, the Administration since 2019 has distributed more than 276,000 doses of naloxone, which has been used to reverse over 7,100 overdoses that may have otherwise been fatal. And In partnership with the University of Maine and the Attorney General, the Governor's Office of Policy Innovation and the Future has developed an online portal —mainedrugdata.org — for detailed and timely data about the harms of drug use in Maine.

Other Administration actions include: 
Expanding Medicaid (MaineCare) coverage: MaineCare is providing health insurance coverage through MaineCare expansion to over 100,000 Mainers with over 22,000 individuals receiving treatment for substance use;
Increasing Recovery Resources: Governor Mills has increased the number of Recovery Community Centers; increased the number of Recovery Residences; and recruited and trained hundreds of new recovery coaches to ensure every person struggling with substance use disorder can access treatment.
Expanding Medication Assisted Treatment Options: Governor Mills has increased the availability of Medication Assisted Treatment (MAT) to over 1,500 incarcerated individuals in Maine and programs connecting them to community providers upon release.
Creating the OPTIONS program: A rapid-response program for those at-risk of overdose in which response teams in each Maine county engage with individuals to promote drug prevention and harm reduction strategies, connect people to recovery and treatment, and distribute naloxone;
Creating An Overdose Review Panel: Governor Mills signed emergency legislation to establish an Accidental Drug Overdose Death Review Panel within the Office of the Attorney General. The panel will review a subset of overdose deaths to learn from the circumstances surrounding them and adjust policies when needed, with the goal of reducing overdose deaths.
Expanding Maine's "Good Samaritan" law: First signed by Governor Mills in 2019, Maine's Good Samaritan Law encourages individuals to call for life-saving assistance when someone at their location is experiencing an overdose;
---
Opioid Response Resources
Recovery Centers in Maine

Aroostook Recovery Center of Hope: 59 Main St, Houlton 04730, (207) 254-2213 
Augusta Recovery Reentry Center- ARRC, 2 Bangor Street, Augusta 04330, (207) 226-3438
Bangor Area Recovery Network, 15 Vine Street, Brewer 04412, (207) 561-9444
Bath Recovery Community Center, 97 Commercial Street, Bath 04011, (207) 389-4937
Coastal Recovery Community Center 11 White Street, Rockland 04841, (207) 691-3697
DownEast Recovery Support Center- Calais, 311 Main Street, Calais 04619, (207) 952-9279
DownEast Recovery Support Center- Machias, 11 Free Street, Machias 04654, (207) 259-6238
Harbor Peer & Wellness Center, 35 School Street, Boothbay Harbor 04538, (207) 315-1104
INSPIRE Recovery Center, 24 Church Street, Ellsworth 04605, (207) 412-2288
Lakes Region Recovery Center, 25 Hospital Drive, Suite E, Bridgton 04009, (207) 803-8707
Larry Labonte Recovery Center, 412 Waldo Street, Rumford 04276, (207) 418-4983
Pir2Peer Recovery Center, 1009 Central Street Millinocket 04462, (207) 447-9500
Portland Recovery Community Center, 102 Bishop Street, Portland 04103, (207) 553-2575
REST Center, 205 Main Street, Lewiston 04240, (207) 783-7378
Roads to Recovery Center, 1 Water Street, Caribou 04736, (207) 493-1278
Save a Life Recovery Center, 19 VFW Street, Lincoln 04457, (207) 403-9100
Your Place Recovery Center, 8 Old Mill Road, Ellsworth 04605, Facebook: @Yourplacerecovery

Reports and Background Documents

Contact Us

For more information on this initiative, contact Gordon Smith at Gordon.Smith@maine.gov.