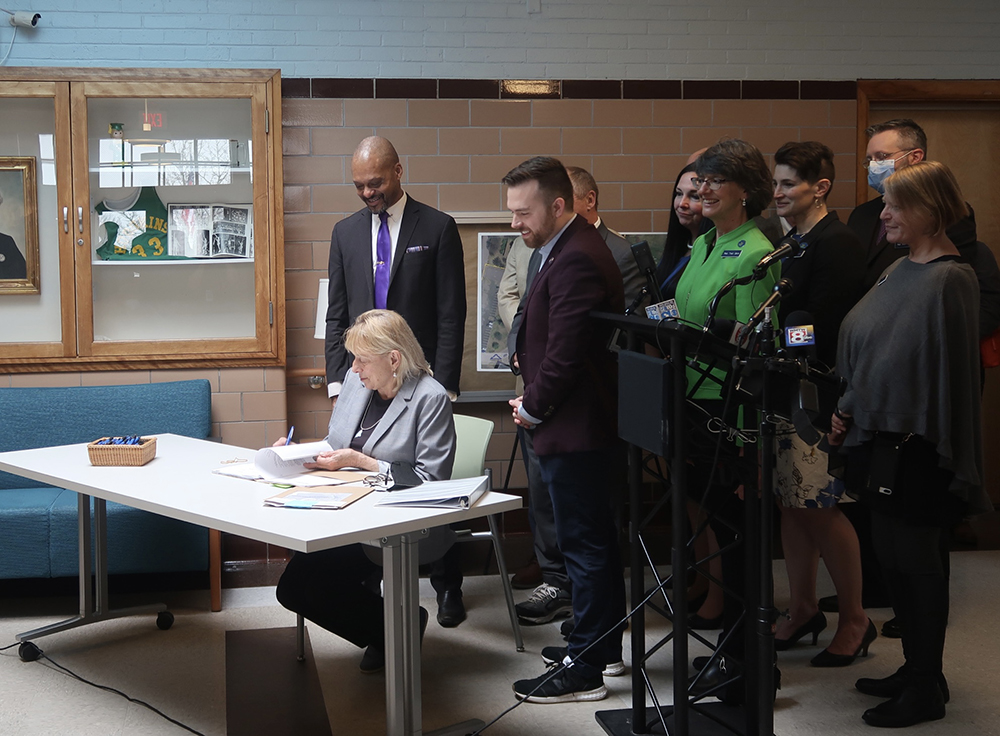 ADU Stakeholder Group 
Pursuant to L.D. 654, the Governor's Office of Policy Innovation and the Future is tasked with convening a stakeholder group to explore ways to reduce financial barriers for consumers interested in purchasing and building accessory dwelling units (ADUs). In addition, the group will be tasked to explore the possibility of so-called "pre-reviewed" ADUs that would expedite approvals and permitting at the municipal level.
The stakeholder group has been split into Group A focused on financing and Group B focused on pre-reviewed designs. The stakeholder group is comprised of lenders, builders, architects, planners, municipal officials, building code officials, and other subject matter experts. A report back to the Legislature will be submitted by March 1, 2024. For meetings of the stakeholder group, please consult our meeting calendar. For more information on the group, please email ryan.fecteau@maine.gov.
Over the course of her Administration, Governor Mills has committed more than $180 million to address Maine's housing shortage, more than any other previous governor. So far, these investments have resulted in more than 1,500 housing units being built, or in the pipeline to be built, across Maine.
The Mills Administration, with bipartisan support of the Legislature, has also delivered significant funding for emergency housing needs across Maine. Every person in Maine should have the opportunity to have warm, safe, and secure place to call home; the Mills Administration remains strongly committed to working closely with communities, regional organizations, and statewide partners to look for solutions to housing and homelessness in Maine. 
Housing actions by the Administration include: 
Delivering Significant Funding for Emergency Housing: In 2022, Governor Mills proposed and the Legislature approved $22 million for a range of emergency housing needs in Maine stemming from the effects of the COVID-19 pandemic; the Governor's Emergency Winter Energy Emergency Relief Plan in early 2023 replenished this fund with an additional $21 million to support emergency housing needs, enable more communities to stand up emergency shelters and other solutions to help support Maine people at risk of homelessness during the winter months, and support proposals that address homelessness and housing needs in Maine over the longer-term.  
Investing in More Affordable Housing for Low and Middle Income Families: Governor Mills signed into law the Maine Affordable Housing Tax Credit, the single largest state investment in housing in Maine's history, and broke ground on the first major housing project resulting from that law. In addition, the Governor Mills also authorized the refinancing of existing housing bonds, creating over $38m in new financing for affordable housing development across the State. 
Investing in Workforce Housing for Maine People: Governor Mills invested $50 million of federal funds from her Maine Jobs & Recovery Plan to increase the supply of affordable housing for low and moderate-income households to purchase or rent. This investment is expected to create at least 600 affordable homes in urban, suburban and rural areas of the state.
Building More Affordable Housing for Maine Seniors: Governor Mills signed into law a $15 million senior housing bond, which has resulted in nine new senior housing developments across Maine that provide nearly 300 affordable apartments for Maine seniors. 
Addressing Zoning Restrictions To Promote Affordable Housing: Governor Mills signed into law LD 2003 and LD 201, bipartisan legislation which will help ensure Maine's housing supply can meet growing demand. 
Provided Critical Support to Address Homelessness: Governor Mills dedicated $10 million in federal funding under her Maine Jobs & Recovery Plan for grants to support existing emergency homeless shelters. She also allocated $1.5m for housing navigators to help people find local housing opportunities and to promote successful landlord-tenant relationships.
Joined A National Partnership to End Homelessness: Governor Mills joined with the Biden Administration to launch House America, a new national partnership to tackle homelessness. Governor Mills affirmed Maine's commitment to use Federal funds to house 1,000 people experiencing homelessness and add 500 affordable housing units to the state's pipeline.
For more actions taken by the Mills Administration to address housing and homelessness, please click here (PDF).