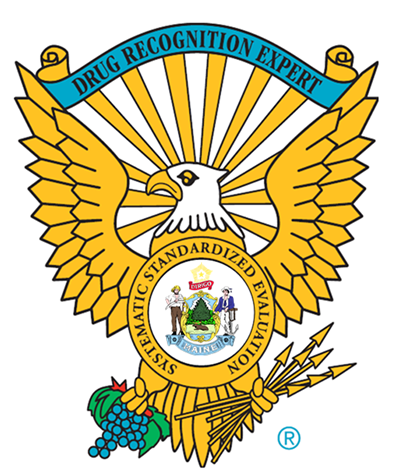 A drug recognition expert or drug recognition evaluator (DRE) is a police officer trained to recognize impairment in drivers under the influence of drugs other than, or in addition to,  alcohol. The International Association of Chiefs of Police (IACP) coordinates the International Drug Evaluation and Classification (DEC) Program with support from the National Highway  Traffic Safety Administration (NHTSA) of the U.S. Department of Transportation.
The Los Angeles Police Department (LAPD) originated the program in the early 1970s. Back then LAPD officers noticed that many of the individuals arrested for driving under the influence (DUI) had very low or zero alcohol concentrations. The officers reasonably suspected that the arrestees were under the influence of drugs, but lacked the knowledge and skills to support their suspicions. In response, two LAPD sergeants collaborated with various medical doctors, research psychologists, and other medical professionals to develop a simple, standardized procedure for recognizing drug influence and impairment. Their efforts culminated in the development of a multi-step protocol and the first DRE program. The LAPD formally recognized the program in 1979.
The LAPD DRE program attracted NHTSA's attention in the early 1980s. The two agencies collaborated to develop a standardized DRE protocol, which led to the development of the DEC Program. During the ensuing years, NHTSA and various other agencies and research groups examined the DEC program. Their studies demonstrated that a properly trained DRE can successfully identify drug impairment and accurately determine the category of drugs causing such impairment.
In 1987, NHTSA initiated DEC pilot programs in Arizona, Colorado, New York and Virginia. The states of Utah, California, and Indiana were added in 1988. Beginning in 1989, IACP and NHTSA expanded the DEC Program across the country. Currently, 43 states, the District of Columbia, three branches of the military, the Internal Revenue Service (IRS), and several countries around the world participate in the DEC Program.
In 1992 the governing board of the International Association of Chiefs of Police approved the creation of the Drug Recognition Section.  On June 10-13, 1995, the section hosted a training conference on impaired driving in Phoenix, Arizona. Since then the IACP Training Conference on Drugs, Alcohol and Impaired Driving has convened every year and is attended by DREs and their instructors, DUI enforcement officers, prosecutors, toxicologists, medical and school professionals, and other highway safety advocates.
The Maine Bureau of Highway Safety (MeBHS) provides oversight and funding for the DRE program in Maine.  The MeBHS works closely with the Maine Criminal Justice Academy (MCJA) and the Maine Department of Human Services through their Health and Environmental Testing Laboratory (HETL) to support the DRE program.
The MeBHS has appointed a MCJA representative as the IACP State DEC Coordinator.  The State DEC Coordinator works closely with the MeBHS to provide certification training and manage the DRE program statewide.  The DEC Coordinator has established several volunteer regional coordinators statewide to assist with the management of regional issues.  Maine has approximately 100 active DRE's  and 17 DRE Instructors statewide.
Training and Certification

Please check back for future trainings.

Active DREs

Listed by County

Updated: 6/1/2022

York 
 
 Franklin, Kennebec, Somerset
Cunniff
John
Saco PD
 
Allen
Seth
MSP Traffic
Flint
Robert
Biddeford PD
 
Allen
Tanya
Pending
Jepson
William
Wells PD
 
Booth
Garret
MSP Skowhegan
McNeice
Brian
York PD
 
Dinsmore
Ryan
Waterville PD
Moore
Philip
S. Berwick PD
 
Drouin
Anthony
Augusta PD
Ogden
Benjamin
York PD
 
Finnegan
Don
MCJA
Parker
Victor
Biddeford PD
 
Gove
Normand
Gardiner PD
Prior
Samantha
Biddeford PD
 
Hastings
Edward
State Fire Marshal
Raymond
Andrew
Sanford PD
 
Hubert
Bradley
Winslow PD
Roy
Karl
Wells PD
 
Lyman
Michael
Somerset SO
Sargent
Ashley
Pending
 
Maloon
Tyler
MSP Skowhegan
Schoff
Kevin
Kennebunk PD
 
McDonald
Kyle
Waterville PD
Walton
Conner
MSP Alfred
 
Roberts
Logan
Somerset SO
 
 
 
 
Rogers
Sara
Augusta PD
Cumberland
 
Wilder
Blake
Waterville PD
Anastasoff
Shawn
Scarborough PD
 
 
 
 
Benjamin
Rory
Cape Elizabeth PD
 
Sagadahoc, Lincoln, Knox, Waldo
Bernier
Joshua
Brunswick PD
 
Beal
Joshua
MWS
Feeney
Andrew
Cumberland SO
 
Bowers
Mathew
Topsham PD
Gallant
Eugene
Windham PD
 
Bryan
Eric
Bath PD
Gordan
Colin
Falmouth PD
 
Dietlin
John
Sagadahoc SO
Haskell
Evan
Westbrook PD
 
Jandreau
Jordan
Rockland PD
Hatch
Theodore
Gorham PD
 
McDonald
Cassandra
Waldo SO
Hendee
Scott
Cumberland PD
 
Sharpe
Matthew
Sagadahoc SO
Hinkley
Michael
Gorham PD
 
Tilton
Nathanael
Knox SO
Hinkley
Stephen
Gorham PD
 
 
 
 
Libby
Robert
Judicial Marshal
 
Penobscot, Piscataquis
Maher
Lee
Windham PD
 
Angelo
Sarah
Orono PD
Mattox
Scot 
Falmouth PD
 
Bailey
Ryan
Old Town PD
Monsees
Tyler
Cumberland SO
 
Barrieau
Camron
Penobscot SO
Ramsay
Jessica
South Portland PD
 
Benjamin
Eduardo
Holden PD
Reese
Timothy
Bridgton PD
 
Cook
Robert
Piscataquis SO
Roma
John
Brunswick PD
 
Day
Stephen
Holden PD
Theriault
Zachary
Portland PD
 
Gray
Christopher
Orono PD
Thurlow
Kaitlyn
Gorham PD
 
Johnson
Nicholas
MWS
Thurlow
Michael
Scarborough PD
 
Kurth
Kari
MSP Bangor
Williams
Raymond
Windham PD
 
Mangino
Nicholas
MWS
 
 
 
 
Miller
William
Hampden PD
Androscoggin, Oxford
 
Murphy
Lucas
Old Town PD
Blais
Timothy
Lewiston PD
 
Olmstead
David
MSP Bangor
Bohacik
Devon
Androscoggin SO
 
Perry
Jordan
Bangor PD
Levesque
Andrew
Lisbon PD
 
Pina
Michael
Piscataquis SO
Mailhot
Gregory
Androscoggin SO
 
Rusby
Tyler
Bangor PD
McCormick
Terrance
Auburn PD
 
Turcotte
Aaron
MSP Bangor
Miller
Don
Rumford PD
 
Walsh
John
Penobscot SO
Pealatere
Gregory
Auburn PD
 
 
 
 
Schmitz
Aaron
Lewiston PD
 
Aroostook
 
 
 
 
Bouchard
Adam
Aroostook SO
Hancock, Washington
 
Cochran
Chad
Caribou PD
Austin
Dana
MSP Ellsworth
 
Cyr
Jasmine
Houlton PD
Cake
Judson
Bar Harbor PD
 
McPherson
Kegan
Caribou PD
Chapman
Travis
MSP Ellsworth
 
Merchant
Laney
MSP-F
Claroni
David
Baileyville PD
 
 
 
 
Dupuis
Dakota
Hancock SO
 
 
 
 
Hardy
Jarrod
Bar Harbor PD
 
 
 
 
Simpson
Christopher
Washington SO
 
 
 
 
Stevens
Ethan
Washington SO
 
 
 
 

Listed Alphabetically

| | | | | | | |
| --- | --- | --- | --- | --- | --- | --- |
| Last Name | First Name | Agency |   | Last Name | First Name | Agency |
| Allen | Seth | MSP Augusta |   | Lyman | Michael | Somerset SO |
| Allen | Tanya | Waterville PD |   | Maher | Lee | Windham PD |
| Anastasoff | Shawn | Scarborough PD |   | Mailhot | Gregory | Androscoggin SO |
| Angelo | Sarah | Orono PD |   | Maloon | Tyler | MSP Skowhegan |
| Austin | Dana | MSP Ellsworth |   | Mangino | Nicholas | IFW |
| Bailey | Ryan | Old Town PD |   | Mattox | Scot | Falmouth PD |
| Barrieau | Camron | Penobscot SO |   | McCormick | Terrance | Auburn PD |
| Beal | Joshua | IFW |   | McDonald | Cassandra | Waldo SO |
| Benjamin | Eduardo | Holden PD |   | McDonald | Kyle | Waterville PD |
| Benjamin | Rory | Cape Elizabeth  |   | McNeice | Brian | York PD |
| Bernier | Joshua | Brunswick PD |   | McPherson | Kegan | Caribou PD |
| Blais | Timothy | Lewiston PD |   | Merchant | Laney | MSP-F |
| Bohacik | Devon | Androscoggin SO |   | Miller | Donald | Rumford PD |
| Booth | Garret | MSP Skowhegan |   | Miller | William | Hampden PD |
| Bouchard | Adam | Aroostook SO |   | Monsees | Tyler | Cumberland SO |
| Bowers | Mathew | Topsham PD |   | Moore | Philip | S Berwick PD |
| Bryan | Eric | Bath PD |   | Murphy | Lucas | Old Town PD |
| Cake | Judson | Bar Harbor PD |   | Ogden | Benjamin | York PD |
| Chapman | Travis | MSP Ellsworth |   | Olmstead | David | MSP Bangor |
| Claroni | David | Baileyville PD |   | Parker | Victor | Biddeford PD |
| Cochran | Chad | Caribou PD |   | Pealatere | Gregory | Auburn PD |
| Cook | Robert | Piscataquis SO |   | Perry | Jordan | Bangor PD |
| Cunniff | John | Saco PD |   | Pina | Michael | Piscataquis SO |
| Cyr | Jasmine | Houlton PD |   | Prior | Samantha | Biddeford PD |
| Day | Stephen | Holden PD |   | Ramsey | Jessica | S. Portland PD |
| Dietlin | John | Sagadahoc SO |   | Raymond | Andrew | Sanford PD |
| Dinsmore | Ryan | Waterville PD |   | Reese | Timothy | Bridgton PD |
| Drouin | Anthony | Augusta PD |   | Roberts | Logan | Somerset SO |
| Dupuis | Dakota | Hancock SO |   | Rogers | Sara | Augusta PD |
| Feeney | Andrew | Cumberland SO |   | Roma | John | Brunswick PD |
| Finnegan | Don | MCJA |   | Roy | Karl | Wells PD |
| Flint | Robert | Biddeford PD |   | Rusby | Tyler | Bangor PD |
| Gallant | Eugene | Windham PD |   | Sargent | Ashley | N. Berwick PD |
| Gordan | Colin | Falmouth PD |   | Schmitz | Aaron | Lewiston PD |
| Gove | Normand | Gardiner PD |   | Schoff | Kevin | Kennebunk PD |
| Gray | Chrotopher | Orono PD |   | Sharpe | Matthew | Sagadahoc SO |
| Hardy | Jerrod | Bar Harbor PD |   | Simpson | Christopher | Washington SO |
| Haskell | Evan | Westbrook PD |   | Stevens | Ethan | Washington SO |
| Hastings | Edward | Fire Marshal |   | Theriault | Zachary | Portland PD |
| Hatch | Theodore | Gorham PD |   | Thurlow | Kaitlyn | Gorham PD |
| Hendee | Scott | Cumberland PD |   | Thurlow | Michael | Scarborough PD |
| Hinkley | Michael | Gorham PD |   | Tilton | Nathanael | Knox SO |
| Hinkley | Stephen | Gorham PD |   | Turcotte | Aaron | MSP Bangor |
| Hubert | Bradley | Winslow PD |   | Walsh | John | Penobscot SO |
| Jandreau | Jordan | Rockland PD |   | Walton | Conner | MSP Alfred |
| Jepson | William | Wells PD |   | Wilder | Blake | Waterville PD |
| Johnson | Ncholas | MWS-Greenville |   | Williams | Raymond | Windham PD |
| Kurth | Kari | MSP Bangor |   |   |   |   |
| Levesque | Andrew | Lisbon PD |   |   |   |   |
| Libby | Robert | Judicial Marshal |   |   |   |   |

Forms

Additional forms can be found on HETL's Forensic Web-site.

Manuals

DRE Pre-School Manuals:

Mar 1999 -- Instructor Manual (PDF), Student Manual (PDF)
May 2002 -- Instructor Manual (PDF)
Sep 2002 -- Student Manual (PDF)
Jan 2006 -- Instructor Manual (PDF), Student Manual (PDF)
Jan 2007 -- Instructor Manual (PDF), Student Manual (PDF)
Jan 2010 -- Instructor Manual (PDF), Student Manual (PDF)
Jan 2011 -- Instructor Manual (PDF), Student Manual (PDF)
May 2013 -- Instructor Manual (PDF), Student Manual (PDF)
Oct 2015 -- Instructor Manual (PDF), Student Manual (PDF)
Feb 2018 -- Instructor Manual (PDF), Student Manual (PDF)

DRE 7-Day School Manuals:

Apr 1993 -- Student Manual (PDF)
Aug 1999 -- Instructor Manual (PDF), Student Manual (PDF)
May 2002 -- Instructor Manual (PDF)
Sep 2002 -- Instructor Manual (PDF), Student Manual (PDF)
Jan 2006 -- Instructor Manual (PDF), Student Manual (PDF)
Jan 2007 -- Instructor Manual (PDF), Student Manual (PDF)
Jan 2010 -- Instructor Manual (PDF), Student Manual (PDF)
Jan 2011 -- Instructor Manual (PDF), Student Manual (PDF)
May 2013 -- Instructor Manual (PDF), Student Manual (PDF)
Oct 2015 -- Instructor Manual (PDF), Student Manual (PDF)
Feb 2018 -- Instructor Manual (PDF), Student Manual (PDF)