See the Press Release announcement for the 2022 RISE Honoree and Finalists.
2022 Maine Honoree
Maine Honorees are submitted to the U.S. Department of Education to represent Maine for the national level RISE award.
Elaine Small
Administrative Assistant
RSU 50
Elaine Small has been serving generations of young people in rural Maine, where she maintains the perfect balance of professionalism and love in her work. She can often be found pitching in to lend a helping hand in all areas within the district and school, all while managing all of the district's bussing staff which is a huge feat. Elaine ensures kids can get to school and have access to extracurricular programming, and often times she juggles all of this without a full fleet.
"I have found Elaine always concerned, always ready to help students and her fellow educators, always willing to go the extra distance to make certain everything is handled, and handled well and efficiently, to the ultimate benefit of the student involved," said a colleague.
Elaine leads by example, forging a strong relationship between the school and the community and she is a constant presence at community events. She can be found in the auditorium during drama productions, in the stands showing her support to student-athletes, serving as a senior class advisor (in years past), and volunteering hundreds of hours to ensure students have access to post-secondary career opportunities. Through her modeling, students are encouraged to get involved in senior citizen luncheons, spaghetti suppers, and local craft fairs. She organizes fundraisers and works tirelessly to get the community involved in the continuing education of Maine students. The success of the So. Aroostook Scholarship Fund and ultimately the workforce in Aroostook County is largely due to her continued efforts for many years.
"She is confident, competent and makes her job look as though it is effortless, even when she has a full plate on her hands," said another colleague.
"I am deeply honored and also completely surprised to be nominated for a RISE Award by my school colleagues. My position here in RSU 50 evolves every single day and that is one of the things I love about it – I am about growth and change in my life and the lives of our students," said Small. "My hope for 2023 is to continue the work we do here in our school and our community and to always keep a positive place in our minds and in our hearts, for every student to be successful, while they are with us and as they go forward in their lives."
2022 Maine Finalists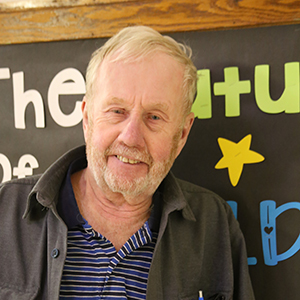 Head Bus Driver/Custodial Staff
Pemetic Elementary School, Southwest Harbor School Department
Larry Alley has dedicated his career to students in Pementic and is described as a shining star in his community. Now driving a third generation of families, Larry is committed to his profession. In his role as head bus driver, Larry leads his team to ensure all students are valued and supported. He is a collaborator with families and staff to ensure that students have a great start and end of their school day. Larry greets every student and checks in with them as they get on his bus. 
"Larry is an incredible role model for others," said a colleague. "Students are his number one priority. He goes above and beyond to get them to a game or experience a field trip. In a small school, most of us wear many hats. Larry is no exception. While he is not driving the bus you can see Larry with a hammer in hand making a repair, helping a kindergartener on with their coat, flipping burgers on the grill at whole-school barbecues, or retrieving a football from the roof of the school thrown there during recess. Everyone doing their part to chip in when needed is how small schools function, especially during Covid. Larry always goes above and beyond, exudes school pride and is a role model to the rest of us."
"Larry was my bus driver almost 50 years ago at Pemetic Elementary School. Even though he took a break from bus driving for a few years, he has spent most of his career behind the wheel of a school bus. Larry Alley values students for who they are and works with each to begin and end their school day with a smile," said Mr. Alley's nominator. 
"Greeting every student every day with a smile helps them start their day off on a positive note," said Alley.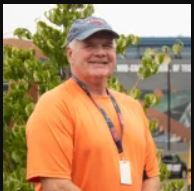 Kevin Bailey
Facilities-Custodial/Maintenance,
Mid-Coast School of Technology, Region 8
Kevin Bailey's nomination showcases the significant impact that he has had on the Career and Technical Education (CTE) Center where he works. Kevin is an educator, collaborator, community builder, and quite literally, a jack of all trades. He is extremely proud of the work that staff and students do at Mid-Coast. He regularly talks with the public about the incredible things that happen within the walls and is often the person people interact with when making a delivery or a donation. Outside of school, Kevin belongs to community organizations, including a local catholic church where he is very involved. He also teaches an adult education class on being an arborist. Described as the most magnanimous worker and received several nominations for this award.
"Kevin is a 'do everything and anything guy.' He can cover a class, chaperone and drive the bus on a field trip, mentor a student, teach an adult education class, and keep a world-class facility looking like it should be on a magazine cover. While doing sometimes a mix of these various tasks, he has a smile and caring demeanor," shared a colleague.
"Every school in Maine has multiple people deserving of this recognition. However, Kevin's positive attitude and love for our school community are rare. He takes on every challenge with enthusiasm, and he makes people feel appreciated every step of the way. We are so blessed to have Kevin as part of our organization," shared another colleague.   
"I have always loved the school environment and to be a part of such a tremendous staff that is very supportive and kind is such a blessing for me, said Bailey. "Being in such a friendly, caring environment makes it so much easier for me to be the best that I can be."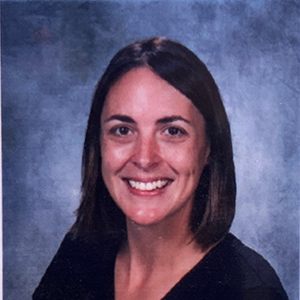 Pre-K Educational Technician
Elm Street School, RSU 16
Nichole Bryant represents Maine's earliest learners and brings passion to her work each day. Her leadership, innovation, and ability to create opportunities is admired by many. Nichole has been an active member of the committees focused on both student and staff well-being. 
Nichole also works with students to continue to run the "Caffeinated Wildcats" business which brings warm drinks and treats to staff. This program benefits staff, students, and the community. As students are learning business and marketing skills, they are also fundraising for a local community cancer resource center, The Dempsey Center. 
"Nichole has been a very committed member of the ESS staff and has worked tirelessly to improve the Pre-K program for all of our students. She has been a tremendous asset to our school and has shared her talents with us in a variety of ways. She has truly become a leader within the Pre-K program and has worked to help elevate the delivery of our curriculum," said a colleague.
"I am truly humbled to hear of my nomination for the RISE award," said Bryant. "I have been extremely grateful to be able to work with not only the most amazing co-workers but to help build the foundation of our youngest learners. My hope for 2023 is to continue creating a learning community (inside and outside of the school setting) that is a comfortable and safe space for children to succeed in all aspects of life and be the best version of themselves."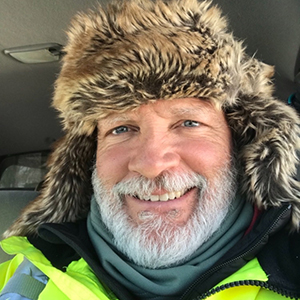 James Fahey
Outside Security Officer
Bangor High School, Bangor School Department
James (Jim) Fahey has dedicated his career to his community. He is described by colleagues as a patient, kind, and intuitive person who provides a safe space that accommodates the needs of a diverse community. Jim has developed a strong connection to the local JROTC program, and during the COVID peak, it was his idea and initiative to involve JROTC cadets in the leadership and successful completion of a major, district-wide COVID supply tracking and distribution project. 
"He believes in kids, enjoys interacting with them, seeks and finds opportunities to mentor and support them, and, all told, makes the kind of next-level connections that exceed his role as a security monitor. He is a campus presence," shared a colleague.
"Jim is the first face that most of our high school community sees every morning as they make their way onto campus by car, bus, or foot from the student parking lot," shared his nominator. "It's the people part of the business that has brought a new level of excellence to the position; he has developed close bonds with students through his humor, his enjoyment and appreciation of kids, and his very strong intuition/ability to see and read the subtle details that are so important and valuable in his role. It is not uncommon for parents to bring him a hot coffee on cold mornings, and nearly everyone has a kind wave or an occasional beep of the horn to share their appreciation."
"The first time I heard Bangor Superintendent of Schools James Tager speak at a Bangor High staff meeting, he mentioned a study that he had recently read. He told us that a national survey had revealed a high number of students going through a school day without anyone speaking to them," said Fahey. "Superintendent Tager encouraged all staff to reach out to students on a daily basis. I took his direction to heart. I try and greet all students every day. It's satisfying to engage them in conversation about their school activities and I am certain they appreciate someone showing interest. I love Bangor High. I like the kids and staff. It's a good school. I wouldn't want to work anywhere else. Go Rams!"
Ann Heald
Title 1 Education Technician
Madison Elementary School, MSAD 59
Ann Heald is a passionate educator, serving her school community as a Title I Ed Tech. She demonstrates excellence in advocacy for her students and for the profession. She has empowered colleagues and elevated the voice of education support professionals.  As the ESP Vice President for the Madison Area Education Association, she has shown dedication to helping build membership through face-to-face meetings, beautiful building displays, and creating an Ed Tech 101 professional development training to help new Ed Techs in her building.
"Ann is a ray of sunshine wherever she goes, giving words of encouragement and positivity to everyone she interacts with. Ann works tirelessly to build relationships with her students, staff, and administrators; demonstrating compassion, empathy, and positivity," shared her nominator. 
"She looks out for new employees and takes it upon herself to help them navigate their new positions. Ann has recently taken over the district wellness coordinator position, which is completely volunteer," shared another colleague. 
"I am honored to be nominated for this award," said Heald. "My goal each day is to be present for all students and let them know they matter. I tell them I love them and to shine bright! I'm in the business of boosting egos. Peace & Joy!"
Anne Lee
Assistant Cook/Custodial Staff
Tremont Consolidated School, Mount Desert Island Regional School System - at the time of nomination
Anne Lee served a pivotal role at Tremont Consolidated as the assistant cook and custodian. Her dedication to the school community was seen in a variety of ways including through volunteering to support classroom initiatives, helping make food for community events, and ensuring the kitchen was available when cooking projects arose.
"Anne Lee is one of the most dedicated people I have ever worked with. She may hold the title of assistant cook and custodian but in reality, Anne will do any task that makes the life of the school more welcoming and safe," shared a colleague. 
"Anne is always willing to do whatever task needs attending to with a can-do attitude and a smile on her face," said her nominator. "She exemplifies the definition of a role model for students who look up to her and staff members who admire her. She keeps the goal of a welcoming and safe place for learning at the heart of each interaction. She is open to trying new things and works well with everyone on our staff." 
James Mendoza
Migrant Education Regional Coordinator (Eastern Washington County), Mano En Mano - at the time of nomination
During his time with Maine Migrant Education Program (MEP), James did an excellent job in engaging the indigenous communities of Washington County in Indian Township and Pleasant Point. His dedication and creativity in supporting migratory children in his community was inspiring.   
During the 2021 and 2022 wild blueberry harvests, James was a part of the "Camp Services" team. He spent long hours meeting families living in the blueberry barrens in their temporary homes for the month of August. During these visits, he enrolled the children into the Blueberry Harvest School and provided instructional and support services to families while they were there.  After the blueberry season ended, James provided support to families in his community throughout the rest of the year with engaging and culturally relevant activities. James collaborated with teachers and staff at Indian Township School to celebrate Passamaquoddy language and culture through food.   
"James has almost doubled the number of MEP students in his community through active community outreach and relationship building," said his nominator. "He has shown that education staff can provide educational services that are fun, creative, and culturally meaningful."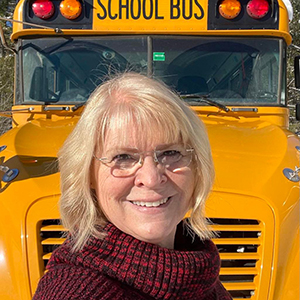 Linda Oster
Transportation/Bus Driver
MSAD 17
Linda has always been an exemplary bus driver, from the time she started 30+ years ago.
"She does not just show up for work. She shows up for work ready to make a difference, ready to give her best effort, and ready to contribute to the greater good," shared Oster's nominator.
Linda is highly respected by her supervisors, peers, students, and parents. All who interact with her know how much she values the role she fills as a bus driver. This fall, with an audience of over 650 staff and supporters, Linda shared her why. Through this heartfelt speech, she shared her reasons for dedicating her adult life to serving communities of children.  As an advocate and leader, she created a new appreciation for bus drivers and the very important work they do to build relationships with kids, look out for their well-being, and to brighten their days, all while guiding them to understand expectations and become positive citizens.
Linda's leadership includes her dedication to committee work. For example, this past summer she worked to create a new positive behavior plan for the district's transportation system. As an active, contributing member of the group, she has brought valuable insights to the development of the plan. She is seen as a leader among her peers and is often called on for her expertise.
"It is an honor to be nominated for this award," said Oster. "I interact with parents, grandparents, neighbors, and daycare providers on a daily basis. Some face to face, some via email, phone call, or text, and some through social media. Communication is key to success.
My career behind the rearview mirror of a school bus, includes 35 years of serving students in many roles. I have wiped tears and noses, accepted hugs, patched up scrapes and cuts, refereed, dealt with conflict resolution, listened, offered advice, and advocated. In addition, I have volunteered on committees and been a bus driver trainer. Safety is my number one priority, and getting children to school on time is the goal, but the relationships I have built with my students over the years, is what gets me out of bed early o'clock every day. I love my job, and I love my kids… yes, MY kids. It takes a village."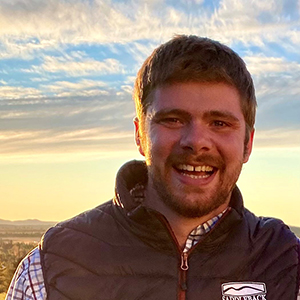 Shawn Russell
IT/Communications Director
Rangeley, RSU 78
In his time at RSU 78, Shawn Russell has had a tremendous impact. He works tirelessly to make sure office and teaching staff have everything they need from software to equipment. He builds staff capacity by providing recorded tech talks for ongoing professional development. Russell is also an advocate for computer science and is working towards providing Digital Citizenship to middle school students. He models a love of learning and provides mentorship to students who carry an interest in technology. 
In addition to his commitment to excellence during the school day, Russell also goes above and beyond by getting involved in afterschool activities and the community. He volunteers to coach middle school baseball each spring. He also took on the responsibility of videoing athletic events during COVID, so all parents had the opportunity to watch their kids play. Russell also recently joined the board in the community radio station as a voice for the school and has already begun work to get students on the air presenting things that are happening in school!
"When I think about the attributes of a stellar employee, (work ethic, vested interest in everything that happens here, leadership qualities, teaches, knowledge, creativity, and commitment) he is one of the first that comes to mind," said a colleague.
"I believe that Mr. Russell's vision for what technology should look like in a school has forever changed the way we teach and is creating pathways for students that have never been offered until now. Our Mission is, 'To inspire all learners to strive for success in a world yet to be fully imagined.' Mr. Russell strives for this every day," said his nominator.
"I consider myself lucky to work in an environment in which educators are passionate, thoughtful, student-focused, and eager to take on new challenges. Rangeley's community compliments its beauty, and I am incredibly grateful to be where I am today, living and working in this amazing place," said Russell.
---