Safe Sleep - Resources for Families of Infants
Making sure your baby is sleeping in a safe environment is the first step in ensuring a happy and healthy first year for your little one. Follow the ABC's of sleep so you and your baby can rest safe and sound:
A Alone - Baby should always sleep in an area to that is separate but close to others. Baby should never sleep with others or a pet.
B Back - Baby should always be placed to sleep on their back on a firm mattress and should be discouraged from sleeping on their bellies until they have developed good head and upper body control.
C Crib - Baby should sleep in a crib, bassinet, or Pack n' Play. Baby should never sleep on a couch, chair, or in a bed.
Some other important steps to take:
Make sure that baby's crib is free of any loose bedding, blankets, quilts, pillows, stuffed animals or bumpers, as these items pose a suffocation hazard.
Cords and wires should be out of reach of baby, as should low or loose mobiles.
Baby's sleep area should be away from a furnace vent or a radiator.
Baby's room should be kept at an appropriate temperature (approximately 68-74 degrees).
Baby should be dressed appropriately and should sleep with their head and face uncovered.
Baby's safe sleep environment and home should be smoke free.
It is important to avoid alcohol and drugs, as substance misuse can impair your ability to care for your baby.
Educate other people who will care for your baby about the importance of safe sleep.
Need a visual? Take a look!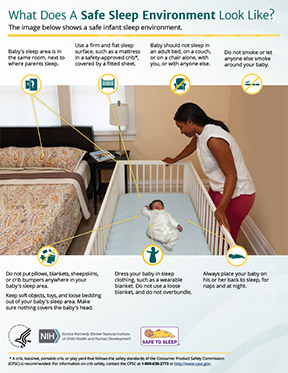 (PDF)