Source Water Protection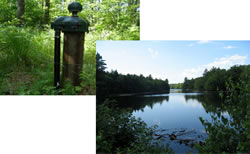 Drinking water sources are vulnerable to contamination whether it be from harmful chemicals or biological organisms (such as bacteria and viruses). Contamination often comes from activities on the land near the source of water. Water systems, no matter how small or large, must produce safe water through a "multiple barrier approach" which includes protecting the source, providing proper disinfection and treatment, cleaning and maintaining water pipes and tanks that carry and store the water after treatment, and monitoring water quality throughout all of those processes. Source protection is the first and most important of these barriers.
Source Water Assessment Program (SWAP)
The Source Water Assessment Program (SWAP), mandated by EPA, assesses the vulnerability of the state's public water supplies and provides communities with information and resources to better protect their water sources.
Templates and Guidance
Grants and loans available are available to assist public water systems in protecting their drinking water sources. Land Acquisition Loans are available for the purchase or legal control of land within a water system's source protection area. Wellhead Protection Grants and Source Water Protection Grants are available for projects that will clearly reduce the likelihood of contamination occurring in a water system's source protection area by existing or future activities. The Sanitary Seal Well Cap Program is available for partial funding of the installation of sanitary well caps for public water systems without sanitary well seal caps on their groundwater well sources.
Regulatory
A Summary of Regulatory Authority to Protect Drinking Water in Maine (PDF)
Maps and Data
Our GIS database helps protect public water sources. This database contains GPS (global positioning system) locations of all public water supply wells and intakes in the State of Maine. A wellhead protection area coverage has also been added. Gravel well delineations and watersheds for surface water supplies will be added as they come available. You can find a list of your county's public water supplies online by clicking here (PDF). The Maine Office of GIS also has an internet mapping site where you can find locations of public water supplies in your hometown. Hard copy color maps are also available for municipalities and consultants upon request from Drinking Water Program.
Additional Resources