Water Operator Licensure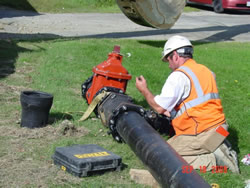 News
Online license renewal is now available. Click here to open a new window and follow the instructions there. You will need either your current active license certificate (full-size, not wallet) or the renewal reminder letter that was mailed to you at the beginning of November. The online renewal service is available 24-7, although technical assistance is only available from teh service provider during regular business hours. Contact Tina Lemieux (287-5699) with any licensing questions.
BLWSO NOTICE: 12/31/2020 DEADLINE IS EXTENDED UNTIL – MARCH 31, 2021
In lieu of the Covid-19 pandemic of 2020, the Board of Licensure of Water System Operators held an October 2, 2020 meeting to discuss the extension of the 12/31/2020 license renewal deadline. It was decided that the 2020 deadline be extended, and $50.00 late fee waived until March 31, 2021.
** Important note** As licenses become renewed for the 2019-2020 cycle, the new cycle will maintain its normal future deadline of 12/31/2022.
AWWA has revised Class 1-4 Distribution Guides. For more info please see AWWA's website.
Voice: (207) 287-5699
Fax: (207) 287-4172
Forms