Maine Outdoor Heritage Fund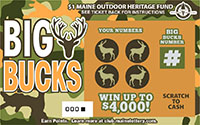 The Maine Outdoor Heritage Fund (MOHF) conserves wildlife and open spaces through the sale of instant, scratch lottery tickets. With proceeds from ticket sales, grants are awarded twice a year, totaling approximately $700,000 annually.
The seven-member MOHF Board chooses projects in four categories that promote recreation as well as conservation of Maine's special places, endangered species and important fish and wildlife habitat.
The MOHF has been helping to fund critical conservation and wildlife projects throughout the state since it was created by the Maine Legislature in 1996, in response to a grassroots effort from environmental and sportsman's groups.
Please help us spread the word about the MOHF scratch lottery ticket. The more tickets that are sold, the more projects can be funded!
Only the MOHF lottery ticket helps fund projects in our state to secure Maine's outdoor heritage for future generations.
If you don't find these scratch tickets in your favorite store, please ASK the store to carry the MOHF lottery ticket.
More information is provided on the Department of Inland Fisheries and Wildlife MOHF website or by contacting Carol Gay, Secretariat for MOHF, email: mohf@gwi.net (207) 458-8421.