For Employers
Hiring Employees
Maine's Job Bank
List your job opportunities at no charge and get matched with job seekers in your area.
Help Recruiting and Hiring Veterans and Individuals with Disabilities
Maine Veterans' Representatives can help you recruit Veterans for job openings on your team.
Specially trained staff can also help you recruit pre-screened applicants with disabilities to match your hiring needs.
Report New Hires
Online tool to help employers report information on newly-hired or rehired employees within seven days of the date of hire.

Hiring Incentives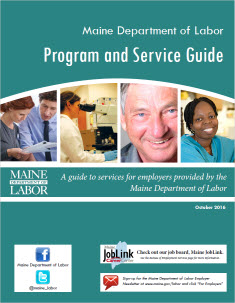 The Maine Department of Labor Program and Service Guide highlights workforce services offered to Maine employers.
Federal Bonding Program
Obtain Fidelity Bonds to guarantee honesty for "at-risk," hard-to-place job seekers.
Work Opportunity Tax Credit (WOTC)
Get a federal tax credit when you hire workers from targeted groups that have consistently faced significant barriers to employment.
Other Recruitment Tools
Use of CareerCenter equipment and meeting space
Interview space, conference rooms, video conferencing equipment and computers are available to employers recruiting workers at the CareerCenter
Job Fairs
Meet with hundreds of prospective employees at one of the CareerCenters many job fairs throughout the state.
Labor Market Information
Get data on wages, jobs in demand, employment and industry trends and much more.
Job & Workplace Cultural Analysis
Results of analysis is used to determine best match of candidates to job requirements.
On-Site Business Coaches
Assist managers with initial training and onboarding of new hires with disabilities.
Training & Consultation
CareerCenter staff can refer you to appropriate training and help you make a plan to meet your workforce needs.
Maine Apprenticeship Program: connects job seekers looking to learn new skills with employers looking for qualified workers, resulting in a workforce with industry-driven training and employers with a competitive edge.
Lifelong Learning Account (LiLA): helps employees and employers work together to finance skill development and lifelong learning.
SafetyWorks!: an outreach program of the Maine Department of Labor designed to reduce job-related injuries, illnesses and deaths.
Disability Etiquette/Awareness Training
Training to prepare the management and workforce for a smoother integration of employees with disabilities
Workplace Accommodations for Employees with Disabilities
This training helps businesses understand their  obligations under the Americans With Disabilities Act and creative, cost effective accommodation solutions that benefit all employees.
Job Retention/Return to Work Services
In cases of disability due to illness or non-occupational injury, BRS can help reduce turnover and training costs by providing solutions that keep valuable skills and expertise in your workplace.
Labor Laws
Americans with Disabilities Act
Section 503 of the Rehabilitation act (for businesses who contract with federal government)
Unemployment