The Partnership's four Regional Coordinators are available to assist enrolled communities with developing future project ideas and then aid with researching and applying for grants, especially federal grants.
Each Regional Coordinator serves a particular geographic region of the state. Use the maps below to find the Coordinator for your region.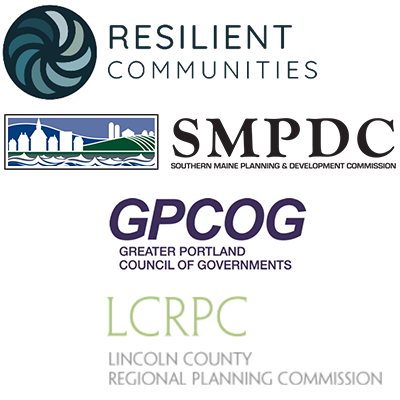 Region 1 - York, Cumberland, Sagadahoc, Lincoln, Knox, and southern Oxford Counties
Gabe McPhail - Region 1 Coordinator Collaborative (R1CC)
The R1CC is a cooperative effort led by Resilient Communities, L3C in partnership with Southern Maine Planning and Development Commission, Greater Portland Council of Governments, and Lincoln County Regional Planning Commission to serve the communities of Region 1.
Contact: gabe@rcmaine.org

Region 2 - Waldo, Hancock, and Washington Counties
Tanya Rucosky - Sunrise County Economic Council
Contact: trucosky@sunrisecounty.org

Region 3 - Androscoggin, Oxford, Kennebec, Franklin, and Somerset Counties
Yvette Meunier - Androscoggin Valley Council of Governments
Contact: ymeunier@avcog.org

Region 4 - Piscataquis, Aroostook, and Penobscot Counties
Laurie Osher - Eastern Maine Development Corporation
Contact: losher@emdc.org