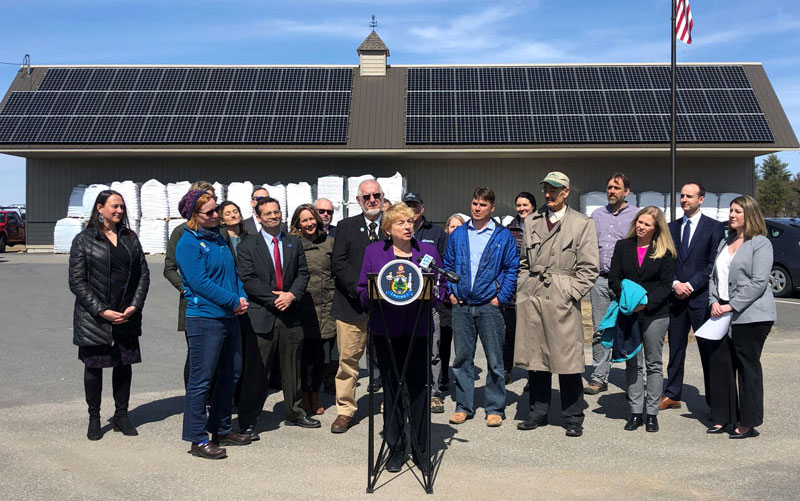 Governor Mills has made combating climate change and encouraging clean energy policy one of her top administration priorities. She believes that by encouraging clean energy in Maine, Maine can grow good paying jobs and improve the environment and health for all Maine people. The Governor's Office of Policy Innovation and the Future is coordinating the work of the Maine Climate Council and works collaboratively with other State agencies, including the Governor's Energy Office, and key stakeholders on policy issues related to climate and energy. 
Read Governor Mills' letter to the House Select Committee on the Climate Crisis here (link). 
Watch Governor Mills give keynote remarks at the launch of the state climate action plan, Maine Won't Wait (link).
Visit the Maine Climate Council homepage here (link).
Significant Climate and Clean Energy Actions to Date:
Established State Climate Council & GHG reduction targets in law, LD 1679 (link)
Signed state renewable portfolio standard (RPS) law requiring 80% renewable energy by 2030 and establishes a goal of 100% renewable energy by 2050
Passed law to implement 100,000 new heat pumps—including financial support for moderate and low-income Mainers—supporting beneficial electrification and saving families $300–600/year
Established new EV programs, supported by VW settlements, which include rebates, charging infrastructure, and public transportation
Passed legislation to help launch the first floating off-shore wind turbines in the U.S.
Became the 22nd state to join the US Climate Alliance. Maine is now one of 25 states—which are home to 55% of the US population, the equivalent of the 3rd largest economy in the world—with a commitment to meet the Paris Climate Goals
Repealed the state's wind energy moratorium, left an off-shore drilling coalition, and actively engaged in regional efforts around carbon reductions, transportation, and off-shore wind
Introduced legislation to limit the use of hydrofluorocarbons ("climate super-pollutants") to fight climate change, LD 2112, updated in the 130th Legislature as LD 226 (link). Read our factsheet on hydrofluorocarbons here (link).
For more information on this initiative, contact Cassaundra Rose at Cassaundra.Rose@maine.gov.