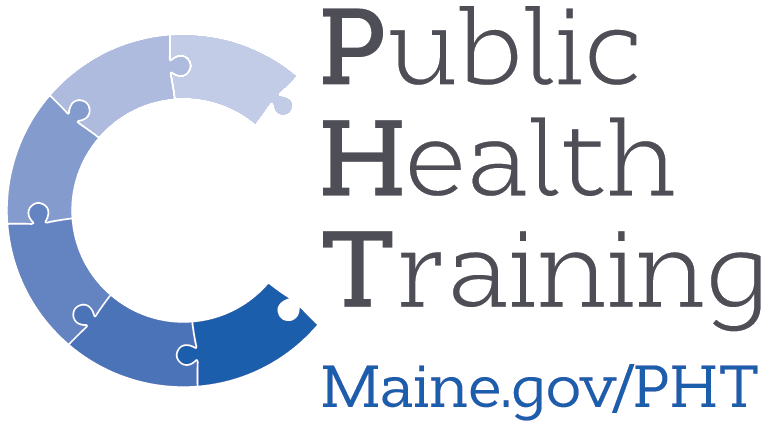 Public Health Training (PHT) is a growing collection of FREE online educational training modules to help public health workers and others broaden their knowledge of critical issues affecting the health of Maine people.
If you're a public health professional, the modules can deepen your knowledge.
If you're considering a career in public health, PHT gives you an inside look at the possible areas of specialization.
PHT trainings are also open to anyone affected by, or simply curious about, one of the topics covered.
The current training modules are listed at right — just click the drop-downs for a description. More will be available over the next year and beyond — sign up for email alerts.
Along with the presentation and quiz questions, an evaluation form and certificate of completion are available online.
What is PHT?
The ultimate goal of PHT is a healthier Maine. We hope to achieve this by improving the capacity, knowledge and performance of Maine's current and future public health workers. PHT was jointly developed by The Maine CDC, The New England Public Health Training Center at the University of New England, The Muskie School of Public Service at the University of Southern Maine, and the Hanley Center for Health Leadership, with contributions from many other organizations statewide and across New England.
Why PHT?
Shifting priorities in public health, changes in the delivery of health care and rapidly evolving technology have driven the need for more and better-trained public health workers. At the same time, members of the general public are more interested in learning about health issues that touch their lives or lives of their families.
Who should use PHT?
We encourage participation in PHT by all public health and healthcare professionals—current or aspiring—including State public health employees, local health officers, community coalition staff and members, district coordination councils and others.
We welcome your feedback!
For more information about PHT, please e-mail erik.gordon@maine.gov. We look forward to your participation and feedback, which will be used to inform future trainings and to ensure that all modules are as useful and as effective as possible.
---
Trainings Now Available

(Click title for a Description)
New in 2018
Community Health Assessment: Using Health Models to Explore the Determinants of Health

In this module you will learn that improving the health of populations is complex work and demands that we define health broadly, that we measure all aspects of health – thinking about cause and effect – and that we recognize the fact that the health system is only one part of the solution for improving health.

Approximate time to complete this module: 1 hour

Human Health Effects of Climate Change

This course reviews current and expected human health impacts, with particular emphasis on impacts in Vermont and the northeast. The course culminates with examples of strategies used in Vermont and nationally to reduce climate change impacts on health and to improve health through climate change mitigation actions. Learners can select Level 1 for an overview or Level 2 for a deeper exploration of the five types of health impacts.

Approximate time to complete Level I: 1 hour
Approximate time to complete Level II: 1.5 hours

Numbers in Health: Make the Meaning Clear

Learn about tips and strategies health professionals can use to communicate about numbers and help people better manage and improve their health.

Approximate time to complete this module: 1 hour
Other Courses
---