Water Operator Licensure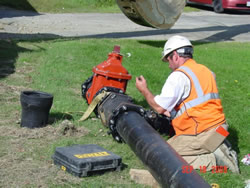 News
Rule Changes Adopted The Water System Operators Licensing Rule, 90-429 Code of Maine Rules has received final approval from the Office of the Governor. This Rule became effective July 1, 2018. The major change in this Rule was the elimination of a 60 day "grace period" for license expirations. The Board, through this rulemaking, sought to align the Rule with statute in response to the advice of the Office of Attorney General. The grace period in the prior rule did not comply with 22 M.R.S. ss 2625 which states that the Board shall issue biennial licenses, and 22 M.R.S. ss 2623 which states it is unlawful for any person to perform the duties of an operator, as defined, without being duly licensed.

Other changes include addition of a Restricted License status for Very Small Water System licensed operators who qualified for an education waiver previously approved by the Department. Restricted licenses will be site specific and non-transferable; and various minor clarifications.


AWWA has revised Class 1-4 Distribution Guides. For more info please see AWWA's website.
Online and webinar training

The EPA has funded several training organizations to develop webinar-based and online training opportunities for water operators. These are national webinars, usually only held once. Webinars often do not have a long advertising window, so approval and posting on our calendar may not happen in a timely manner. The online training is available continually and is similar to taking a multi-day course, but at your own pace.

The following entities have been funded by EPA to offer these free online and webinar trainings: EPA also funds free classroom training through Maine Rural Water Association and others, which can be found on the website training calendar.

Please note: These programs will receive Maine Operator Board approval, however they will not be advertised with an approval number. It is the responsibility of the attendee to request a certificate and to submit the certificate of attendance to the Board.
Staff Contact
James Jacobsen
Voice: (207) 287-5695
Fax: (207) 287-4172
Forms