The "Thank You" Horse from Maine Shares the Thanks
June 8, 2018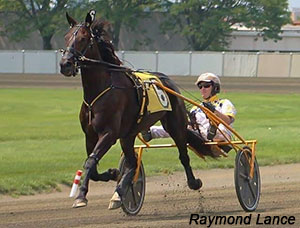 Obrigado, an eight-year-old world champion harness racing trotter from Saco, Maine, was aptly named. In Portuguese, obrigado means "thank you."
With 42 first-place wins and $1.7 million in earnings, Obrigado has garnered more thanks than you can count from owners, drivers, trainers, and fans for being both reliably fast on the track and consistently happy and easy going off track.
"I am very thankful to own a portion of Obrigado," said Linwood Higgins of Scarborough, who co-owns the horse with Paul Kelley and Florida Stable SFR. "I have been in this business on and off for 40 years and Obrigado is certainly the best horse I've been associated with. He is, without question, the finest race horse to have ever been bred and raised in Maine."
Obrigado's breeder Mike Andrew of Three Crow Farm in Gorham, Maine, agrees. He considers Obrigado, who was named the Dan Patch Trotter of the Year in 2016, a one in a million million-dollar horse.
"I don't have any Maine breds that I think are going to achieve what he's achieved," said Andrew. "Because that's extraordinary, to make over a million dollars and be horse of the year. That's once in a lifetime."
Mark MacDonald, the horse's main driver since 2016, is just as complementary, and credits Obrigado for much of his success, noting that he thinks "the horse makes the driver, not the driver makes the horse."
True to the team spirit this horse inspires, MacDonald also gives co-owner and trainer Paul Kelley much credit for the gelding's successful track record and continued growth as a champion. "Paul's a great trainer and businessman at the end of the day," said MacDonald, noting that harness racing can be a tough business. "Working with Paul and Obrigado has been a privilege and an honor."
A Natural Stategist
In addition to his gracious nature, one thing that sets Obrigado apart on a crowded track is that the eight-year-old trotter instinctively knows when to take it easy and when to ramp it up.
"He never overdoes it," MacDonald told Ken Weingartner, the U.S. Trotting Association's media manager, at the start of the 2017 season. "He takes care of himself. He makes you kind of sweat it out a little bit."
This is evident even from the stands, where many have noticed that Obrigado has a tendency to relax a bit once he's in the lead, but, as with most true competitors and champions, switches to high gear when his lead is threatened.
That strategy has at times given his owners the jitters in the moment, but it's been a winning one so far. Since 2012, Obrigado has won more than $1.7 million in 85 races. In only 16 of those races did he fail to make a top-three finish.
It's in the Genes
When Obrigado was a foal, Andrew didn't notice anything special about his young horse, but he knew the potential for greatness was there because of the horse's lineage.
Obrigado's mother, Malimony, is the daughter of Meadow Hush, who made a lot of money in her own right, said Andrew, and Meadow Hush is the daughter of another very fast horse, Arndon. Reliable speed ran in the family; Meadow Hush's full sister was a world champion. She was bred to Lindy Lane, and they produced Hellava Hush, a fast trotter who made $1.2 million. It was Lindy Lane who sired Boy Band, who is Obrigado's father.
Before Obrigado was born, Boy Band and Malimony produced four fillies that were all sire stakes champions and between them set seven state records. "So, he wasn't, I don't think, just a fluke," Andrew said of Obrigado.
When the horse won every sire stakes race as a two- and three-year-old, Andrew knew he had something special. "He had 21 straight wins, so I knew he was a good horse, and I knew he'd do well out-of-state," he said.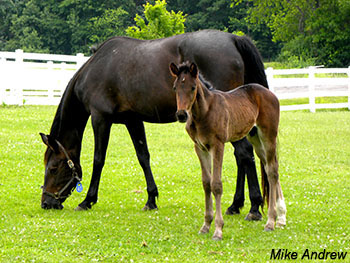 Andrew sold Obrigado in 2013 to Kelley and his partners after the horse's three-year-old season, just as the trotter began coming into his own.
A horse's fourth year is a momentous one because four-year-olds move up a classification and race against older horses, said Kelley.
"This is a big step forward because now these horses are facing very mature and seasoned athletes," explained Kelley. "Imagine college-age kids going straight into professional sports. Some will transition straight away, but the majority will need at least a year to mature and develop. Horses are no different."
Ever mindful of the intense pressure of racing against seasoned horses, Kelley decided to ease the four-year-old's transition and started him at the Saratoga Springs track where the young horse wasted no time winning his way from condition classes to the open ranks. "With each week, it seemed he just got a little better," Kelley said.
Resisting recommendations to race him at Yonkers Raceway, one of the country's premier harness racing tracks located in New York, Kelley took Obrigado to the Open Trot at Tioga Downs in 2014, where the horse stunned everyone – his trainer included – by setting a new track record (1:52.3) for four-year-old geldings.
It only got better from there. Obrigado wrapped up the season by finishing fourth against the best horses from North America and some from Europe in the International Trot Preview at Yonkers Raceway later that season. In 2015, his fifth year, Obrigado kept improving, earning $405,000.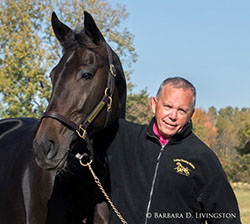 But it was 2016 that became his defining year.
"We had a horse that now had the respect of his competition and we had (driver) Mark MacDonald," Kelley said. It was a winning combination. In 2016, Obigado and MacDonald took home wins from seven premier races: Charlie Hill, the Cleveland Classic, the Dayton Trotting Derby, the Maxi Lee Invitational at Harrah's Chester, the Cashman Memorial, Crawford Farms and the TVG Final at the Meadowlands.
That year, Obrigado also shaved a full second off his best time in 2015 to set his lifetime record best time at 1:50.3 and earned $873,300.
At the beginning of last year's season, however, Obrigado's team noticed he wasn't his usual self. His strong performance the previous year had taken a toll on the horse, and they decided not to race him for the remainder of 2017.
Consultations with Obrigado's veterinarian, Dr. Rodney Stewart, helped pinpoint the right stifle area as the main source of Obrigado's discomfort, which led to further consultations with Dr. Alan Nixon at Cornell. Last November, Obrigado had arthroscopic surgery on his right stifle, a joint similar to the human knee. Nixon repaired a torn meniscus, removed a small cyst, and recommended a 60-day rehabilitation.
Looking Forward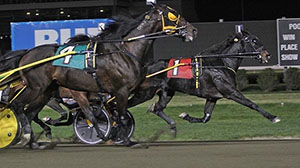 After completing his rehabilitation in January, Obrigado began preparing for the 2018 race season. Training has gone according to plan, said Kelley. Judging by the horse's past performance and his positive attitude, Kelley is hopeful for a great year.
"We are hoping for the best while being cautiously optimistic," said Kelley, adding that the one constant throughout the years has always been Obrigado's bright and happy demeanor and his desire to compete.
"An old timer once told me that 'a good horse is a happy horse,' and I have always found that to be true," said Kelly. "Obrigado looks forward to exercising on the track every day. And now that he is back in training and actively working alongside other horses, he couldn't be happier."
Thanks to his trainer, veterinarians, and handlers. Obrigado, the "thank you" horse, is eagerly training and waiting for his first race of the season.