COVID-19 Related Camping & Day-use Updates
June 1, 2020
Beaches & Coastal Parks
All State Parks and Historic Sites are currently open for day use; some have parking restrictions in place.
COVID precautions and what to expect when you visit these beaches and parks:
Reduced Parking - To address the potential for crowding issues, some Parks may have reduced parking.
Reduced Length of Visit - Please be prepared to limit your stay so that others may enjoy the Park too.
Physical Distancing - Essential to our ability to keep these Parks open. Please keep at least 6 feet from staff and from others not in your household.
Wear Masks - Visitors are expected to wear masks when physical distancing is not possible.
Restrooms - Facilities may be limited, so plan accordingly. Please bring your own hand sanitizer.
Quarantine - Until July 1, State Park use is for Maine residents and non-residents who have met the 14 day quarantine requirement.
Monitoring & Changes - We will monitor conditions and make changes to policies as necessary. We need your cooperation, so thanks for your patience and support!
Camping
State Park Campgrounds - June camping is restricted to Maine residents and non-residents who have met the 14 day quarantine requirement. For the latest information about camping at Maine State Parks and reservations visit CampWithMe.com. Statewide camping guidance is also available on the DECD web site.
Reservations at State Park Campgrounds - Those with camping reservations affected by these policies may (1) contact the Reservations Center to re-book to a later date, or (2) receive a full refund. Refunds for the reservation fee may be made online.
Backcountry & Remote Camping Camping at these sites is for Maine residents and non-residents who have met the 14 day quarantine requirement. Remote Camping Guidance (PDF)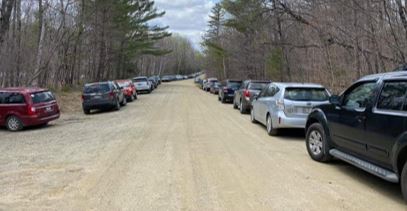 Plan a back-up location to visit. Help stop overcrowding as seen here at Tumbledown Mountain Public Land recently.
Day-Use
All Maine Public Lands trails, and roads remain open. Until July 1, State Park and Public Land use is for Maine residents and non-residents who have met the 14 day quarantine requirement. Some of our Public Lands are receiving heavy use. The Maine Trail Finder is a good resource for identifying lesser-known trails.
FAQs
Now is not the time to take risks
If you want to get outside, your first choice should be to stay close to home.
Outdoor adventures need to be safe. The emergency response community, including Maine Forest Rangers and IF&W Wardens, has its hands full. Accidents on the trail and in the woods create unnecessary strain on our first-responders.
Weather and conditions, especially further north and in the mountains, are still variable with cold water, cold temperatures, and snow/ice present at times and in places. Gravel logging roads may be muddy and vulnerable to damage from vehicles. Remote locations throughout Maine's woods may have limited or no cell phone coverage. Plan ahead and be prepared.
Don't rely on shopping for supplies and food in destination communities; be prepared with everything you need when you leave home, and practice Leave No Trace outdoor skills. Bathroom facilities are likely not available, even where typically present.
BPL recommends that everyone follow careful guidance when recreating in the outdoors.
BPL is monitoring the COVID-19 situation and is committed to following the state's updated policies to help slow the spread of COVID-19. With time and everyone's cooperation, we will get back to our regular routines. In the meantime, camping policies will evolve as conditions change. Visit our website and follow our social media platforms for updates. Please follow Facebook, Twitter, and Instagram.
For specific questions, please contact 207-287-3200 or e-mail DACF@maine.gov.