Conservation Lands Registry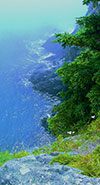 In 2007, the Legislature established a mandatory statewide registry for all conservation easements held in Maine. Recent legislation has expanded this effort to register with the Department of Agriculture, Conservation, and Forestry, lands owned in fee for conservation purposes (recreation, agriculture, forestry, habitat, etc.) (Title 33 MRS §476 et seq). If you have previously registered an account for conservation easements, you will continue to use the same account. If you have not already done so, you must create an account which can be completed with a valid email address and a valid credit card number.
New accounts can be established and new conservation easements or fee properties registered at any time of the year. The registry has been set up on-line for account holders easy use and management of the holder's information. Account holders are able to manage and edit your information online and download it for off-line use.
The annual fee to complete your registration is $80.
Conservation Easements
All holders of conservation easements on real estate in Maine must register their easements and confirm the monitoring status of their easements. The annual account renewal and reporting deadline is March 30.
Fee-owned Conservation Land
All holders of fee owned conservation lands in Maine must register their land holdings. An initial registration must be done, uploading all land holdings that qualify under the law. Subsequent to the upload of data in the first year (2017) the account holder must then register any newly acquired lands or amend records that have been sold or transferred. The annual account renewal and reporting period is between Janaury 1 through March 30.
Getting Started: Establishing an Account and Registering your Lands in the Maine Conservation Lands Registry (PDF)
Please email us for more information.
Reminder: To comply with statutory requirements, account holders are required to renew the registration of their Registry account annually between January 1 and March 30. Please use a valid credit card (MasterCard or VISA) to pay for your organization's registration.