Coastal Bluffs 1:24,000-scale Maps Description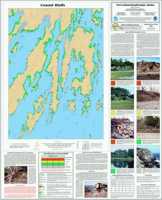 Read the map sidebar (pdf).
Read the map explanation (pdf).
Tips for reading maps
Online maps
Digital data
What is a coastal bluff?
On this map, a bluff is defined as a steep shoreline slope formed in sediment (loose material such as clay, sand, and gravel) that has three feet or more of vertical elevation just above the high tide line. Cliffs or slopes in bedrock (ledge) surfaces are not bluffs and are not subject to significant erosion in a century or more. Beaches and dunes do not form bluffs, except along the seaward dune edge as a result of erosion. The map sidebar (pdf) contains additional information describing coastal bluffs.
Coastal Bluffs Maps
Coastal Bluffs Maps show the shoreline type and relative stability of bluffs along the Maine coast. The slope, shape, and amount of vegetation covering a coastal bluff and the adjacent shoreline are directly related to the susceptibility of the bluff face to ongoing erosion. For more information, read the map explanation (pdf) or link to our tips for reading coastal bluffs maps.
Uses of coastal bluff information
These maps can help identify shorelines with increased risk of coastal erosion. Bluff erosion can result in a landward shift of the top edge of the bluff. This shoreline change is a natural process that, by itself, is not a coastal hazard. Only when erosion threatens something of value, such as a building near the bluff edge, does bluff retreat become a hazard. Understanding local erosion rates can help determine the severity, and perhaps longevity, of coastal development along a bluff edge.
How to obtain or view these maps
Use the Maps and Publications Search to identify printed and online publications available from the Maine Geological Survey. You can search for maps and publications by geographic area or subject. Search results are linked to online publications. To order printed materials see the ordering instructions.
Use our online coastal bluffs map list to link directly to the quadrangle of your choice.
---
Last updated on July 15, 2015