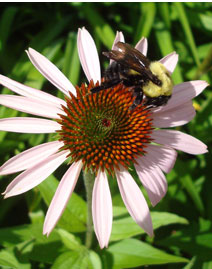 WHAT'S NEW
Next Board Meeting: December 5, 2014
Mark your calendars for the 2015 Agricultural Trades Show to be held at the Augusta Civic Center on January 13th-15th, 2015
The BPC and UMaine Cooperative Extension are offering training sessions to help prepare growers for the core exam. Growers must be licensed by April 15, 2015.
Congratulations to the YardScaping Gardens at Back Cove, Portland volunteers for the Mayor's Proclamation recognizing their hard work.
At the October 24, 2014 meeting the Board adopted amendments to Chapters 20, 22, 28, 31, 32 and 41
On November 20, 2014 the University of Maine Cooperative Extension and the Maine Department of Agriculture, Conservation and Forestry co-sponsored the Pollinator Health and Safety Conference. Presentations are posted for viewing.
Useful Information on our Website
Search for Maine Registered Products
Learn how to manage a pest (GotPests? site)
Exam Training for Growers (Ag Basic)


Contact Us
AUGUSTA: 207-287-2731
FAX: 207-287-7548
TDD: 207-287-4470
more
email: pesticides@maine.gov

Board of Pesticides Control