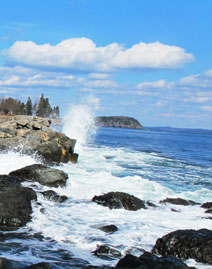 Environmental Risk Advisory Committee
BPC has convened an Environmental Risk Advisory Committee (ERAC) to examine whether current pesticide residues have the potential to affect the lobster resource in Maine directly or via impact on other marine organisms. The ERAC met on April 18, 2014, and focused its discussions on identifying what information would be most useful in addressing concerns. The ERAC consensus is to focus on sediment/pesticide sampling for 2014 and to evaluate means of conducting a comprehensive review of the recent open scientific literature.
Next meeting: February 9, 2015, 1:00 pm, AMHI Complex, 90 Blossom Lane, Deering Building, Room 319.
If you would like to be kept informed via email, send a request to Lebelle Hicks.
ERAC policy [PDF]
Letter from the Joint Standing Committee on Agriculture, Conservation and Forestry [PDF]
ERAC Committee Members
Chair
Curtis C. Bohlen, Ph.D
Board of Pesticides Control Member
Director, Casco Bay Estuary Partnership
University of Southern Maine, Muskie School of Public Service
Environmental Toxicologist
John Wise, Ph.D
Wise Laboratory CIAET
University of Southern Maine
Terrestrial Entomologist
James Dill, Ph.D, IPM Entomologist
University of Maine Cooperative Extension, Pest Management Office
Lobster Biologist
Carl Wilson
Department of Marine Resources, Marine Fisheries Laboratory
Expert on Lobster Development and Mosquito Insecticides
Michael N. Horst, Ph.D
Mercer University, Macon Georgia 
Marine Biologist
Kohl Kanwit, Public Health Bureau Director
Department of Marine Resources 
Expert on Pyrethroid Residues in Sediment and Pyrethroid Analytical Chemistry
Lawrence LeBlanc, Ph.D
University of Maine, School of Marine Sciences
Aquatic Entomologist
Leon Tsomides
Maine Department of Environmental Protection, Land and Water Quality
Marine Biologist
Jim Stahlnecker
Maine Department of Environmental Protection, Land and Water Quality
Agendas and Minutes
April 18, 2014 Proposed Agenda [Word or PDF]
April 18, 2014 Meeting Notes [Word or PDF]
Presentations from April 18, 2014 meeting
Proposed Method for Identification of Pesticide Active Ingredients which May Impact Lobster Health—L. Hicks [PDF]
Sediment Monitoring for Pesticides—M. Tomlinson [PDF]
Lobster Life Cycle—C. Wilson [PDF]