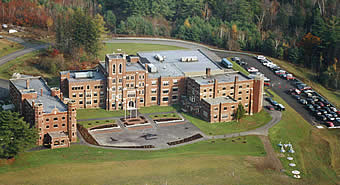 In 1990 the State of Maine purchased the Oak Grove Coburn School complex which is located about 15 minutes north of Augusta on Route 201 in the town of Vassalboro. The site consists of over 105 acres with a main facility complex with renovations suitable for a new training site.
In 1998, the Legislature appropriated $11,271,203 to renovate the former Oak-Grove Coburn School and build a specialized training facility. In 2000, the Legislature appropriated an additional $2,000,000 to complete Phase II of the project.
Ground breaking for this project was held on September 7, 1999, and Governor King was the keynote speaker. The move from Waterville to Vassalboro occurred on December 22, 2000. Construction was completed in the Spring of 2001.
The mission of the new facility is to support Academy training and educational functions in an effective, economical and safe manner. The new facility has:
A 19,000 square foot indoor Special Training Center,
An indoor running track,
A fully equipped weight / exercise room,
A lecture hall to seat 75 students,
8 additional classrooms seating up to 70 students,
Extensive meeting space,
housing for up to 130 students,
on site dining facilities
History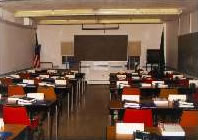 The origin of organized law enforcement training in Maine dates back to the late 1960's when the Federal Law Enforcement Assistance Agency made funds available through the Maine Criminal Justice Planning and Assistance Agency for improving the operation of the criminal justice system. Using this as seed money, the Maine Municipal Association initiated a two week law enforcement training program offered in the Portland, Augusta, and Bangor regions. A Board of Directors, consisting of law enforcement officials, was charged with overseeing the program and encouraging law enforcement agencies to support the training.
The early 1970's saw passage of the Mandatory Training Act for law enforcement and in 1972 the former Thomas College in Waterville was purchased to provide permanent facilities for the Maine Criminal Justice Academy. Since that time, the scope of activities at the Academy has steadily increased. In 1990, new legislation required that all law enforcement officers, state, county and municipal, who have the power of arrest and the authority to carry a firearm come under the purview of the Academy's Board of Trustees. This has greatly increased the responsibilities and tasks of the Academy. The Maine Criminal Justice Academy is responsible for the development and implementation of comprehensive training programs both at the Academy and through outreach programs across the state.
Significant events in the Academy's history:
1976 - Municipal School increases from a ten-week program to twelve weeks. Regional law enforcement in-service training implemented.
1977 - Dispatcher training curriculum developed.
1978 - Basic Corrections Training Course developed. A system of reporting by corrections agencies is added to law enforcement reporting. Instructor Certification Program implemented. The Methods of Instruction Course is developed.
1979 - Regional training certification by the Board of Trustees initiated. Supervision, Mid-Management, and Executive Development courses implemented. Arson investigation, team concept, developed. Reserve Officer Training curriculum and standards developed as directed by the Legislature.
1980- Mandatory in-service training for corrections officers takes effect. Advanced Arson Investigation curriculum developed. Domestic Violence Course developed. Law Enforcement Task Analysis initiated.
1981 -Radar Operator's Course developed. Highway Safety film collection catalogued, maintained, and circulated. Specialized Instructor Certification program initiated. Intermediate and Advanced Officer Certification implemented. Firearms Instructor Course developed. Intoxilyzer Operator Certification initiated.
1982 - Final report on the Law Enforcement Task Analysis is completed. Municipal/County Basic Police School curriculum revised. Emergency Vehicle Operator's Course developed.
1983 - Training for part-time and reserve police officers is mandated by the Legislature. A statewide survey to identify all part-time police officers is completed. Verification and suspension procedures for certification of police officers is initiated.
1984 - The Honeywell computer system is installed. Basic Warden School is established at the Academy. Court Security Course developed. ALERT Test required as entrance standard for police officers. Canine Handlers Course developed. Certificates of Eligibility required of all police officers. A Task Analysis for Corrections Officers is initiated
1985 - Academy responsible for administration of Justice Assistance Act funds for Maine. Background investigation manual.
1986 - Technical Assistance Program for small law enforcement agencies is initiated. Municipal Ordinance Prosecutor's Course developed.
1987 - Report on the Academy published by the Academy Review Committee. Basic Training for public safety dispatchers initiated. Entry level Corrections Officers Task Analysis published.
1988 - Semi-Automatic Weapons training initiated. Academy auditorium renovated. Recommended Physical Fitness Standards published. Terminal Operators Certification. All Points Bulletin established. Advisory Committee on Correction established. Drug Abuse Resistance Education (D.A.R.E.) instructor program.
1989 - Law Enforcement Officers Manual standardized. New Basic Corrections Training Curriculum established. New Standardized Field Sobriety Test Developed. Oak-Grove Coburn purchased. Statewide State Law Enforcement Task Analyses completed.
1990 - Pre-Service Training Curriculum established. Statewide Regional In-Service Training Plan adopted. State Law Enforcement Training Curriculum adopted. Certification Test instituted.
1991 - Drug Recognition Technicians certified. D.A.R.E. officers trained with Maine mentors. Community Police Strategies developed. Provided technical assistance for business crime prevention projects.
1992 - New Decertification standards. Civil Rights training for all Law Enforcement agencies. Bloodborne Pathogens training for trainers. A.G. Task Force Report on the use of force.
1993 - Law Enforcement Agency Profile Survey Conducted joint effort MCJA/UMO Graduate Program. Total Quality Management Training Initiated.>
1994 - Added two citizen positions to the Board, bringing the Board membership to 17 members. Extended employment probationary period to one year after graduation from the basic law enforcement course. Increased the minimum age requirement for entry into the Municipal/County Basic Police School to 21 years of age, or 20 years of age if the applicant has an associates degree or 60 hours of post secondary education. Upgraded computer networking capabilities to include regional offices.
1995 - The Board established minimum physical fitness and academic standards for all officers entering the Municipal / County Basic Police School. The Board also developed eight minimum policy and procedure standards that were distributed to all law enforcement agencies in order for them to submit to the Board the eight policies required by legislation. Effective January 1, 1996 each law enforcement agency is required to report to the Academy all excessive use of force complaints and the disposition of those complaints. A report from the Board was submitted to the Criminal Justice Committee recommending the implementation of joint training of Municipal, County and State Police.
1996 - Academy received a federal grant to strengthen community policing in Maine by effectively responding to domestic violence cases.
1997- Governor Angus King submitted a ten million dollar bond package to the Appropriations Committee for the renovation or construction of a new Criminal Justice Academy.
1998- The Legislature appropriated $11,271,203 to renovate the former Oak-Grove Coburn school and construct a specialized training facility.
1999- The Maine Criminal Justice Academy Board of Trustees, following a recommendation from the Law Enforcement Advisory Committee established mandatory annual in-service training requirements for the year 2000. The Board of Trustees is also working to establish entrance standards for the combined Law Enforcement Basic Training Course and the entrance requirements for tuition students.
2000- The Maine Criminal Justice Academy's staff and programs moved to a new facility in Vassalboro, Maine. This was also the first year that all law enforcement officers were required to complete mandatory in-service refresher training.
2001- The Municipal / County Basic Police School, Maine State Police Academy and The State Law Enforcement Basic School were combined into one program, the 18 week Basic Law Enforcement Training Program.