Surface Water Bodies Used to Supply Drinking Water to Maine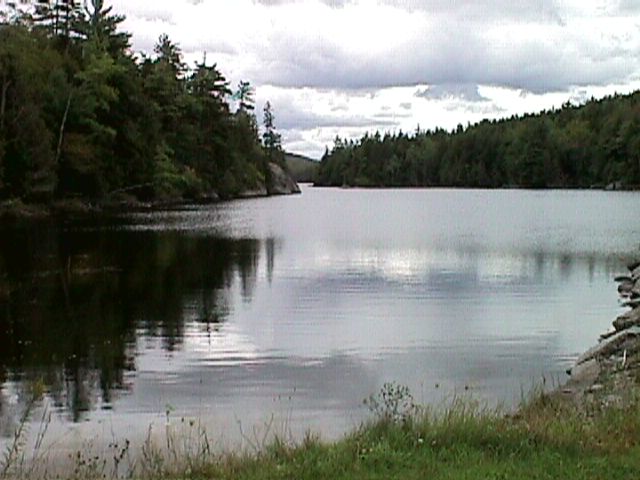 The photo at left is of the area near the intake on Hatcase Pond, the water supply for Brewer Water District. Hatcase Pond is an unfiltered water supply which is treated with ozone, corrosion control chemicals, chloramines and fluoride. Brewer Water District serves a population of approximately 8,400.
Did you know?
66% of the people in Maine receive water from community systems like Portland Water District, Lewiston / Auburn and Bangor Water District.
Despite the fact that 94% of the public water systems in Maine use groundwater (springs and wells) as a source of supply, 48% of the water consumed by the public comes from surface water utilities.
Only 79 surface water supplies (including lakes and streams) are used as public drinking water supplies. This represents only 3% of the 2,800 great ponds in Maine.
Below is a list of public water systems in Maine using surface water as a water source. The System ID is the water system's identification number. The system type defines the type of population served by the water system. "Population" is the population served by the water system, not the individual source. For example, Kittery Water District uses 4 different sources of supply, but each is combined to serve the same population.
*System Type Key:
C=Community, T=Transient, NTNC=Non-Transient Non-Community.
| PWSID # | PWS Name | Source Name | System Type | Population Served | City Served | County Served |
| --- | --- | --- | --- | --- | --- | --- |
| ME0090200 | BOOTHBAY REGION WATER DISTRICT | ADAMS POND | C | 7500 | BOOTHBAY | LINCOLN |
| ME0010973 | SHOALS MARINE LABORATORY | ATLANTIC OCEAN | NC | 100 | KITTERY | YORK |
| ME0005773 | SPINNEYS | ATLANTIC OCEAN | NC | 195 | PHIPPSBURG | SAGADAHOC |
| ME0094911 | FISH HOUSE COVE WATER CO, INC | ATLANTIC OCEAN | NC | 30 | PHIPPSBURG | SAGADAHOC |
| ME0006546 | HAYSTACK MTN SCHL OF CRAFTS #1 | ATLANTIC OCEAN | NC | 110 | DEER ISLE | HANCOCK |
| ME0198209 | MACMAHAN ISLAND | ATLANTIC OCEAN | NC | 40 | GEORGETOWN | SAGADAHOC |
| ME0090330 | CASTINE WATER DEPARTMENT | BATTLE AVENUE PONDS | C | 1063 | CASTINE | HANCOCK |
| ME0090790 | KITTERY WATER DISTRICT | BELL MARSH RESERVOIR | C | 12750 | KITTERY | YORK |
| ME0090730 | JACKMAN UTILITY DISTRICT | BIG WOOD POND | C | 1060 | JACKMAN | SOMERSET |
| ME0090790 | KITTERY WATER DISTRICT | BOULTER POND | C | 12750 | KITTERY | YORK |
| ME0090510 | PASSAMAQUODDY WATER DISTRICT | BOYDEN LAKE STREAM-IMPOUNDMENT | C | 1870 | EASTPORT | WASHINGTON |
| ME0090760 | KENNEBUNK, KENNEBUNKPORT, WELLS | BRANCH BROOK | C | 29963 | KENNEBUNK | YORK |
| ME0090520 | ELLSWORTH WATER DEPARTMENT | BRANCH LAKE | C | 3305 | ELLSWORTH | HANCOCK |
| ME0091510 | STONINGTON WATER COMPANY | BURNTLAND POND | C | 603 | STONINGTON | HANCOCK |
| ME0091690 | SUGARLOAF WATER ASSOCIATION | CARRABASSETT RIVER | C | 1238 | CARRABASSETT VL | FRANKLIN |
| ME0091680 | YORK WATER DISTRICT | CHASES POND | C | 11715 | YORK | YORK |
| ME0090750 | KENNEBEC WATER DISTRICT | CHINA LAKE | C | 21500 | WATERVILLE | KENNEBEC |
| ME0094949 | CAMP COBBOSSEE | COBBOSSEECONTEE LAKE | NC | 400 | MONMOUTH | KENNEBEC |
| ME0090120 | TOWN OF BAR HARBOR- WATER DIVISION | EAGLE LAKE | C | 4625 | BAR HARBOR | HANCOCK |
| ME0090990 | AQUA MAINE INC MILLINOCKET DIVISION | FERGUSON POND | C | 5400 | MILLINOCKET | PENOBSCOT |
| ME0094403 | US NAVY SERE SCHOOL | FIRE POND | NC | 33 | RANGELEY | FRANKLIN |
| ME0090110 | BANGOR WATER DISTRICT | FLOODS POND | C | 26500 | BANGOR | PENOBSCOT |
| ME0090790 | KITTERY WATER DISTRICT | FOLLY POND | C | 12750 | KITTERY | YORK |
| ME0094958 | DEBSCONEAG LAKE WILDERNESS CAMPS | FOURTH DEBSCONEAG LAKE | NC | 35 | T01 R11 WELS | PISCATAQUIS |
| ME0091130 | NORTH HAVEN WATER DEPARTMENT | FRESH POND | C | 293 | NORTH HAVEN | KNOX |
| ME0092400 | PRINCETON WATER WORKS | GRAND LAKES FLOWAGE | C | 42 | PRINCETON | WASHINGTON |
| ME0090300 | AQUA MAINE INC CAMDEN & ROCKLAND DIV | GRASSY POND | C | 18185 | CAMDEN | KNOX |
| ME0090690 | HEBRON WATER COMPANY | HALLS POND | C | 93 | HEBRON | OXFORD |
| ME0090040 | ANSON WATER DISTRICT | HANCOCK POND | C | 1630 | ANSON | SOMERSET |
| ME0090930 | MADISON WATER DISTRICT | HANCOCK POND | C | 2923 | MADISON | SOMERSET |
| ME0090220 | BREWER WATER DEPARTMENT | HATCASE POND | C | 8982 | BREWER | PENOBSCOT |
| ME0105684 | TWO LAKES CAMPING AREA- BATH | HOGAN LAKE | NC | 285 | OXFORD | OXFORD |
| ME0091420 | MOUNT DESERT WATER DIST -SEAL | JORDAN POND | C | 818 | MOUNT DESERT | HANCOCK |
| ME0091450 | AQUA MAINE INC SKOWHEGAN DIVISION | KENNEBEC RIVER | C | 5953 | SKOWHEGAN | SOMERSET |
| ME0093867 | SAPPI FINE PAPER N A | KENNEBEC RIVER | NTNC | 920 | FAIRFIELD | SOMERSET |
| ME0000909 | CAMP TAPAWINGO | KEYES POND | NC | 200 | SWEDEN | OXFORD |
| ME0090310 | CANTON WATER DISTRICT | LAKE ANASAGUNTICOOK (CANTON LK) | C | 285 | CANTON | OXFORD |
| ME0090830 | LEWISTON WATER & SEWER DIVISION | LAKE AUBURN | C | 23108 | LEWISTON | ANDROSCOGGIN |
| ME0090070 | AUBURN WATER DISTRICT | LAKE AUBURN | C | 15963 | AUBURN | ANDROSCOGGIN |
| ME0000824 | CAMP KIPPEWA FOR GIRLS | LAKE COBBOSSEECONTEE | NC | 255 | MONMOUTH | KENNEBEC |
| ME0090440 | DEXTER UTILITY DISTRICT | LAKE WASSOOKEAG | C | 2325 | DEXTER | PENOBSCOT |
| ME0090915 | LORING UTILITIES | LITTLE MADAWASKA RIVER | C | 308 | LIMESTONE | AROOSTOOK |
| ME0090410 | GREAT SALT BAY SANITARY DIST | LITTLE POND | C | 1673 | DAMARISCOTTA | LINCOLN |
| ME0091490 | SOUTHWEST HARBOR WATER DEPT | LONG POND | C | 2380 | SOUTHWEST HBR | HANCOCK |
| ME0090890 | LONG POND WATER DISTRICT | LONG POND | C | 423 | SORRENTO | HANCOCK |
| ME0091450 | AQUA MAINE INC SKOWHEGAN DIVISION | LOWER & UPPER PONDS | C | 5953 | SKOWHEGAN | SOMERSET |
| ME0091140 | MOUNT DESERT WATER DIST NORTH | LOWER HADLOCK POND | C | 1375 | MOUNT DESERT | HANCOCK |
| ME0090790 | KITTERY WATER DISTRICT | MIDDLE POND | C | 12750 | KITTERY | YORK |
| ME0090300 | AQUA MAINE INC CAMDEN & ROCKLAND DIV | MIRROR LAKE | C | 18185 | CAMDEN | KNOX |
| ME0090880 | LIVERMORE FALLS WATER DISTRICT | MOOSE HILL POND-PRIMARY | C | 3285 | LIVERMORE | ANDROSCOGGIN |
| ME0006267 | BALD MOUNTAIN CAMPS | MOOSELOOKMEGUNTIC LAKE | NC | 68 | RANGELEY | FRANKLIN |
| ME0090130 | BATH WATER DISTRICT | NEQUASSET LAKE | C | 9280 | BATH | SAGADAHOC |
| ME0091100 | NEWPORT WATER DISTRICT | NOKOMIS POND | C | 1590 | NEWPORT | PENOBSCOT |
| ME0090270 | BUCKFIELD VILLAGE CORPORATION | NORTH POND | C | 445 | BUCKFIELD | OXFORD |
| ME0090880 | LIVERMORE FALLS WATER DISTRICT | PARKHURST POND-SEASONAL | C | 3285 | LIVERMORE | ANDROSCOGGIN |
| ME0090550 | FORT FAIRFIELD UTIL DIST | PATTEE BROOK | C | 2135 | FORT FAIRFIELD | AROOSTOOK |
| ME0091390 | ST FRANCIS WATER DISTRICT | PETITE BROOK (BRANCH) | C | 80 | ST FRANCIS | AROOSTOOK |
| ME0003400 | COBBS PIERCE POND CAMPS | PIERCE POND | NC | 46 | NEW PORTLAND | SOMERSET |
| ME0091310 | PRESQUE ISLE WATER DISTRICT | PRESQUE ISLE STREAM | C | 5825 | PRESQUE ISLE | AROOSTOOK |
| ME0094923 | ISLAND HOME CLUB | ROOF CATCHMENT | NC | 240 | GEORGETOWN | SAGADAHOC |
| ME0094353 | WILLIAM ATWOOD LOBSTER CO | ROOF CATCHMENT SYSTEM | NTNC | 40 | SOUTH THOMASTON | KNOX |
| ME0091550 | VINALHAVEN WATER DIST | ROUND POND | C | 1100 | VINALHAVEN | KNOX |
| ME0090170 | BIDDEFORD AND SACO WATER CO | SACO RIVER | C | 37295 | BIDDEFORD | YORK |
| ME0090150 | BERWICK WATER DEPARTMENT | SALMON FALLS RV | C | 2125 | BERWICK | YORK |
| ME0090470 | DOVER-FOXCROFT WATER DISTRICT | SALMON POND 14' / 70 ACRES | C | 2385 | DOVER-FOXCROFT | PISCATAQUIS |
| ME0002512 | MIGIS LODGE | SEBAGO LAKE | NC | 560 | CASCO | CUMBERLAND |
| ME0091300 | PORTLAND WATER DIST / GREATER | SEBAGO LAKE | C | 136945 | PORTLAND | CUMBERLAND |
| ME0091300 | PORTLAND WATER DIST / GREATER | SEBAGO LAKE | C | 136945 | PORTLAND | CUMBERLAND |
| ME0094828 | ROCKCRAFT RETREAT CENTER | SEBAGO LAKE | NC | 60 | SEBAGO | CUMBERLAND |
| ME0000879 | CAMP WAWENOCK | SEBAGO LAKE | NC | 175 | RAYMOND | CUMBERLAND |
| ME0098219 | TOWN OF FRYE ISLAND | SEBAGO LAKE-EAST | NC | 750 | FRYE ISLAND | CUMBERLAND |
| ME0091000 | MILO WATER DISTRICT | SEBEC RIVER | C | 1650 | MILO | PISCATAQUIS |
| ME0090280 | AQUA MAINE INC BUCKSPORT DIV | SILVER LAKE | C | 1625 | BUCKSPORT | HANCOCK |
| ME0094848 | BORESTONE MOUNTAIN LODGE | SUNSET POND | NC | 25 | ELLIOTTSVILLE PLT | PISCATAQUIS |
| ME0090300 | AQUA MAINE INC CAMDEN & ROCKLAND DIV | THORNDIKE BROOK | C | 18185 | CAMDEN | KNOX |
| ME0008336 | CAMP SUSAN L CURTIS | TROUT POND | NC | 150 | STONEHAM | OXFORD |
| ME0091650 | WINTHROP UTILITIES DISTRICT | UPPER NARROWS POND | C | 2700 | WINTHROP | KENNEBEC |
| ME0091620 | WILTON WATER DEPARTMENT | VARNUM POND | C | 2500 | WILTON | FRANKLIN |
| ME0090940 | MARS HILL AND BLAINE WATER COMPANY | YOUNG LAKE | C | 1800 | MARS HILL | AROOSTOOK |