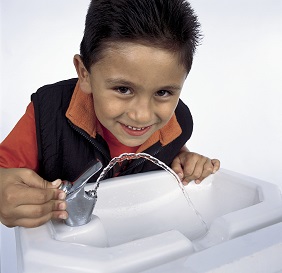 Lead in Drinking Water
Maine's public drinking water systems use wells, springs, lakes, and rivers to provide clean, lead-free drinking water. Homes, schools, and businesses that do not get water from a public water system usually get their water from wells. Water coming into a home, school, or business is usually free from lead. In most cases, if there is lead in drinking water it comes from the pipes and plumbing inside a home or building. While lead is not naturally found in water, it can dissolve into water from plumbing fixtures and piping that contain lead, such as brass faucets and lead solder.
Having lead in the body can cause health problems. With lead we are most concerned about children under the age of 6 years old. That's because a young child's brain is still growing and is more easily harmed by lead. In young children, lead can cause learning disabilities and behavior problems. For older children and adults, lead can cause kidney disease, memory problems, and high blood pressure.
You cannot see, taste, or smell lead in drinking water. A water sample needs to be analyzed by a certified laboratory in order to determine if your water contains lead.
View Lead in Drinking Water PowerPoint
Testing for Lead in Schools
The deadline for schools to request free lead in water test kits has been extended for the foreseeable future. All samples must be returned to the State's Health and Environmental Testing Laboratory (HETL) for analysis. Please see the information posted on the links below for details about this offer. If you have questions about ordering kits, please contact HETL at (207) 287-1716.
The Maine Drinking Water Program joins the Maine Rural Water Association, Maine Water Utilities Association, and the Maine Public Drinking Water Commission in encouraging water utilities to work with schools in testing school drinking water for the presence of lead. Additional pages of this website offer resources intended to promote awareness of the issue of lead in drinking water, including information for: