MaineCare Expansion
MaineCare rules have changed, and there are now free and low-cost health coverage options for more people in Maine.
MaineCare (Medicaid) Update: February 15, 2019
To date, the Department has enrolled 6,237 people in MaineCare under expansion. The Department is pleased that more Mainers are recognizing that health care coverage may be available to them under expansion, and appreciates their patience as eligibility workers enroll new members and work to process our normal applications.
The Department continues to pursue new ways to improve the efficiency of our enrollment work. Just this week, we set up a partnership with Consumers for Affordable Health Care (CAHC) to enhance our outreach and educational efforts. Of particular note, CAHC will be doing worksite and community-based trainings and workshops on MaineCare, holding special enrollment days, screening people for potential eligibility, helping them with applications, and providing information on a HelpLine — which you can reach at 1-800-965-7476. This partnership will provide CAHC — and other stakeholders — with the information they need to ensure a quick and smooth application process and help connect more people with coverage.
We are pursuing other process simplifications as well. We have submitted a waiver to the United States Department of Agriculture, Food and Nutrition Services requesting the elimination of interviews for renewal of SNAP benefits for older and disabled people who have no earned income. We are exploring streamlining presumptive eligibility, which allows certain stakeholders, like hospitals, to screen people for eligibility and directly enroll them in MaineCare on a short-term basis. Suggestions about how to improve existing rules on that are welcome, and may be submitted online. Additionally, we have a budget initiative to support worker, technological, and operational improvements to reduce the time between application from an eligible person to enrollment.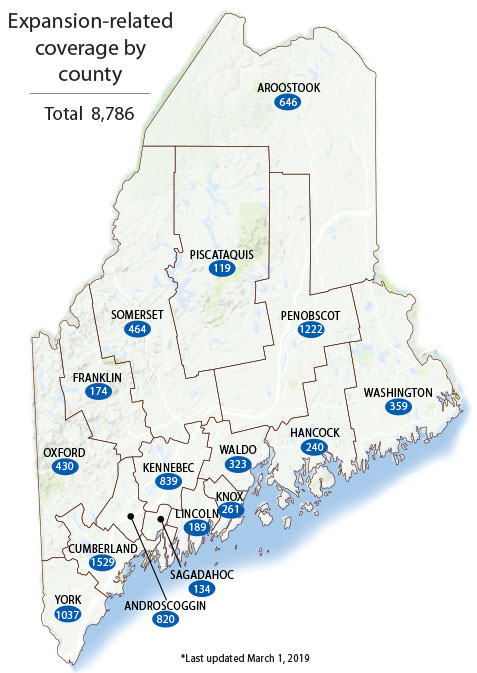 PROGRAM
COUNTY
INDIVIDUAL COUNTS
MaineCare Expansion
Androscoggin
185
Aroostook
205
Cumberland
432
Franklin
40
Hancock
60
Kennebec
219
Knox
84
Lincoln
56
Oxford
137
Penobscot
365
Piscataquis
38
Sagadahoc
32
Somerset
140
Waldo
93
Washington
95
York
336
TOTAL
2,517