MaineCare Expansion
MaineCare rules have changed, and there are now free and low-cost health coverage options for more people in Maine.
MaineCare (Medicaid) Update: February 22, 2019
To date, the Department has enrolled 7,511 people in MaineCare under expansion. In addition to processing new applications, the Department has also reconsidered 42 percent of applications that were denied expansion coverage in 2018. We continue to work through both old and new cases in tandem.
MaineCare expansion provides new opportunities for coverage for individuals already served by the Department as well. The Office for Family Independence (OFI) has been working with the Office of Child and Family Services (OCFS) to provide MaineCare coverage to parents involved in the rehabilitation and reunification process. Of the 921 parents currently involved in that process, OFI has confirmed that 425 already receive MaineCare, and the Office is working through the remaining 496 individuals to determine eligibility under expansion or other coverage groups. Preliminary analysis shows that as many as 175 may be eligible for expansion-related coverage.
To help workers process MaineCare cases more efficiently, the Department also submitted an updated Verification Plan to CMS. It reduces the need for applicants to follow up with us multiple times before getting a decision on their case while maintaining program integrity. We will implement these changes in the coming weeks.
On Monday, a public hearing will be held at the Burton Cross Building in Augusta on the Department's proposed MaineCare expansion rule. At the hearing, members of the public will have the opportunity to comment on details of the rule.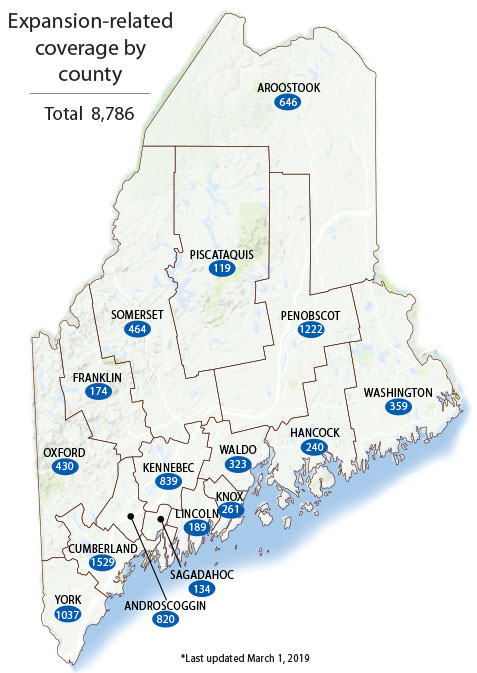 PROGRAM
COUNTY
INDIVIDUAL COUNTS
MaineCare Expansion
Androscoggin
185
Aroostook
205
Cumberland
432
Franklin
40
Hancock
60
Kennebec
219
Knox
84
Lincoln
56
Oxford
137
Penobscot
365
Piscataquis
38
Sagadahoc
32
Somerset
140
Waldo
93
Washington
95
York
336
TOTAL
2,517