Welcome to YardScaping.org!
Can anything be more satisfying than a fertile carpet of green grass? How about a healthy landscape that features less lawn and beautiful plantings—all grown without the excessive use of pesticides, fertilizers, and water!
Whether you've been wringing your hands over Japanese beetles or you're tired of slaving away on your lawn, YARDSCAPING is for you.
Join the growing number of Mainers who have decided to change their yard care ways—for the health of the environment, people, and wildlife.
Pollinators at Work!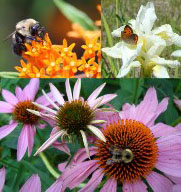 Ask the Experts
Not finding the answer to your question? Ask one of our experts for guidance on yardscaping!
What to Grow?
We can help guide you in the right direction and find the plants perfect for your yard!
Quick Tips
About Us
YardScaping hopes to inspire Maine people to create and maintain healthy landscapes through ecologically based practices that minimize reliance on water, fertilizer and pesticides. Read More