Communities Leading on Climate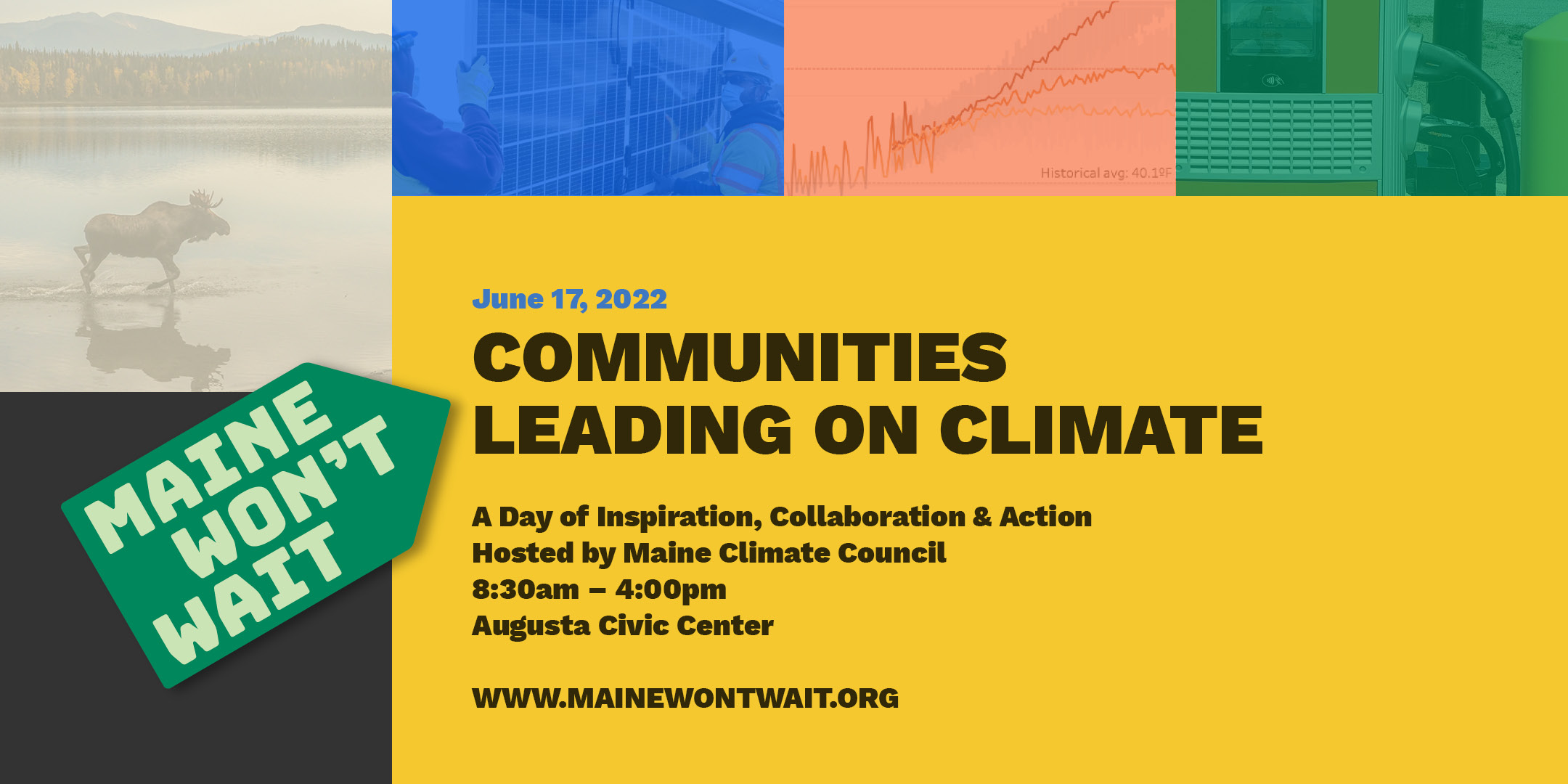 Communities Leading on Climate
A Day of Inspiration, Collaboration, & Action
June 17, 2022 | 8:30am - 4:00pm
Augusta Civic Center, 76 Community Dr, Augusta, ME

Governor Mills and the Maine Climate Council invite community leaders and interested citizens to a day of climate inspiration and action. This special day-long climate conference is packed with useful tools, resources, and how-to case studies for communities across Maine.
Who should attend? City, town and tribal leaders, and interested community members, who wish to learn how their communities can take climate action.
Why attend? This conference is more than a chance to listen to community leaders from around the state, it's also an opportunity to actively engage in climate action conversations and go home with the tools you need to advance climate actions in your community. 
NEW: Gina McCarthy, White House National Climate Advisor, is the Keynote Speaker at Communities Leading on Climate. McCarthy, the first ever White House National Climate Advisor, serves as the chair of President Biden's National Climate Task Force. She will highlight the importance of federal partnerships with other levels of government to reduce emissions, promote equity, and create good-paying jobs.
In the morning, community leaders and experts will share case studies and insights on topics including getting started with climate planning, making your community climate-ready, reducing emissions and saving costs through efficiency in buildings and transportation, and more.
The afternoon will feature a series of practical action sessions from state and federal agencies, community leaders, and organizations, offering resources, funding opportunities, and tools to help you get started with climate action in your community.
Registration is now open!
In-person registration is now closed
What to expect on the day
Lunch, coffee, and water are provided for in-person attendees, who are encouraged to bring their own reusable cups to help minimize waste. Attendees will receive access to recordings of all morning and select afternoon sessions after the conference.
Want to share transportation to this event to cut down on emissions? Visit GO Maine's trip planner here (the conference is listed as a pre-filled destination).

Websites such as PlugShare list available electric vehicle chargers in Augusta

Quiet rooms are available
We will abide by all COVID-19 public health precautions and guidelines, such as for masking and distancing. You can check current COVID-19 guidelines here.
To help as many people as possible to participate in Communities Leading on Climate, we are offering a virtual experience (separate registration) and other supports (please get in touch via the Contact form on either registration page):
If the cost of registration is a financial barrier for your attendance, please get in touch. Registration scholarships are available.
If you would like to attend in-person, but need transportation support or other assistance, please get in touch.
If you are a representative of a student group or other organization, please get in touch to discuss a group rate for attendance.
Accommodations will be made for persons with disabilities. Auxiliary aids will be provided upon advance request.
Stay connected with us: