February 27, 2023
Investment will create or expand programming to equip students with real-world skills and experiences needed to enter and succeed in the workforce
Norway, MAINE – Governor Janet Mills today announced that four Career and Technical Education (CTEs) schools in Maine will receive $15 million in grant funding through her Maine Jobs & Recovery plan for program, equipment, and facility upgrades.
The grant funding will allow the CTEs to build new facilities or add to existing facilities to expand hands on, real-world programs for Maine students in plumbing, electrical, building construction, culinary and hospitality, EMT, welding, and more. 
The Governor announced the funding alongside educators and students at Oxford Hills Technical School in Norway, which will receive more than $2 million for a new free-standing building to expand their plumbing, electrician, and building construction tech programs.
Under Governor Mills, CTE enrollment has grown by nearly 11 percent, with an almost 300 percent increase in exploratory program enrollment that allows freshman and sophomores to sample multiple programs to follow their interests.
"I have always been a strong believer in the power of CTEs because they equip students with the skills and hands-on experience needed to take good-paying jobs and have rewarding, lifelong careers in the trades," said Governor Janet Mills. "That is why I am also so proud of this announcement. We all know that Maine desperately needs more electricians, plumbers, welders, and other skilled workers, and investments like this one through my Jobs Plan will help deliver them. I look forward to watching these CTEs grow and having more students benefit from them."
"At Maine's CTEs, students use their hands and their minds to immerse themselves in programs ranging from plumbing and building construction to culinary arts and healthcare," said Education Commissioner Pender Makin. "CTE students learn real-world skills, gain industry accreditation, take college courses, and build connections with local employers. These grants will allow several of our CTEs to expand to serve growing student interest in the engaging, hands-on programs that Maine's CTEs offer."
"This will be a gamechanger for our students. The grant funds will be used to construct a 6000 square foot, free-standing building on campus that will have three classrooms and shop space for our plumbing program and the new electrical technology program. Our building construction program will also use the new building for some aspects of their classes, making this new building a hub for the building trades here at Oxford Hills Technical School," said Oxford Hills Technical School Director Randy Crockett.
In addition to Oxford Hills Technical School, the following CTEs also received grant awards:
Biddeford Regional Center of Technology in Biddeford: More than $7 million to build a two-story addition to the existing high school to create a culinary arts and hospitality program as well as an athletic training program and to expand existing plumbing and emergency medical technician programs. 
Northern Penobscot Tech Region III in Lincoln: Nearly $570,000 to expand the welding program by building an addition to the existing school that will add five welding booth ventilators, ten welding booths, and ten welders.
Region 9 School of Applied Technology in Mexico: Nearly $5.5 million to expand and enhance CTE facilities for four programs, including establishing a four-season outdoor education center, creating new classroom and lab space for the welding program, and expanding the culinary arts program to include an outdoor education space with a greenhouse, store, outdoor kitchen, and classroom. 
"In Biddeford, we will finally be able to offer three new programs: culinary arts, travel, tourism and hospitality program, and athletic training/sports medicine. Additionally, we are adding expanded space for our plumbing, heating, and EMT program. Through these grants, we're able to offer more workforce training programs and give students more choice and opportunity," said Biddeford Center of Technology Director Paulette Bonneau.
"Region 9 is a small rural CTE school located in the foothills of Western Maine. Our grant-funded projects will expand and enhance instructional opportunities for our students leading to further skill development and chances to earn industry credentials. These skills and credentials will support our students in being successful in obtaining good-paying jobs or participating in post-secondary training and educational opportunities. Our voters, in all sixteen communities, overwhelmingly supported our school receiving these funds during a recent referendum vote. We are excited to move forward in this process and can't wait to see the amazing impact this opportunity will have on our school and the surrounding area," said Region 9 School of Applied Technology Director Brenda Gammon.
"The grant will provide a much-needed expansion to Northern Penobscot Tech Region III's welding shop. Our welding program provides our students opportunities to receive several certifications, up to and including pipe welding. Many graduates of the Region III welding program leave high school and go right to work building the critical infrastructure Maine needs for now and into our future. This is money well spent," said Northern Penobscot Tech Region III Director Curt Ring.
This $15 million grant funding is part of a larger $20 million investment from the Governor's Jobs Plan to expand CTEs in Maine, including following $4.5 million in awards to 23 CTE programs to purchase and upgrade equipment to enhance student learning experiences and career preparation for high-skilled, in-demand industries. 
In addition to the Jobs Plan funding, the Governor and the Legislature have increased funding for CTEs by nearly $10 million over the past four years, including a $1.6 million to assist in the increased costs of supplies and $100,000 to expand CTE early childhood education programs. The Governor's biennial budget also proposes $500,000 to expand middle school CTE programs.
As then-Attorney General, Governor Mills also used funds she obtained through a settlement with Bath Fitter to create plumbing programs at four CTEs in Maine, including Oxford Hills Technical School in Norway, Foster Career and Technical Education Center in Farmington, Lewiston Regional Technical Center in Lewiston, and Biddeford Regional Center of Technology in Biddeford.
Maine's 27 Career and Technical Education regions and centers enroll more than 9,800 students in 85 programs. Students learn skills and gain real-world experiences in programs ranging from plumbing and welding to culinary arts and early childhood education while completing high school. Many students are able to receive industry accreditation, earn college credits through dual-enrollment opportunities, and they graduate with the skills and knowledge they need to succeed in the job market and higher education.
The Maine Jobs & Recovery Plan is the Governor's plan, approved by the Legislature, to invest nearly $1 billion in Federal American Rescue Plan funds to improve the lives of Maine people and families, help businesses, create good-paying jobs, and build an economy poised for future prosperity. 
Since the Jobs Plan took effect in October 2021, the Mills Administration has delivered direct economic relief to nearly 1,000 Maine small businesses, supported more than 100 infrastructure projects around the state to create jobs and revitalize communities, and invested in workforce programs estimated to offer apprenticeship, career and education advancement, and job training opportunities to 22,000 Maine people.
For more about Maine Jobs & Recovery Plan, visit maine.gov/jobsplan.
Earlier in the day, Governor Mills also read to second grade students at Guy E. Rowe Elementary School in Norway as part of the Maine Department of Education's Read to ME Challenge. The annual challenge promotes literacy by encouraging adults to read aloud to children for at least 15 minutes.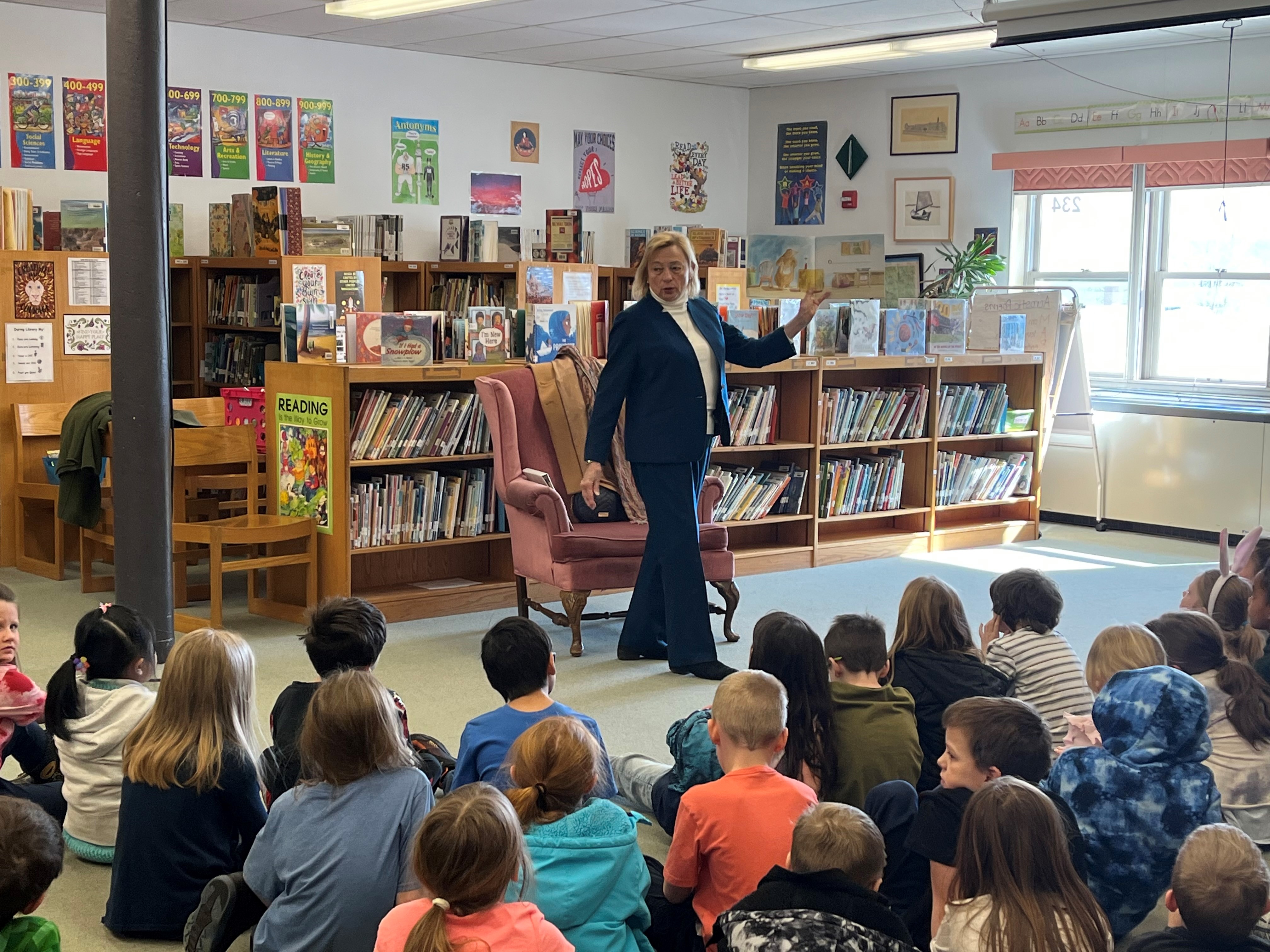 Photo 1: Gov. Mills reads to second grade students at Guy E. Rowe Elementary School in Norway.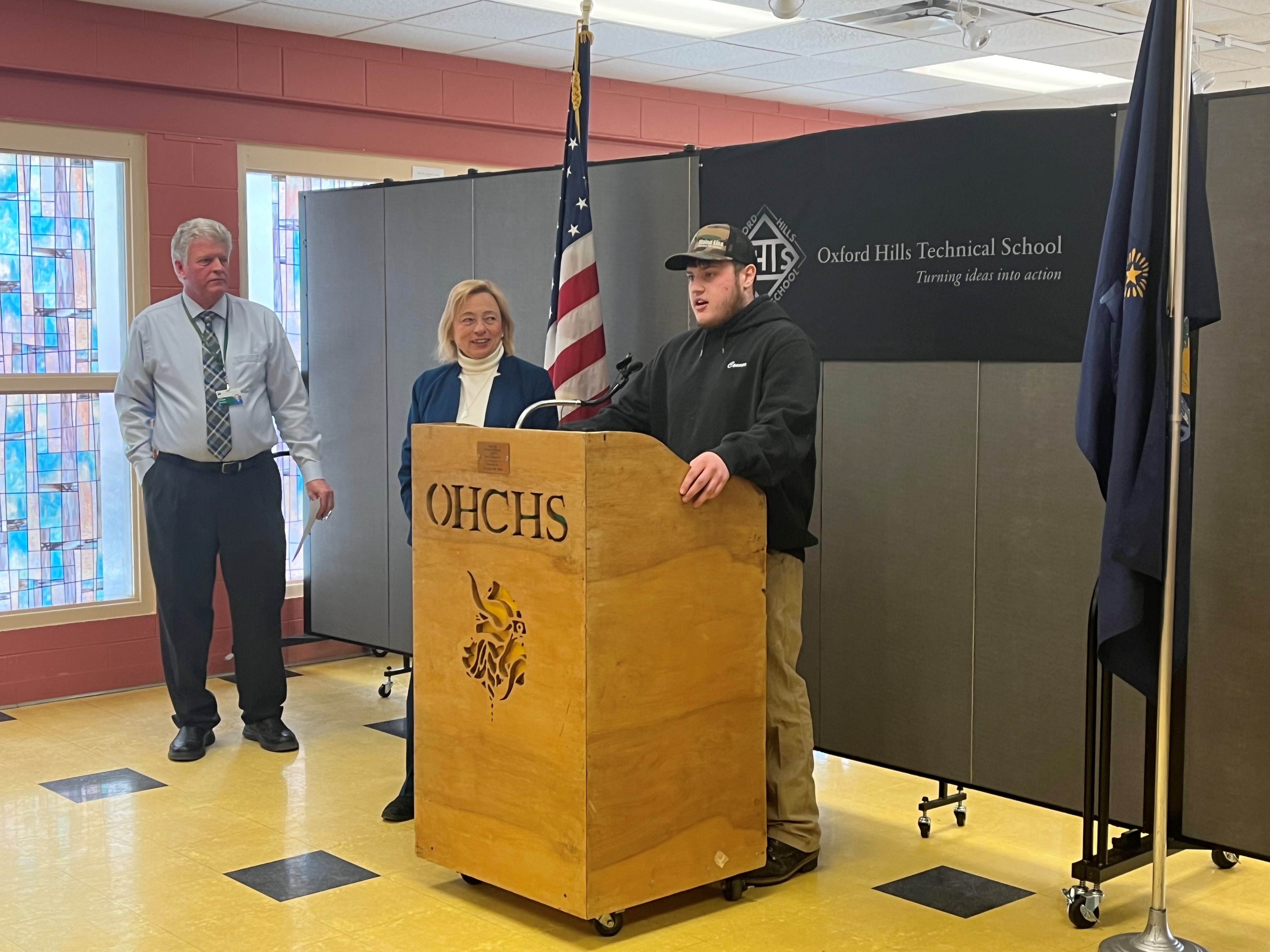 Photo 2: From left to right, Oxford Hills Technical School Director Randy Crockett, Governor Janet Mills, and plumbing student Conner Cram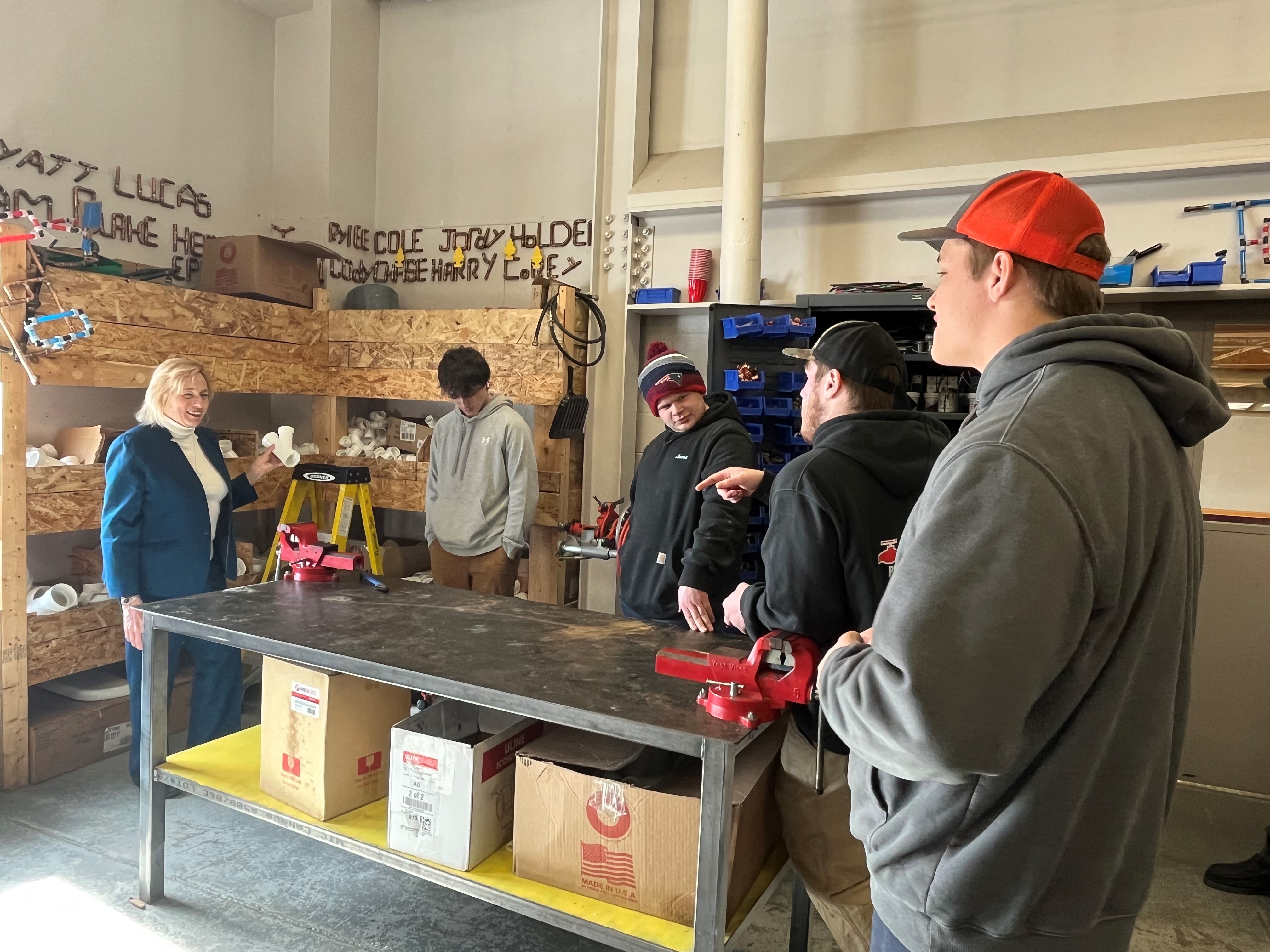 Photo 3: Governor Janet Mills with Oxford Hills Technical School plumbing students