June 1, 2023
Governor Janet Mills today kicked-off the annual celebration of Maine Dairy Month at the Blaine House in Augusta. 
The event celebrated the vital contributions of Maine dairy farmers to our economy and featured remarks from Governor Mills, Commissioner of Agriculture, Conservation and Forestry Amanda Beal, and dairy farmers and food producers from across Maine.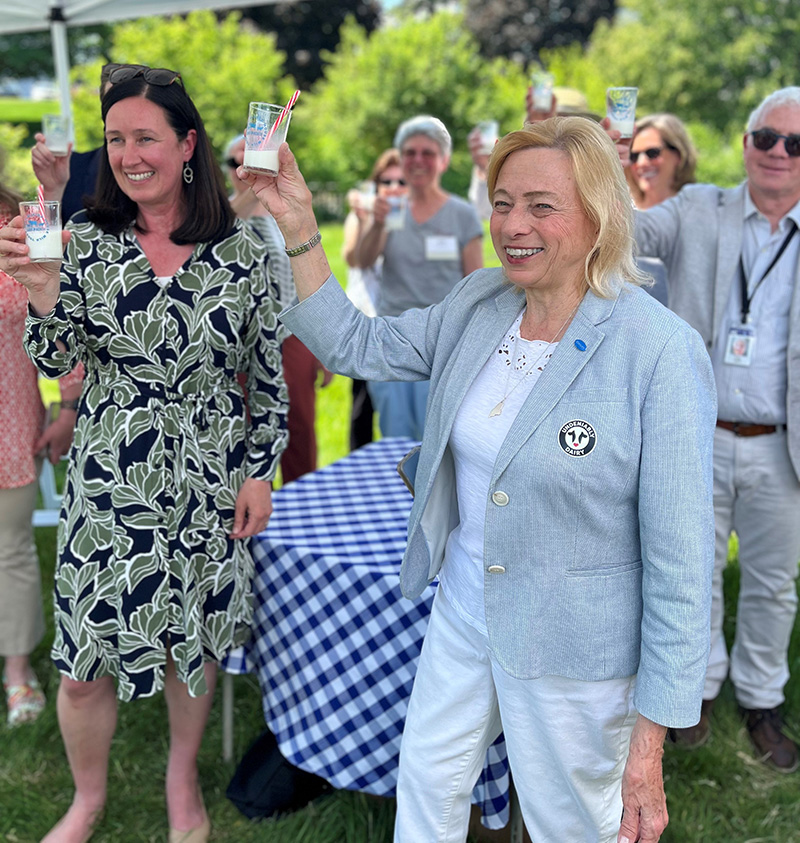 The attendees raised a glass of milk as a toast to celebrate Maine's dairy industry, and the Governor declared June as Dairy Month in Maine.
"Dairy farms are a cornerstone of Maine's agricultural industry, of our rural communities, and of our economy as a whole," said Governor Janet Mills. "Whether you prefer milk, ice cream cheese, or yogurt, there's a delicious Maine dairy product for everyone. I encourage all Maine people to join me in celebrating the contributions of Maine's dairy industry during Dairy Month and throughout the year."

"Today, we express our heartfelt appreciation for the efforts and valuable contributions of Maine's dairy industry," said Amanda Beal, Commissioner of the Maine Department of Agriculture, Conservation and Forestry. "Maine family farms and the dairy industry are a source of pride and strength, sustaining livelihoods and driving growth in related sectors."

"Celebrating June Dairy Month is an opportunity to recognize the people, their practices, their cows, and their delicious products that make up Maine's dairy industry, an industry that endeavors to provide high quality, nutrient-dense, and environmentally sustainable food to its communities," said Sarah Littlefield, Executive Director of the Maine Dairy Promotion Board and Maine Dairy & Nutrition Council.

"Dairying matters to Maine because our dairies are the backbone of our rural communities, and the stewards of the agricultural landscape we all hold so dear," said Annie Watson, President of the Maine Dairy Industry Association.

"As the proud executive director of the Maine Cheese Guild, I am pleased to invite everyone to celebrate June Dairy Month! Enjoy the creamy delights of Maine dairy during June and always savor the artistry and richness that locally made cheese brings to our lives," said Ron Dyer, Executive Director of the Maine Cheese Guild.
Maine is home to more than 200 dairy farms that care for herds of dairy cows, goats, and sheep and that steward 700,000 acres of farmlands. Because of their work, the state boasts award winning cheeses, yogurt, ice cream, and butter made exclusively with Maine milk and cream. Maine also benefits from dairy processors that bottle and sell milk year-round at retail locations statewide. In addition to agricultural products, farms provide numerous public benefits, such as scenic open spaces that enrich local communities.
Maine dairy farmers and creameries are estimated to provide 4,733 direct and 10,201 indirect jobs and generate $904 million in direct economic impact and $1 billion in indirect economic impact. Dairy farms contribute to the economy by supporting small businesses, creating indirect and direct employment opportunities, and bolstering essential farm and food system enterprises such as farm supply stores, transportation companies, and veterinary services. Maine's dairy farms also serve as a source of delicious and nutritious foods and beverages for various food outlets, including restaurants, schools, grocery stores, cafes, and ice cream shops.
Since 1939, June has been designated as Dairy Month in the United States, celebrating the abundance of dairy products and paying tribute to the indispensable role of dairy farmers in agriculture.